WORDS
The Halsall Bibliolliegraphy
---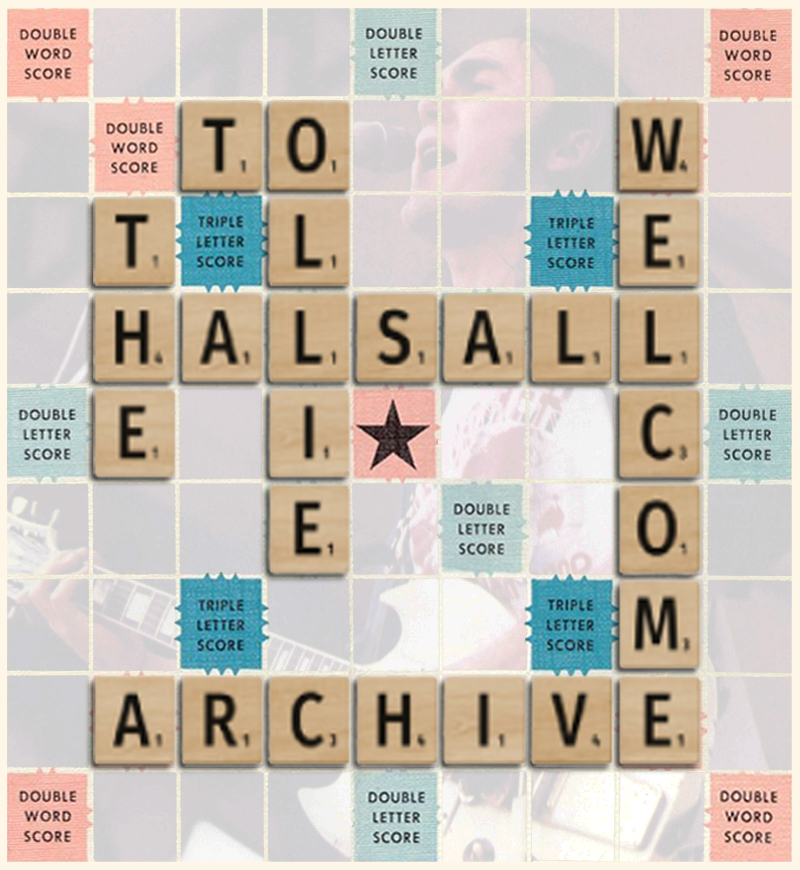 A Sense of the Absurd
Press release for the Patto album reissue
Abbots Langley
The story behind Abbots Langley - Ollie and John Halsey's project from 1979
Admiral Halsey
Nick Saloman's legendary interview with the Timebox, Patto and Rutles drummer. From Ptolemaic Terrascope magazine, 1992
Andy Partridge - PopDose Interview
Paul Janisch managed to put some questions to long-time Ollie freak, Andy Partridge of XTC, via a user-interview facility on the PopDose site.
'Berns'
Bernie Holland, one of the few people to have played with The Pattos - an lived to tell the tale!
Bill Nelson
"Shredding? It was already shredded and dealt with by Ollie before the rest of us caught on!"
Blue Traff
Armand Serra's quest for The Holy Grail - Ollie's famous Gibson SG Custom guitar
Brian Godding
The former Blossom Toes guitarist's recollections of working with his friend, Ollie
Callejones
Drummer, Juan Javier Martinez's recollections from Madrid 1991.
Cuevos
Ollie Halsall's pen and ink drawings of Mallorcan caves
Ollie's weapon of choice from the mid 1980s to his final shows with Kevin Ayers.
Cinemaspop
Spanish magazine interview from 1983 with Ollie & Zanna Gregmar
Cricket, Lovely Cricket
Recollections of the infamous Sunday morning sporting events at London's Regent's Park
Dean Cole
The only known interview with Ollie
Deia
For much of his time in Spain, Ollie frequented a small town in the north of the island of Mallorca.
Diamond Jack
The story behind Kevin Ayers' 1983 album.
Doing Your Own Thing
Pete Erskine interview from
New Musical Express, November 1974
El País
Spanish newspaper obituary by respected rock journalist Diego A Marique 3 June 1992.
Fano
Photographs of Tempest in concert at Fano, Italy 1973
Filey Bay 1968
Mark Gardiner's photographs from the Timebox summer season at Butlins holiday camp
Forgotten Hero: Ollie Halsall
Tzvi Gluckin's article fromPremier Guitar magazine, November 2014.
Francis Dunnery
Couldn't believe my ears when I heard this. Start at 5:00. Spot anything at about 6.00?
Fuzz magazine
Interviews and article by Mikael Jansson from Fuzz magazine, March 1988
Give It All Away
A substantial article on Patto by Marco Rossi in the June 2017 issue [#68] of Shindig, the highly respected rock magaine.
Graham Oliver
Saxon front man recall his first encounter with Ollie at Butlins holiday camp
Guitar Technique
reproduced from
Why Are We Sleeping magazine
Guy Mann-Dude
US metal guitarist and dedicated Ollie-freak
Hollywood Bowl
John Greenleigh's Patto photographs from The Hollywood Bowl in 1972
I'm Very Humble
Alan Jones interview from
Melody Maker, July 1974
Japan
Interview with Brian Jacobs 1988
Guitar Magazine April 1989
[Japanese edition]
John Altman
Some stories from Rutles arranger John Altman.
John Etheridge
John's long and varied career includes a number of Halsall-related associations.
Kidderminster
Colin Hill's remarkable and recently discovered photographs of Timebox at Kidderminster in 1968
Lovers Leaping
The story behind the Ollie's demo tapes album and
track-by-track guide
Mainstream Machine
Mike Shefrin and some Mallorcan jazz
Mucky Duck
Bob Beecher's recollections of The Black Swan [The Mucky Duck, geddit?] in Sheffield with some great photos by Nick Robinson.
New York, New York
Annonymous contribution remembering the impact of Ollie's appearances with Kevin Ayers in New York City, May 1980
Ollie
Reflections on Ollie Halsall's work with Kevin Ayers 1974/1992 by Barry Monks
Olliecaster
Incredibly, Ollie's first professional instrument has resurfaced and is in the safe-keeping of Lawrence Reeve.
On the Beat
Barry Monks interviewed by Spencer Leigh on Radio Merseyside.
On the Other Hand . . .
The text of the Ollie Halsall chapter from John Engel;s definitive work on left-handed guitarists, Uncommon Sound,
Pa Amb Oli
Tomás Graves recounts the story of Ollie's association with the legendary Pa Amb Oli band.
Piper 2000
Francesco Malfatti recalls Patto's appearance in Viareggio, Italy
Player Of The Month
Pete Dowling's Player of the Month from Beat Instrumental, April 1976
Play the Perfect Fool
Liner notes for
Timebox - The Deram Anthology
Roll 'em, Smoke 'em . . .
A restrospective look at Patto's 'Sgt Pepper'
Sal Gorda
An in-depth look at the Spanish film soundtrack album Ollie and Zanna Gregmar contributed to. Complete with some remarkable studio footage.
Sausages! - The Art of Ollie Halsall
In the second part of his recollections, Bernie Holland covers various dinner menus and the creation of a painting - 'La Vogheur Lough''
Sawn Off
Thes story of Ollie's 1961 Fender Stratocaster,
Sex Beatles
Thes tory of Ollie's association with the Mallorcan 'punk' band and their performance at The Selva Rock Festival in 1981.
Shit, Muck, Err & Grolly
Boxer drummer Tony Newman - who first worked with Ollie in the Kevin Ayers' backing band The Soporifics
Southport Visiter
Obituary from Ollie's local Southport newspaper.
Spanish Magazine Interview
A rare insight into Ollie's total involvement in the Spanish music scene of the mid 80's.
Speaking Words of Wisdom
A compendium of classic quotes by Mr Halsall compiled for Ugly Things magazine.
Stockholm
Anders Öhman recalls Patto in Sweden, 1972
The Rockin' Pattos
Unused liner notes for
A Sense of the Absurd CD
The Strange Case of Ollie Halsall
A much-deserved acknowledgement by none less than Gibson themselves of Ollie's [albeit unofficial] endorsement of their guitars
The Torrington
Memories of one of the Pattos' favourite venues.
The Way To(o) Weard
Roy Weard worked as the the sound technician for John Cale and Kevin Ayers. Here are some of his photos and recollections.
This Absurd Little Band
Warts & All review reproduced from
Why Are We Sleeping magazine
To Bee or not to Bee
A discussion of Bob Beecher's remarkable photograph
Top Ten
Terry Theise's Electric Guitar Top Ten from Guitar magazine, January 1977
Traveling Show
The Serendipitous & Surreal Six-Stringed Life & Times Of Ollie Halsall by Ralph Heibutzki. Reproduced by kind permission of Ugly Things magazine.
Uncommon Sound .
John Engel's definitive work on left-handed guitarists, Uncommon Sound
Under the Blossom
David Wells' sleeve notes for the Tempest album, Under the Blossom
Vivian Stanshall
Dean Cole's reminiscences, photos and audio interview with Ollie Halsall following Vivian's 1991 London concerts
Warts and All
John Halsey on the Pattos' only live album
Way Ahead
Boxer article from Way Ahead magazine 1976
Way and Hal
A marriage made in . . . hell? A most unlikely but, by the same token, obvious partnership.
Why Are We Sleeping
A comprehensive live concert listing by Martin Wakeling, from the Kevin Ayers fanzine Why Are We Sleeping.
Woody Tone
An article produced in association with this website for the rock gear blog.
Zanna
Ralph Heibutzki's 2012 interviews with Zanna Gregmar.
Zooming in on Boxer
A substantial and informative Trouser Press article from 1976.
---
---
Outside souces:
Guitar Techniques
Ollie Halsall feature from the September 2013 edition.
This Wonderful Life
Harry Shapiro's article on Patto in Mojo magazine #94 September 2001
Zanna Gregmar 'Round 1'
A two-part interview with Zanna Gregmar by Ralph Heibutzki 2012
---

olliehalsall@gmail.com