Which album contains your best playing?
I've really taken to my playing on 'Falling Up' with Kevin. Just a little like Giacomo Puccini, very sweetly and slowly. The solo on 'Am I Really Marcel' is good though there are few notes.
Of course my playing was more complicated in the Patto years. On Patto's second album the solo in 'Hold Your Fire' is good. And I like Patto's first album too.
After Tempest how did your guitar style change?
My style has changed as there are less notes than before and the sound is clear. My fingers can't move as well! I didn't choose the way of Allan Holdsworth and Jeff Beck.. I've always respected Jeff Beck. His guitar is brimming over with originality. I can say, without exaggeration , that he is the best guitarist in the whole world.
Do you still play the SG?
Yes, not the Custom as in the Tempest years. I bought one made about 10 years ago. It was converted to left-handed by Gordon Adams. I recently attached a Kahler tremolo arm to this one. I had always been anxious about it staying in tune. Now it's fine.
Do you play acoustic guitar?
Yes but I would like to continue playing loudly using the electric, tremolo and effects.
Do you have anything to say about the present music scene?
In the USA and UK it's all slash metal and heavy metal. I was never interested in that music. But I think there are many guitarist worthy of note. Eddie Van Halen is especially good. His playing is very humorous and has personality, it's my favourite.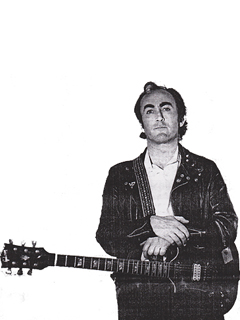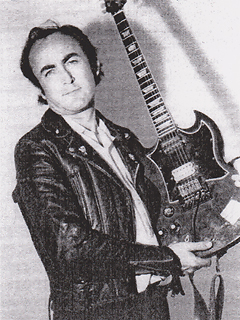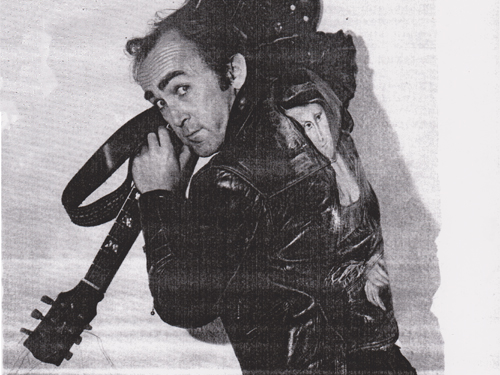 Ollie's hand-painted Mona Lisa jacket
---

The Japanese People loved Olli. He went several times when we were together to give concerts alone, or to give lessons to Hirohito's boys. Hirohito contacted him in Deya, by the way, via some emissary, to teach his kids for a week or as much as possible.
"Olli could have lived at the Emperor's, no problem, but he didn't, I think I would have! He had a huge fan base apart from Kevin and other people's music, just his brilliant musical talents were appreciated by very well educated connoisseurs, as the Japanese can be. When they want to play like a player, they work so hard to do it perfectly, and Olli had been very famous there as a brilliant guitarist and arranger.
"He made a lot of money giving lessons to people like the Emperors kids, and famous people's children who paid him $1,000 an hour for a week of 'etudes'. Olli felt like he was his own man there where he was always the brilliant wall of sound behind so many others.
"It tickled him that the Japanese went crazy for him, he couldn't understand or believe it was for him and him alone, he wasn't the wizard behind the curtain in Japan, he was just the wizard, and he really needed that love, straight at him, no backing someone up. It was so important for him to feel that, alone, he had made it, he wasn't a back up man and he was humble modest sincere and very deeply appreciative of that fan base for him, and him alone.
"He never got it that he could have done anything. He was a brilliant drummer, guitarist, arranger and composer."
Michelle Amieux
'Olli' was how he spelled his name in correspondence with Michelle.