"When Mike Patto died, in 1979, Ollie called me up and said "Berns [which he always called me], are you going to the funeral?" Since Ollie didn't drive this was a thinly disguised request for a lift.
"At the graveside, on that dismal Dickensian Winter's afternoon, we placed a hastily written sign bearing the ironic legend 'You're sacked!"
"It was a fantastic experience living and playing with Patto and striking up a great friendship with a really great guitarist because there were very few contemporary guitarists that impressed me at that time.
"Patto's quirky time signature changes and anarchic lyrics became an enormous influence for many musicians at the time. The musical arrangements were, of course, very challenging - even to the most able players.
"The trouble was that Ollie thought that, if he could do something, then anybody else should be able to. Saxophonist Dave Brooks was in the band for a short time and, at a rehearsal, Ollie became increasingly annoyed with him for not instantly understanding the fine details of some absurd new musical arrangement. Eventually, Dave packed up his sax and stormed out moaning 'I'm a musician - not a f***ing mathematician!'
]

The Heath Piper
"At one point I even formed a band called Bonno - which was my nickname from the Bluesology days. Baldry would reduce everyone's name to something-o. So bassist Freddy Gandy became Froddo and I was Bonno. Of course it also sounded like a take on Patto which, to be honest, it was. They say that imitation is the sincerest form of flattery but I was never really sure whether Mike really appreciated the compliment.
"Fortunately, Griff's hospital treatment was successful and when we got back to England after the European tour, he reclaimed his rightful place as bass player with the band - so I thanked the guys for their hospitality while I been deputising for Griff and signalled my intention to move on and let the guys get on with it. But Ollie would have none of it and he insisted that I stay in the band and play guitar alongside him.
"This was to prove somewhat novel for a short while because here you had two guitarists playing Gibson SG guitars, Ollie left handed and me right handed. Ollie was a fantastic guitarist but I was never intimidated by his playing because over the years I had also developed a high speed legato style of playing. However, I realised that there really wasn't room for two guitarists and that Patto was really Ollie's province, so I decided the most appropriate thing to do was to leave the band.
Even so, I maintained a great friendship with Ollie and when I bought this house, he came over and visited me a few times – we had some raving times especially when we set huge bonfires in the garden.
"On one occasion we burnt a pile of furniture and declared it a piece of conceptual art. I reciprocated by visiting Ollie at his house in Abbots Langley, near St Albans – at that time he had discovered the Sex Pistols – I was surprised at this because I thought they were crap but Ollie found their recordings a good background noise against which he could smash his house up, which he did during one of my visits – he offered me a sledge hammer so I could join in but I said I would prefer to roll myself a spliff and sit back as an observer.
"I remember he had painted the gates to his house with a huge image of the killer shark from the film 'Jaws' which had been popular at the time - he was a very good artist with a tremendous imagination.
"The last time I saw Ollie was around 1980 in a pub in South London. I was playing with a jazz trio and, in the interval, this unshaven hairy creature in a long black leather Gestapo raincoat ambles over and says 'ello, Berns'. I insisted that he played my guitar in the next set but he wouldn't "'Nah, I can' play over changes" [?]. "What about a 12-bar blues the" I suggest. "Nah, I don't do that anymore' "
There are further tales of Patto insanity: Absurd and somewhat foolhardy pursuits like 'waddling' [running down mountains in The Black Forest] and the legendary Regent's Park cricket matches - for which Berns had even made a fully functional scoreboard!
As well as teaching, Bernie still does the occasional gig. He has his own recording studio and treats me to some wonderful recordings such as a self-composed classical guitar duet he has synthesised on his computer, and a perfect recreation of the organ part to The Who's Won't Get Fooled Again - painstakingly reproduced note-for-note, just so they could play the song it at a private party.
Finally, photographs are suggested and my host immediately goes into characer, posing aloft his self-built tree house in the back garden in true Patto-esque guitar-hero style.
If you live in North-West London and want to play the guitar, I can recommend a very good tutor . . .
Barry Monks
© 2006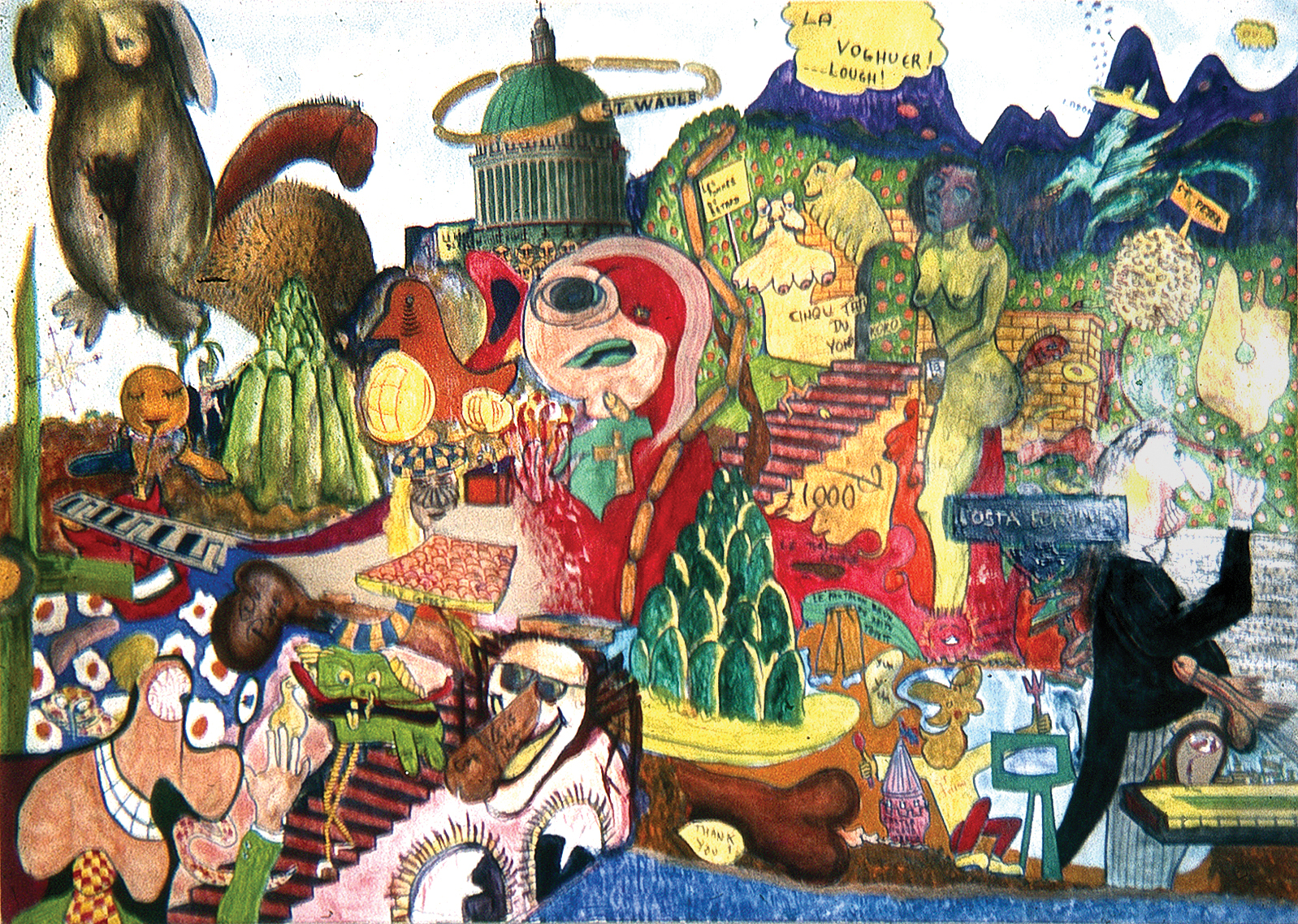 Sausages!