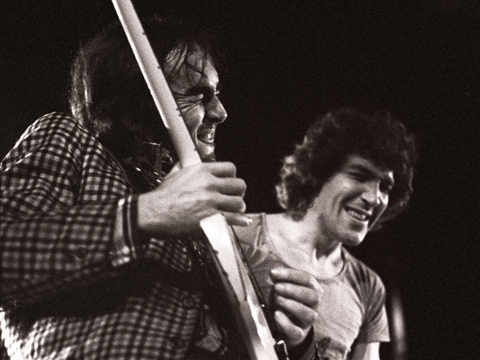 The Hollywood Bowl
8 September 1972

We did a big Joe Cocker your, after Mad Dogs. It was us, Mark-Almond, and Joe. God, he was in a hell of a state. they used to have to try and sober him up every night just so he could walk on stage. we used to go on first, and we just tore 'em up. Some places we had to play while the audience were coming in, you know, with the lights on. And they said when the lights went out we'd have to stop, cos that's when the show began! well, once we found our feet, they were turning the lights out and we were getting standing ovations. People jumping on the seats.
"When we played the Hollywood Bowl, Mark-Almond added a brass section, Cocker had Delaney & Bonnie on, so we were told we had ten minutes! 'Both bands are playing longer sets, so you've got ten minutes'. Well, we used to do 'Walk Don't Run', the old Ventures number, for a laugh, and hold a Twist competition.
"I'd do that Ventures drum beat, Ollie and Clive would take their guitars off and twist. Ollie would tell the audience to cheer for whoever they thought was best. So patto used to do some twistin', the Clive would do a bit, then Ollie would start leaping in the air. The audience would be encouraged to clap after each twist. Then they'd do The Amoeba Twist where they'd roll round the stage, and from that we went straight into Elvis' 'Big Hunk O' Love'.
"We just did two numbers, and when we finished we had everyone on their seats calling for more. I'm not kidding, it was fantastic! Mark-Almond just couldn't follow us. People were calling out for us all through their set.
"Cocker was completely out of his brain. All the band were smacked or coked out, except the ones who were drunk, and by the time they'd finished the place was half empty. We felt pretty good."
'Admiral' John Halsey

Read complete artice