The Left-Handed Guitar Players that Changed Music
Make no mistake. This is a serious piece of literature, on two counts: Serious, because it's a coffee-table book like no other: If you attached legs to each volume, you would have a substantial suite of furniture!
More importantly; serious, because it is THE definitive study of the world of the left-handed guitarist.
It will take you a lifetime to read and a lectern [preferably with a carved eagle on the back] is recommended.
Rather like a latter-day Ten Commandments, it comes in two massive tablets. Not of stone [although, at 19lbs, they approach a similar weight!], but two superbly bound 345mm x 260mm x 45mm [!] volumes.
The first part deals with Rock: Pop: Punk: Reggae: Metal with a foreword by no less than Douglas Adams. Featured artistes are chronicled by date of birth [a novel and reasonable solution]. Whole chapters are devoted to both Ollie Halsall and his contemporary, Martin Jenner [who describes how he acquired Ollie's white Gibson SG Custom at one stage].
The second book turns to R&B, Jazz, Folk, Country & World and each volume concludes with a gallery of left-handed guitars for lefties to drool over.
Barry Monks
The Ollie Halsall Archive
---
John Engel's definitive, long-awaited book about left-handed guitar players and lefty guitars, which details the stories of over 150 legendary and maverick musicians.
This is a lavishly packaged limited edition which promises to become a collector's item. A certain southpaw Southport lad is featured amongst this wealth of painstaking text and rare photographs.


Ollie Halsall chapter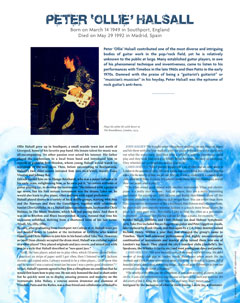 The ONLY book of its kind and one of the most fascinating and informative reads on guitar music ever published.
"What is it about left-handed guitar players? Is there some magic connection between Jimi Hendrix, Paul McCartney, Danny Gatton and Dick Dale? In Uncommon Sound John Engel takes a breathtaking, in-depth look at some of the most remarkable musicians to have shaped popular music over the past 50 years or so.
"What do they have in common? Stylistically, practically nothing. But already, by holding their guitar the wrong way, they epitomise the unbridled, non-comformist spirit of popular music. Engel has tapped into probably the broadest range of musicians to ever find themselves in the same book; and their uncommon sound is a tribute to all music makers.
"They range from incomparable rock guitarist Mark Knopfler to Argentine folk hero Atahualpa Yupanqui, and from Hawaiian slack-key master James Pahinui to new jazz virtuoso Joseph Carter III. Many are already guitar icons. Others are musicians' musicians, the unsung heroes that shaped whole genres.
"This hefty tome dispels many of the myths that have grown up around these guitarist through interviews done specifically for the book. Along the way, many surprising facts are thrown up - such as the numbers of left-handed guitarist playing right-handed instruments and even the right-handed players that learned to play left-handed.
"But one thing many share is the ability to take an unusual gift and turn it into some of the most exciting and challenging music of our age. Engel's detailed accounts bring us on a series of personal journeys to the very heart of the music that shaped a century."
Michael Leahy


Vast, insightful, beautifully researched and fun! This book is essential reading for all guitarists [righties included!] and their fans"
Jaz Obrecht
Guitar Player magazine
Rollin' and Tumblin'
My Son Jimi
---

This book should be subtitled 'not just for lefties'. While it's fascinating to discover how much of our music culture has been shaped by the left hand, each of these profiles, like the musicians themselves, stands on it's own merits. Whether you play lefty or righty, you'll enjoy the experience of this book."
Walter Carter
Acoustic Guitars and Other Fretted Instruments: Gibson: 100 Years of an American Icon
---

As a proud cack-hander, it's always seemed obvious to me that all lefties are creative geniuses. Now, John Engel's remarkable book confirms my suspicions. Left-handed guitarists are clearly a special breed apart, although as Sylvia Tyson, one of Engel's many featured musicians, reminds us: 'Any instrument you play, you play with both hands. And what you lack in one hand, you make up in the other.'"
Tony Bacon
Electric Guitars: The Illustrated Encyclopedia
---

Neuro Scientists know that the right hemisphere of the brain controls the left side of the body. And that means, the amazing guitarists that John Engel has assembled, show the power of the right side of the brain. These musicians are trailblazers - and Engel tells their stories with skill, verve and panache. Whether you are left-handed, right-handed or ambidextrous, you should read this book."
Daniel H Pink
A Whole New Mind
Revenge of the Right Brain
---

John Engel has written what certainly will be the definitive book of left-handed guitarists. John takes the reader on a surprising tour of the history and impact left-handed players have had. An amazing amount of research combined with a beautiful layout."
Bill Piburn
Fingerstyle Guitar magazine
---

A celebration of the great (and lesser) steps forward in popular music taken by left-handed axe- slingers. The mix of legends and overlooked heroes makes for an enlightening and always enjoyable read. There's also a 20-track CD with several exclusive recordings."
Tim Jones
Record Collector
---

ABC Radio [Australia]
Into The Music 26 October 2006
John Engel discusses guitar legends like Jimi Hendrix and Elizabeth Cotton.

LISTEN
---

Australian National Public Radio Weekend Edition 25 November 2006

LISTEN