Cinemaspop were a 'Techno-pop' group formed by Javier de Juan (electronic drums, etc.), Manuel Aguilar (bass, etc), Carlos Garcia Glass (polyphonic guitar, Vocoder, MS-20, etc.), Joaquin Montoya (multiple keyboards, etc.), Eddy Guerin (PPg-Wave, piano), Zanna (voice), Guinea (vocals) and Ollie Halsall (guitar).
The later line-ups, featured in the photos and videos, comprised Zanna and Ollie with Manolo Jiménez or Arturo Terriza (drums) and Jorge 'Flaco' Barral or Esteban Cabezos Madrid (bass)
Photos: Kenny Barral

STUDIO

ZANNA GREGMAR

VIDEO
Cinemaspop
1983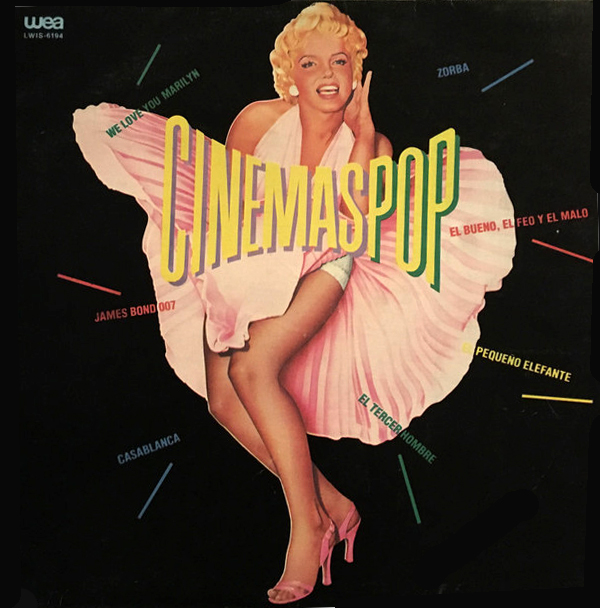 We Love You, Marilyn Part 1


Zorba El Griego


El Pequeño Elefante


James Bond Theme


Los Cañones De Navarone


Casablanca


Los 7 Magníficos


Exodo


El Bueno, El Feo Y El Malo


El Tercer Hombre


We Love You, Marilyn Part 2
An inexplicable collection of instrumental film themes, apart from We Love You Marilyn, a Halsall/Gregmar composition and vocal.
---
Sal Gorda
[film soundtrack] 1983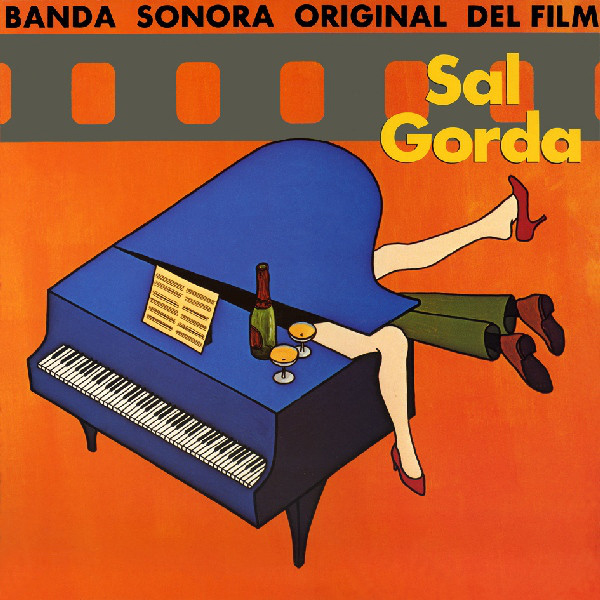 The soundtrack iis a compilation of tracks by various artistes:

Hace Mucho Calor Para un Ingles
(Ollie)
(Ollie and Zanna)

Sal Gorda (instrumental)
(Cinemaspop)
• Entra En Mi Cuerpo, Sal De Mi Vida
• Alguien Que Vive Sola
• Escape Mental
• Me Acaricio Cuando Pienso En Ti
• Elitis
(Zanna)
Tigre Bengalí
(Tino Casal)
Sin Decir Adió
(Danza Invisible)
---
La Naranja Mecanica
[A Clockwork Orange] 1984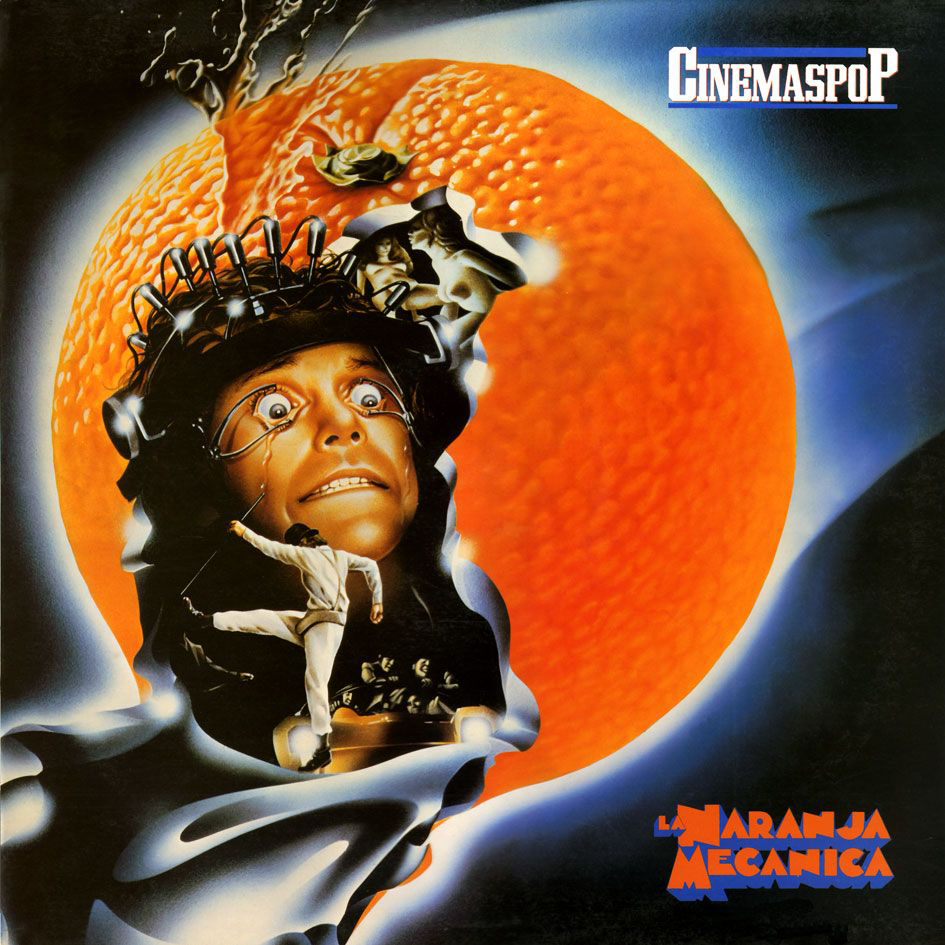 Clockwork Orange

Following The Blonde.

Let's Go To The Movies

Walking In Your Sleep

Wild Thing
---
Sigan a Esa Rubia
(Follow the Blonde) (45) 1983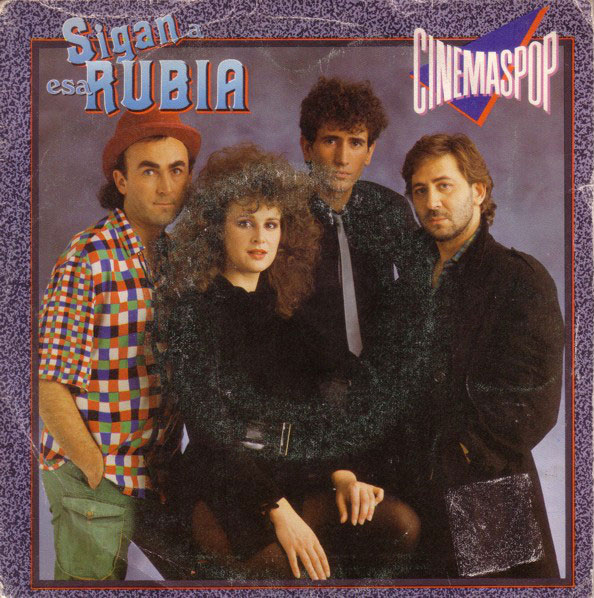 L-R Ollie, Zanna, Esteban Cabezos, Arturo

La Naranga Mechanica was recorded at Audiofilm and Tape One, London with producer Julian Ruiz. Algora Montxo drew the logo and folder design was made ​​by Margarita Caraballo.
Apart from a bizarre Wild Thing, it features Halsall written and performed material throughout.
The music is almost entirely sequenced & synthesised, with very little guitar. Halsall appeared very enthusiastic about this particular project describing them as "a great band".
OK it's techno-pop, but I've not heard it done better.

Changing Ground ['Radio Edit']
---

STUDIO

ZANNA

VIDEO
Ollie wasn 't an easy person to work with, but though many geniuses aren't. He was a multitalented person, he also had an artistic side and painted and drew pictures. He was a multi-instrumentalist who could pick up any instrument and start playing it. At the same time he had a completely weird sense of humour and constantly made up practical jokes. He always found a way to make people laugh during travels.
But he also had quite a temper and was a perfectionist who had incredible demands on his fellow musicians. The reason one could stand working with him was that the result always turned out to be so good, Zanna, who today works as a singing teacher in England, says. – Ollie could write songs quickly if it was requested. We had a group in Spain called Cinemaspop and in preparation of our second album, the producer, a character we called 'Dracula', constantly demanded new songs. So we ended up writing 35 songs in one week! Ollie could always rely on his creative force in all situations!
He loved all kinds of music, even opera. I remember flying with him to the U.S. where Ollie sat with a walkman on, and all of a sudden exploded loud and clear in 'La donna e mobile' so that all passengers gloated at him! He often lived in a world of his own, kind of in another dimension.
The coolest thing with Ollie's way of playing was that he in the middle of a solo could completely leave the key of the song just to return right at the end of the solo. It left chills in your body! My best memory of Ollie was when we had a sound check in Majorca when backing the first punk rocker in Spain, Ramoncin. Ollie checked his sound and suddenly went into a guitar solo which made people's hair stand at ends. Right at that moment his amp caught fire and started to burn. Everyone said that was "the hottest guitar solo ever played!"
Ollie had many strange what he called 'strategies" in music...things like leaving out the fourth snare beat in a bar to bring more life into it? And then when it came to songwriting and lyrics...
The first song we wrote together was when we quickly need ed a b side for my single and we threw "Don't run away" together very quickly... Verse two starts : 'I've been trying to get through to you for such a long time, but now it seems the night time is not the right time' -because it was" too obvious" to say the night time is the wrong time and rhyme with 'long time'... he was full of ideas like that.. trying so hard to stay away from clichees....Hahaha the arguments we had...
Zanna Gregmar 2013


Ollie singing an inspired vocal on "Following the Blonde" [video below] which was our big hit song in 1984 in Spain. He rips a bit of a solo too Looking at this I can see why Ollie called me 'thunder thighs'' Haha.
"This was the last version of Cinemaspop, we were trying to change the direction more towards Rock and did so quite unsuccessfully!! People really liked the "Techno stuff" and wouldn't 'Follow the Blonde' when she turned into a brunette.
"I remember going to this gig in a taxi. We only had a handful of cash which I had counted, so I asked the driver to take us on a specific route to the gig because we could only pay X amount.
"The driver completely ignored me (being a female in a macho country, but Ollie's Spanish wasn't very good so I always had to talk) and he chose the scenic way. I asked him if he intended to take us for free since he had over-extended the specified amount. A lot of Spanish expletives and handwafting was exchanged between myself and the driver as I forced him to stop the taxi and threw him the money. 'Hassle' and I walked the last five minutes to the gig.
"Ah -Those were the days!
Zanna Gregmar 2013


Regarding the 'tin foil trousers [video below] They were mine. Ollie always borrowed my clothes for stage. On the occasion above I was in Sweden so the receptionist at the recording studio had studied me and practised pretend keyboards on her ironingboard so she could then stand in for me. How very flattering Those were the days.
Zanna Gregmar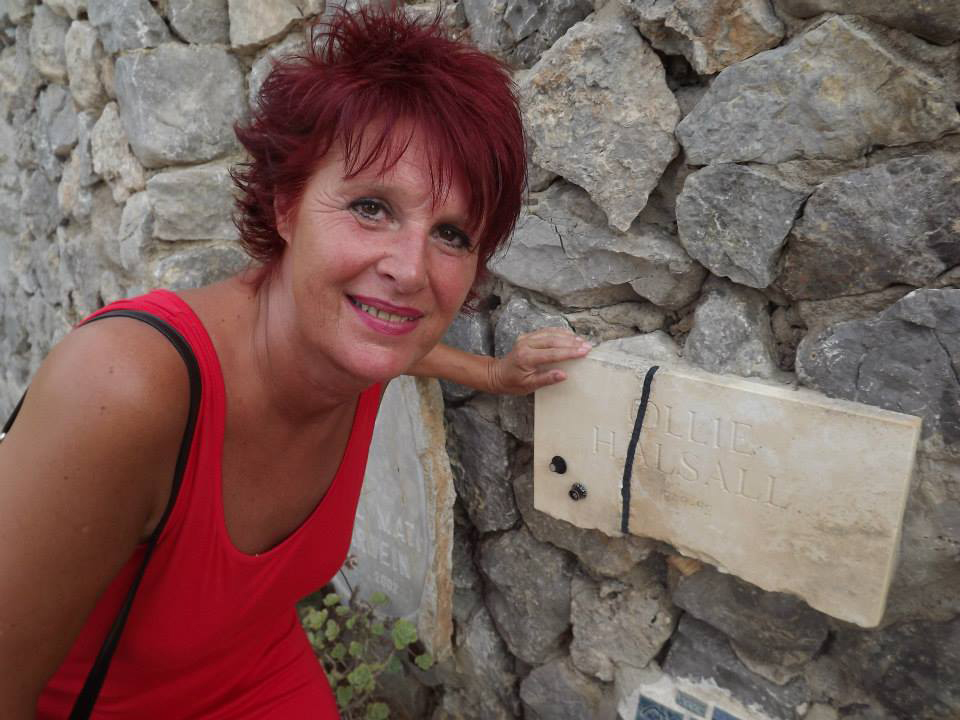 Zanna in Deia 2013
The Zanna Gregmar Band
Zanna Gregmar (vocal, keyboards)
Ollie Halsall (vocal, guitar)
Bolle Gregmar (drums)
Sune Martinell (bass)
---


Zanna's first collaboration with Ollie in our first single release Stop, Stop, Stop/Don't Run Away. Don't Run Away was Zanna's and Ollie's first co-write, and that B-Side was done after the rest of the band had returned to Sweden. so it's actually Zanna on piano and Ollie all other instruments. Ollie's Short Solo in DRA always grabs me as one of his most sensitive performances on record.
Bolle Gregmar
---


I designed and made this in black silk with full sized keyboard real sized Keys and the Zanna band logo on the back. 1980. The reason I am climbing a London traffic light (while Ollie Halsall was looking out for the police) was to make a sleeve for the single "Stop, Stop Stop. It was only released in a small quantity with a brown paper sleeve hahaha. So much for the acrobatics
Zanna Gregmar 2016
---

STUDIO

ZANNA

VIDEO
Ollie was a very important man in my professional life. It could be said that he was my mentor.
In 1982, as you know, Ollie stayed in Spain, together with Zanna, to produce Ramoncín's new album and direct the band for their 1982 tour. Well, Ollie was in charge of casting musicians and I had the great honour of being the chosen bass player. From that moment my life changed and Ollie became my 'father'. You can imagine everything I learned from him. On the tour, we became very good friends, also with Zanna of course and with Bolle, Zanna's drummer brother.
When the producers heard that Ollie was in Spain they called him for everything, guitars, keys, vocals, ... and he called me. I was in his team of musicians. And that's how I entered Cinemaspop. In principle, this was a project of producer Julián Ruiz who wanted to make an album of techno versions of movies, but Oliie turned it into a band that could make those versions and combine it with their own songs. At the end of '82, they recorded the first album with Manolo Aguilar on bass and Javier de Juan on drums, but these were session musicians and they were very busy and they left the band soon. So, for the second album, La Naranja Mecanica, they called Mecano drummer Arturo Terriza and me.
This was at the end of '83. I was still with Ramoncín, but I left him without thinking because of the call of my mate Ollie. La Naranja Mecanica was already a project with original music by Ollie and Zanna and it looked very good, but it was not very successful. We did a few gigs and TV shows in 1984 and that summer Arturo and I left to go with Mecano, and Ollie and Zanna with Manzanita.
In 1985, we resumed the band, this time with Manolo Jimenez on drums, we made some gigs in little clubs, like the one you see in the photos, and then I left the band because I was too busy with Mecano and another rock 'n' roll band called Burning. The bass player who replaced me was my great mate Jorge 'Flaco' Barral.
Even so, I was always in contact with Ollie and Zanna, my friends whom I loved. In the following years and until his horrible death, Ollie was producing and collaborating with bands of success in Spain as Rey Lui and Radio Futura.
I hope this small contribution will help. For me, it has been a big pleasure.
Esteban Cabezos Madrid 2019

Esteban on YouTube