In 1968 Timebox recorded tracks for an album to be called 'Moose on the Loose'. Now, nearly 20 years on, these are scheduled for release by Polygram u7nder the title 'Play the Perfect Fool'. In an ideal world this album would contain simply those original Patto/Halsall compositions from the 1968 sessions (plus a few odd pieces) unearthed by the sterling efforts of Richard Lane (to whom we remain eternally indebted for the 'Sense of the Absurd' Patto reissues a couple of years back).
Commercial pressures, however, seem set to force the inclusion of all the dreadful singles and b-sides - The exquisite irony here being that, even after all this time, you cannot escape the market led pressures of corporate publishers!
Liner notes from Deram Anthology
---
A recent poll in Record Collector magazine, placed the name Patto for the first time at the dizzy height of no 469 - well ahead of such luminaries as Cat Stevens, Bad Company and Gary Glitter(!). Not bad for a band that split nearly a quarter of a century ago and released just three albums. Dubbed after their vocalist Mike Patto, the band was the 1970's 'progressive' incarnation of a pop group called Timebox. Tuning-in to the Ed Stewart or Jimmy Young show on 'One-derful' Radio One (BBC) in 1968, it wouldn't be long before you heard a 'house band' distinguished by the unusual sound of the vibraphone.
The Timebox saga is a long and often tragic tale which begins in the unlikely setting of Southport, a small seaside town near Liverpool, England. In 1965, bassist Clive Griffiths had a band called Take 5, which typically comprised just 4 members, the others being Peter Liggett (vocals), Peter James (vocal/guitar) and Jeff Dean (drums) - later immortalised alongside one Peter Abraham on Patto's 1973 'Roll 'em, Smoke 'em' album. After a particularly harrowing tour of Germany, James' departure left the band in disarray. Meanwhile in another part of town! The Music Students - evolved from school bands Pete and the Pawnees, The Gunslingers and Rhythm and Blues Incorporated - were experiencing similar probems.
The Music Students featured organist Chris Holmes, guitarist Bill Lovelady (later of 'Reggae For it Now' fame) bassisit Bill Hornby and a 15 year old drummer called Peter Halsall. Somewhat of a 'child prodigy' in the vein of Steve Winwood, young 'alsall ('ally and thence Olly or Ollie) dabbled expertly on a multitude of instruments including guitar, piano and - more unusually - the vibraphone. He persuaded his parents to purchase a set on the condition he first learnt to play them. He overcame this somewhat daunting prospect by acquiring a pair of beaters (with his pocket money) and practising on strips of paper on his bed. Such was his inexplicable innate musical ability, he could actually play the real thing when the deal was honoured. The maturity of performance on 'Misty' included here, totally defies the short time it took to achieve. (Chris Holmes now knows the right chords!)
Clive invited Chris and Ollie (who he knew from art school) to join the remnants of the band in a sort of Take 5 - take two which, with the addition of ex-Teenbeats vocalist Kevan Fogarty, now totalled the requisite SIX members! They turned professional, headed for the bright lights of London and were soon taken under the wing of drummer-turned agent Laurie Jay of the George Cooper Agency (who's stable included Rock 'n Roll survivors like Joe Brown and Marty Wilde). Being a percussionist himself, Jay (who had backed such names as Dusty Springfield, Screamin' Lord Sutch, and Gene Vincent and enjoyed the perhaps more dubious credit of tutoring Dave Clark!) was intrigued by the inclusion of vibes in the Take 5 line-up.
Then, as now, you could count the 'household names' of the vibraphone world on the finger of one hand (Gary Burton) so the instrument was hardly oversubscribed in pop. They worked solidly on package tours with The Kinks, The Small Faces, Tommy Quickly, Lou Christie etc. and landed a Wednesday night residency at London's Whisky a Go Go, a trendy and prestigious venue frequented by no less than The Beatles. Early in 1966, they secured a 'season' at Butlin's Holiday Camp in Filey, Yorkshire, during which vocalist Peter Liggett was succeeded by Frank Dixon.
Shortly afterwards, Dixon contracted tuberculosis - a condition no doubt exacerbated by cold nights in the back of group vans - and was forced to leave. In November 1966, a replacement vocalist was found in US singer John Henry (ex-Zig Zag Band). For no particular reason Take 5 had now become Timebox, US slang for a prison cell. This change of name spelled a particularly irony for John Henry who, as a GI deserter, was shortly to be unceremoniously carted off by two large military policemen! But not before the February 1967 debut single for Piccadilly which coupled 'I'll Always Love You' and a vibes-based instrumental 'Save Your Love', produced by John Schroder.
By an appalling twist of fate, Jeff Dean also went down with tuberculosis (which, by now, was sharing an unfortunate acronym with the band) and top session drummer Ronnie Verrell guested on the next single. John Henry's involuntary retirement from the music business dictated the solely instrumental April release of 'Soul Sauce' and the superbly titled if otherwise unremarkable 'I Wish I Could Jerk Like My Uncle Cyril' (possibly the earliest evidence of Ollie's underlying insanity!). A new drummer, Andy Peters, lasted just a few months and Laurie Jay stood in at gigs, where Halsall was forced to take lead vocals pending a suitable replacement. Meanwhile in another part of the country! The Bluebottles (formerly The Breakaways) had been brought to London from Norwich by promoter Jack Barry.
Vocalist Mike Patto stayed and had begun to carve a promising solo career with a single ('Can't Stop Talking 'bout my Baby'/'Love') on Columbia in December 1966. After fronting the final version of the Bo Street Runners (which included Tim Hinkley on keyboards) on their final single (The Beatles 'Drive My Car'), Mike formed Patto's People (later The Chicago Blues Line) with Hinkley and Viv Prince. Although gaining a reputation as an arch-looner, Patto could also be found in June 1967 crooning Sinatra ballads with the National Youth Jazz Orchestra. After a late-night jam at The Playboy Club, Mike agreed to join Timebox - but not until his forthcoming wedding!. In the interim, the others set off for gigs in St Tropez with Laurie Jay once again on drums. On their return in July - with Patto now at the helm - things were beginning to go right until Kevan Foggerty quit.
Ollie was nearly poached by drummer Mick Waller but decided to stay and double on guitar (which he would often do, uninvited, on Foggerty's instrument anyway!). After an obscenely short period of time, he was playing brilliantly. Drummer John Halsey recalls that Ollie would keep him awake in hotel rooms practising scales until the early hours of the morning.
Entire books could (and will) be written about Ollie's extraordinary talent. Whilst you'll find only the earliest evidence here, he was to perfect the lightning runs now taken for granted by today's players. More importantly, his later playing possessed an inventiveness, subtlety and humour that has never been equalled.
The vacant drum stool was finally filled via a Melody Maker classified advertisement placed by North London boy John Halsey. Having already enjoyed considerable success with Felder's Orioles, who played such top venues as The Flamingo, Klooks Kleek and The Ram Jam and had released 4 singles on Piccadilly, John was invited to sit in at The Scotch of St James and next day began a tour of USAF bases, thus completing the definitive line-up.
Ollie Halsall's career charted a diverse and bizarre course both before and during his long association with Kevin Ayers. His first claim to fame was with the 60's pop group called Timebox (later - less keyboard wizard 'Professor' Chris Holmes - to become the notorious Patto).
It is a little known footnote to the Ayers chronology that, sometime after the death of their namesake Mike Patto, the rest of the group (Halsall, drummer John Halsey and bassist Clive Griffiths) - toured Europe as Kevin's backing band - someone, please find a tape of this!
Timebox were a formidable live act: 'Professor' Holmes' dual Hohner Symphonic 30's (noted by Andy Bown of The Herd as the most convincing Hammond substitute around) bouncing off Halsall's guitar and vibes, Griff and 'Admiral' Halsey's superbly tight backline and, of course, Mike 'ducks in flight' Patto wailing the blues! They could, and did, play anything and probably invented the genre of jazz/rock before anyone had coined the phrase. Although numerous radio sessions and at least one TV performance (on 'Colour Me Pop') were broadcast what, if anything, remains looks set to stay consigned to the archives.
A prestigious gig at The Windsor Jazz Festival on 12 August 1967 caught the eye and ear of ace Decca Records producer Gus Dudgeon who immediately signed them to their new subsidiary Deram. In October 1967, they released a splendidly raga-esque cover of Tim Hardin's 'Don't Make Promises' c/w Ollie's capable rendition of 'Walking Through the Streets of My Mind' and in November set off for France were they had already achieved considerable popularity. 1968 was the year of the blues-boom, student uprisings and skinheads.
There were essentially two musical camps, the 'heads' or weekend hippies who followed the new progressive sounds and the 'skins' who lacked the intellect to appreciate anything but for some reason adopted US soul music. The sound of '68 was dominated by the click-bass and heavily orchestrated brass of The Love Affair, The Herd and Marmalade. Against this backdrop (and, it could be argued, somewhat derivitive of it) appeared the new Timebox single, a finely crafted cover of The Four Seasons 'Beggin' produced by Michael Aldred and arranged by Mike Vickers (of Manfred Mann fame). The B-side, 'A Woman That's Waiting', was penned by Mike Patto and guitarist Ivan Zagni from the Chicago Blues Line days. If everyone can be famous for five minutes Timebox's 300 seconds arrived in July of that year when 'Beggin' made a brief chart entry at number 38!
The 'hit' sparked some press interest, prompting Jay's partner Laurie Boost (in the best traditions of not letting the truth get in the way of a good story) to feed some impressive, if not entirely accurate, copy such as 'tours of Italy, the USSR and the States', 'van overturned by rioting students in Paris' and 'live album at the Club Noreik [Laurie Boast's son, Kieron, spelt backwards], (in reality, a disused cinema where the band rehearsed). The February/March 1968 sessions which produced the 'hit' also spawned a proposed Chris Holmes solo release of Billy Preston's 'Billy's Bag', a version of The Young Rascals' 'Come on Up' (released only in France) and the first Patto/Halsall collaborations for a projected album provisionally titled 'Moose on the Loose'.
The songs told fanciful tales of 'Barnabas Swain' (their road manager, with his brother Eric) and 'Eddie McHenry' (a drummer friend of Halsey's who played in The Lee Sabre Combo in 1962) - this wonderful piece of vaudeville would certainly have been a hit given the right circumstances as would the (presumably) fictitious 'Country Dan' ('and City Lil'). Also in the can were the fairly conventional 'Leave Me to Cry' and 'Love the Girl' but more importantly, the small masterpieces of 'Stay There', 'Promises', 'Tree House', 'Black Dog' (later to become a stage favourite) and the quite unbelievable track 'Timebox' itself. Although I am assured otherwise, the lyrics, guitar and drums could place this at least from the Timebox/Patto transition, if not the first Patto album sessions.
A coincidentally titled 'Ob La Di, Ob La Da' (predating the Marmalade's more celebrated Beatles cover) and 'Froogly Boogly' are lost forever. The remainder have gathered dust in the vaults until now, save for one notable exception: Relegated to the B-side of the November 1968 'Girl, Don't Make Me Wait', Ollie's 'psychedelic' masterpiece 'Gone is the Sad Man' - which includes the line "(I'll) play the perfect fool (for you)" - remains an icon of it's time which might otherwise have secured a place in the annals of rock. Although fostering an ostensibly 'progressive' stable of artistes and considerably more enlightened than Piccadilly, Deram saw Timebox as a chart band.
Consequently, provincial ballroom punters expecting the singles were perplexed by a bizarre mix of Chuck Berry, Ben E. King, Nina Simone and Beatles covers like 'Helter Skelter' and 'It's All Too Much'. Sometimes there would be the surreal Twist competition, accapella 50's hits and The Dwarf's Chorus, approximated visually by kneeling on shoes (a device first employed to humour a hostile skinhead audience). London was, perhaps, a bit more appreciative and a cult following developed around their Marquee Club residency (where they opened with 'Strangers in the Night' for the benefit of proprietor John Gee!). The self-penned A-side was finally achieved in March 1969 with the rather silly but, nevertheless, endearing 'Baked Jam Roll in Your Eye' (composed during a drunken return from The Black Swan, Sheffield), the featured track should have been the more credible 'Poor Little Heartbreaker', notable for some spectacular octave guitar licks from Ollie.
By the Summer of 1969 Chris Holmes was becoming more and more disillusioned but was persuaded to stay long enough for the October release of their swan song 'Yellow Van' (b/w 'You've Got The Chance'. Produced by Wayne Bickerton this out and out rocker complete with brass section, was politically incorrect enough to warrant a radio ban (not, unfortunately, sufficiently newsworthy in itself to project the record into the charts!). Having finally begun to establish their own material, it seemed that Timebox had, effectively, run it's course. The 70's heralded a new found freedom which demanded a new chapter. Chris left and Mike, Ollie, Clive & John became the legendary Patto for another three anarchic, but perhaps more focused, years. But that, of course, is another story.
In March 1979, after stints with Dick and the Fireman, Spooky Tooth and brief reunion with Ollie in Boxer, Mike Patto died of cancer. Following an extraordinary session career (Jon Hiseman's Tempest, Neil Innes, The Rutles, John Otway, Vivian Stanshall, Scaffold, Grimms, John Cale, Kevin Ayers etc.), Ollie settled in Spain to record and produce. In May 1992 he died alone of a heart attack in his apartment in Madrid. John Halsey became a Rutle and did sessions for Grimms, Joan Armatrading etc. Returning from a gig with Joe Brown and the Bruvvers, both John and Clive were involved in a crash which left the latter partially paralysed and with little recollection of his career. John survived and runs a pub in Cambridge (in between Rutles reunions!) Chris Holmes went on to join Babe Ruth, The Tommy Hunt Band and still plays in No Spring Chicken.
---
Timebox - The Deram Anthology liner notes
Barry Monks, June 1997.
Many thanks to Chris Holmes, John Halsey, Nick Saloman and Richard Lane. BAZ Productions 1997
Note: Whilst the nickname 'Ollie' is a logical contraction of 'Halsall', both Zanna Gregmar and Claudia Puyol say that it was after 'Olly the Owl' which most likely means 'Ollie Beak' from the early 1960s UK kids' TV show The Five o'clock Club.
In fact, 'Ollie' always signed himself 'Oli' or 'Oly' and was credied as 'Olly' on all the Patto album original releases. The first instance of 'Ollie Halsall' was on the 1973 Tempest alnum, Living in Fear.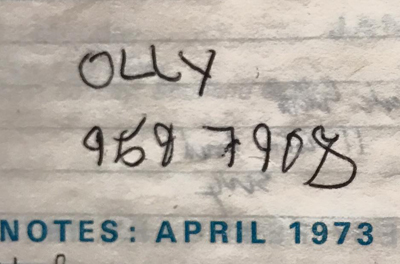 From John Altman
The show, which Ollie would almost certainly have watched as a boy, had a number of other connections. The musical director was Alexis Korner, who employed many itinerant jazzers for the house band and promoted lots of osbsure guest artistes. Bert Weedon, Ollie's hero, did a regular guitar tutorial spot.