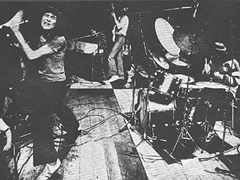 Unused Liner Notes for 'A Sense of the Absurd'
In Southport, near Liverpool, bassist Clive Griffiths and guitarist-cum drummer-cum pianist Peter Halsall were involved in the post-Beatle scene which included such diverse outfits as 'Pete and the Pawnees' (in which 'Pete' Halsall drummed), 'The Gunslingers', and the 'Music Students' - featuring both Halsall and Griffiths. Griffiths came to London in 1967 and found himself part of the 'swinging London' band 'Take 5' together with John Halsey. Clive persuaded Halsall to come down and join them in the role of vibraphone player!(It is not clear whether Halsall had ever played this unusual instrument previously.)
Together with Chris Holmes on organ and a US army 'deserter' John Henry on vocals they evolved into the truly legendary 'Timebox'. It was an unconventional line up at the time (and would still be today) which gives a clue to the direction they were going -jazz mixed with 'pop ('rock' had not been invented yet). '(The) Timebox' became one of the top London club names during the extraordinary Summer of 1967 with a prestigious date list including private 'society' parties and trendy nightclubs (Anabelle's, The Speakeasy etc.). At the same time one Michael Thomas McCarthy (aka Mike Patto) from Gloucestershire via Norfolk had built a promising solo career (which included compering some 60's 'package' shows) after stints with the 'Bluebottles' (backing the mystical Graham Bond at one time) and his own 'Breakaways'. He eventually came to London to join the National Youth Jazz Orchestra - crooning Sinatra standards to a big band accompaniment - before bringing together 'Patto's People' later to become the 'Chicago Blues Line'. Mike had a few singles released in his own name and was well known on the group circuit for his obvious talent and manic humour.
As was typical of life on the 'road' in the late sixties, paths frequently crossed; not unusually at motorway fast food emporiums. It was at one of these that Halsall must have related the tale of their singer John Henry's ignominious but inevitable departure at the hands of the US military police. Halsall had, perhaps reluctantly, taken on the additional role of lead vocalist and was keen to get Mike in the band instead. Patto accepted the invitation and the partnership was formed. An advertisement in the Melody Maker found drummer John Halsey who had paid his dues with a succession of semi-pro North London bands from 'Felders Orioles' to the (Finchley) 'V.I.P.s'.This final version of 'Timebox' was now fully able to develop a totally unique blend of jazz, blues and pop.
They continued the abundant rounds of the clubs, pubs and ballrooms of Great Britain and had a residency at the Marquee (London). By now they had secured a recording contract with the 'enlightened' 'Deram' label. Regrettably the material they were permitted to record/release was that considered, by whoever makes such decisions, to be of the 'commercial' nature. 5 singles followed, the majority of which having A-sides they (or any other small group) could not have performed adequately on stage. This folly, which otherwise would doubtless have resulted in considerable sales of their own material, meant that audiences attracted to the ballrooms on the strength of the record they'd heard on Radio London e.g. 'Beggin' (The old 4 Seasons number which did actually achieve number 30 in the charts in July 1968) could not reconcile their anticipation with the 'cool' jazz and rock they got for their money.
Nevertheless the press loved them and Chris Welch ('Melody Maker') among others, tipped them for fame and fortune in the run up to 1969. Timebox recorded both a studio and a live (at the 'Club Noreik' Tottenham, London) album - neither of which ever surfaced. Remember we are still in the era of the 'Love Affair' and the pop world of the supposedly liberated but, in truth, steadfastly conservative late 60's.
At a Butlin's Holiday Centre residency in 1967 Peter Halsall had begun to play the guitar seriously for the first time. Chris Holmes, the organist, had become increasingly disillusioned with the conflict of stage against record and had already decided to leave when Timebox made a last ditch (in retrospect) or valiant (perhaps) attack on the looming new decade. They now had a new deal with 'Vertigo' records and acquired ace producer 'Muff' Winwood (ex-Spencer Davis bassist). It was at last possible for Timebox to record the material which had secured them a considerable 'grass roots' following.
Winwood was looking at the lucrative European and other world markets and proposed a change of group name to tie in with the new venture. But to what? The use of surnames was in vogue: Halsall, Griffiths and Halsey were improbable in other than English. 'Patto' - Mike's nickname and, by now, stage (sur)name seemed to fit the bill well. There is no way, however, that 'Patto' the group could have been considered a backing outfit for Mike since, from the start they worked as a complete unit. Mike was one of the finest vocalists in any popular idiom and used his voice in the best jazz context as an instrument. Halsey and Griffiths were a formidable rhythm section - an oft-used expression usually reserved by the uneducated and ill-informed to describe the undeserving, but in this instance totally justified. Just how Griffiths managed to follow Halsall's perverse chord structures and Halsey to fit the incredible breaks into the insane timing, remains a marvel.
Ultimately the 'star of the show' had to be guitarist Peter ('Ollie' by this time) Halsall whose talent must be considered as extraordinary - on a par, certainly with that of Richard Thompson and even (and why not?) Hendrix. Ollie started on drums, progressed to virtually master the piano and vibraphone (an horrendously complex instrument) in a remarkably short space of time. He did not pick up a guitar with any professional intent until late 1967. The progress to the standard demonstrated by the recordings of 1970/71 contained in this album over 3 short years is nothing short of incredible. But there are some possible explanations: Firstly, Ollie has never cited (nor shows evidence of) any other guitarists as major influences - other than Django Reinhardt ('at the start') and Hendrix ('at one time'), preferring instead to absorb saxophone melody lines (Coltrane) and piano (Cecil Taylor) jazz harmonies.
Ollie said he tried to emulate the saxophone even to the extent of breathing the notes as he played. Thus, not confined by the conventional 'language' of rock guitar (which had formed even by then), he expressed himself in a truly unique fashion. Secondly, remember that he was still playing vibraphone on stage (to a decreasing degree during the life span of the band). To avoid having to put the guitar down to play vibraphone solos (or vice versa!) he originally had the guitar strung up high round his neck on a short strap. This almost necessarily required a technique (thumb behind guitar neck) more commonly associated with classical or Spanish guitar players. With all four digits free for fretting he developed a quite staggering (even in the light of Holdsworth - who has named Ollie as an 'influence' - and Van Halen) language of chromatic runs and complex scales.
It is perhaps a little difficult to fully appreciate the impact this had in the musicians' circles of early 70's; especially today when every kid in a music shop can play a totally meaningless 10,000 notes a second through a fuzz box and when Hendrix licks are the standard repertoire of those who like to think they are innovators.
You can hear Halsall's influence in much of today's music. He was the first to to play real jazz in a rock context; the first to produce fluid lightning runs by cleanly 'hammering on' notes rather than via the somewhat staccato alternate plectrum strokes of the conventional jazz or rock player - listen to the solo on 'Give It All Away' included here and tell me you've ever heard speed so intelligently and precisely delivered. He was the first to use the tremolo arm in a tasteful manner to sustain chords and later invented the 'dive-bombing' 'wang bar' technique favoured by today's heavy metal merchants and American 'FM' session players.
This is the point - the ability to play tasteful and totally unexpected breaks, fills and solos that literally send shivers down the spine. The only parallels are Clapton with the 'Bluesbreakers', Hendrix in 1967 and Richard Thompson. This is borne out by the fact that a 'Patto' London gig in 1971 would be liberally sprinkled with 'name' guitarists of the day and other instrumental 'heroes' literally 'jaw-dropped' in amazement. Halsall was the musicians' musician in 1971 - an image perhaps heightened by the fact that he 'never looked the part'. He tended to stand in the shadows at the side of the stage, hiding behind the vibraphone, with short (for the times) hair, wearing a blue and black striped jumper under a tweed sports jacket which often ended up draped over his amplifiers.
He projected a paradox and, furthermore, was left handed - which only added to the confusion. He never set fire to his guitar, never smashed his amplifiers, never engaged in any sort of 'superstar' posturing or guitar hero posing (except as discussed later!)
You can't fill a rock pub/club by playing music alone, as we all know. 'Patto' knew this instinctively and a 'Patto' gig in your home town in 1971 was a total 'loon', an event and eventually the stuff of legends. John Halsey might start proceedings with a risque anecdote - often fluffing the punch line (to tumultuous cheers and jeers) whilst a 'professional tune up' comprising an approximate matching of bass and guitar pitch (no strobe tuners in those days!) took place. Ollie would probably bring in the opening chords of 'Hold Your Fire', the usual starter, and they were away - Patto's grin covering the stage from left to right whilst inflicting grievous bodily harm to a tambourine.
They didn't have a 'set' of songs - Ollie rarely even 'called' the tune, except by simply playing the introduction. The band always (usually!) took the cue perfectly. They played their current album material, naturally, but Ollie would often signal an old rock and roll standard 'Runaway', 'Big Hunk of Love', 'Route 66' of which Mike had a few seconds of 'intro' during which to remember the lyrics (he almost invariably did). Ollie occasionally took a lead vocal on his own or a Dylan composition ('Dear Landlord').
The 'act' was chaos - not organised chaos, but with natural and spontaneous somewhat 'Pythonesque' humour. Certain 'party pieces' became almost obligatory - the accapella 'Dwarfs Chorus' ('Hi Ho, Hi Ho') approximated visually by kneeling on the shoes (see the cover of the 'Roll 'Em Smoke 'Em ... ' album), 'Strangers in the Night' in 5/4 time achieved by the addition of an expletive prior to the last word in each phrase and 'Drummer' John Halsey's inimitable vocal renditions of 1950's pop classics ('Stairway of Love', 'You Left Me Lonely Nights'). All this greeted with ecstatic alcohol-seasoned cheers and famous Patto yodels (Noy!).
They would organise a 'Twist Competition' to the tune of 'Walk Don't Run' featuring 'entries' from each band member - including Ollie's 'Amoeba Twist' (which involves lying prostrate on the floor and wriggling!) 'Patto' were totally devoid of any pretensions about their music - which is not to say they weren't intensely devoted to it. Occasionally they argued openly on stage. Halsall might appear furious that 'Griff' didn't exactly follow the totally perverse part required. But mostly they couldn't help but ridicule everyone and everything connected with the rock 'scene' e.g. Heavy Rock represented by a ludicrous version of 'Shakin All Over' at 'whisper' level culminating in a final 'power chord' of half a decibel 'conducted' by 'Admiral' Halsey launching a drumstick at his kit from a table in the audience. John's kit often sported inverted cymbals and some with whole chunks missing. The legend 'Patto' on the bass drum was often upside down. He managed to demolish Halsall's vibraphone during a particularly outrageous 'freak out' at a London gig in late 1971, after which Ollie was forced to concentrate exclusively on guitar until Mike acquired an electric piano (which 'Ollie' promptly adopted for the most part - playing it for the whole of one notable gig at the 'Torrington' North London - except for a couple of guitar encores. (Yes, Ollie possessed an extraordinary keyboard technique too!)
But principally they mocked themselves. Ollie by now had his guitar strung low 'guitar hero' fashion and would pose and grimace in obvious parody of his peers. The essential problem here was that Patto had become the ultimate small club/pub attraction. But anyone who witnessed such gigs will be hard pushed to picture them transferred to an American football stadium. The truth was it just didn't work on an impersonal level. They might have and probably would have upstaged Joe Cocker's band in a pub, but Cocker (with whom they toured the USA and Australia) had an act big enough to fill an arena. 'Patto' didn't. They were advised by management to 'cut the humour'. Patto sang, Ollie and the rest played. Musicians were 'knocked out' but musicians don't buy records or concert seats.
I remember one of the final gigs in 1973 at the North London Polytechnic - a large unwelcoming shed full of 'crashed out' students. 'Patto' (by then nearing the end) were the best 'garage' band I ever heard. Patto made 4 albums - 'Patto' (1970), 'Hold Your Fire' (1971), the 1972 'Roll' Em Smoke ' Em, Put Another Line Out' (which attempted, partly successfully, to represent the live shows) and 'Monkey's Bum' (1973) unreleased. The sad realisation in early 1973 was that they had, in a sense, gone 'full circle'. 'Timebox' could have gone no further, neither could 'The Rocking Pattos'.
Ollie briefly appeared to succumb to the heavy rock temptation, grew his hair long and 'moonlighted' with John Hiseman in 'Tempest'. Patto split, following Ollie's inevitable departure in May 1973 to a full time position in 'Tempest' and later perhaps by the other extreme to Kevin Ayers Band where he remained, on and off, until his death in 1992. He was, naturally, in great demand from 1972 onwards as a 'session man' for the likes of Terry Stamp, Michael D'Alberquerque, Neil Innes (with whom he made the best ever Beatles pastiche in Eric Idle's 'Rutles' film music -appearing briefly in the cast as 'Leppo' (the 5th 'Rutle'). He also teamed up with the insane John Otway for an American tour as a duo - this must have been mayhem. Mike the 'trouper' perpetuated the 'looning' with 'scratch' bands ('Dick & The Fireman') comprising some of his old buddies and got precisely nowhere. Patto probably more than any of the others perhaps yearned for 'stardom'. At a reunion in 1975 Mike poignantly yelled - "Why couldn't you be like this when we were together?!"
Two years later Mike (then holding down a desk job as a record company executive(!) and Ollie were reunited when the latter burst into his office together with madman drummer Tony Newman to demand a record deal. Mike couldn't resist the chance of yet another bash at the big time and 'Boxer' was formed. ('Below The Belt' LP 1976) ('Bloodletting' LP 1977). They seemed for a while, to have come to terms with some of the 'Patto' problems by aiming high from the new start. It didn't work as it should have done and Ollie was off again. Mike never gave up and dragged a revamped 'Boxer on for another album ('Absolutely' 1978). Mike died from cancer in March 1979.
John Halsey and Clive Griffiths were left on a bit of a limb after the 'Patto' split in 1973. They joined Neil Innes in 'Fatso' and Halsey went on to 'star' as 'Ringo and play in the soundtrack of the aforementioned 'Rutles' film/album mentioned earlier. Returning from a gig with 50's survivor Joe Brown, they were both seriously injured in a group van crash. John runs a pub in East Anglia, 'Griff' remains in hospital.
There is little to say about these recordings other than they are highlights from 'Patto' and 'Hold Your Fire', the 2 'Vertigo of 1970 and 1971 respectively. The music speaks for itself. There are the necessary but minimal overdubs (vocals, vibraphone, piano) but the bulk was recorded 'live' in the studio. The guitar was not speeded up! (although Ollie explored that old Les Paul trick on the two later albums). This is unabashed nostalgia for those lucky enough to remember - I hope it jogs a few memories. Hopefully, on the other hand it will be a revelation and an inspiration for aspiring musicians. If you're into jazz rock this is the place to start.
Technical Notes:
Ollie played (on these sessions and live) a white right-handed Gibson 3 pick-up 'SG' guitar - customised for left hand playing by repositioning the controls as appropriate. The guitar was fitted with a standard 'Vibrola' tremolo device considered primitive and unreliable by today's standards. He used Picato 'green pack' strings of gauges .010" .011" .016" .024" .032" .042" - They used to come in a green circular plastic box (for keeping your plectrums in?) and they gave you a spare first and second string and an alternative 'wound' 3rd (for your acoustic?).
He played through a Fender Princeton 20 watt valve amplifier linked to a 40 watt Fender Super Reverb amplifier. When the guitar volume controls were down it sounded relatively 'clean'; when turned up the amplifiers distorted although the overall sound level didn't increase that much. Griff played a Cream/Red scratchplate Fender Mustang (short scale) Bass fitted with Fender 'Jazz Bass' Pick-ups through an Acoustic 360 Bass combination amplifier. John Halsey used a Gretsch Kit, usually with double bass drums.
Barry Monks, January 1990
Originally commissioned in 1990 as cover notes for a projected ' best of Patto' CD which later became ' A Sense of the Absurd' double CD featuring both their first two albums in full.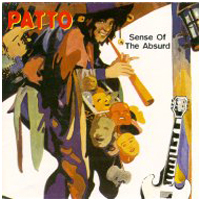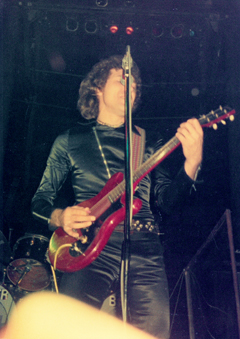 Rare picture of Mike Patto playing guitar with Boxer at The Roundhouse, London 1976
"'m not sure how many people know, why my brother Michael Thomas McCarthy was known as Mike Patto. This came about because Mike won a weekly talent show at Butlins holiday camp at Skegness. As he was well into singing and all that went with being in a group, he wanted a name change...there were too many names that resembled our sir name, so he decided on the name Mike Patto...after the guitarist Johnny Patto, Who had backed him in his winning performance. That's how he got his stage name folks."
- Phil McCarthy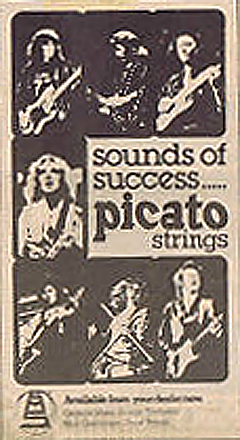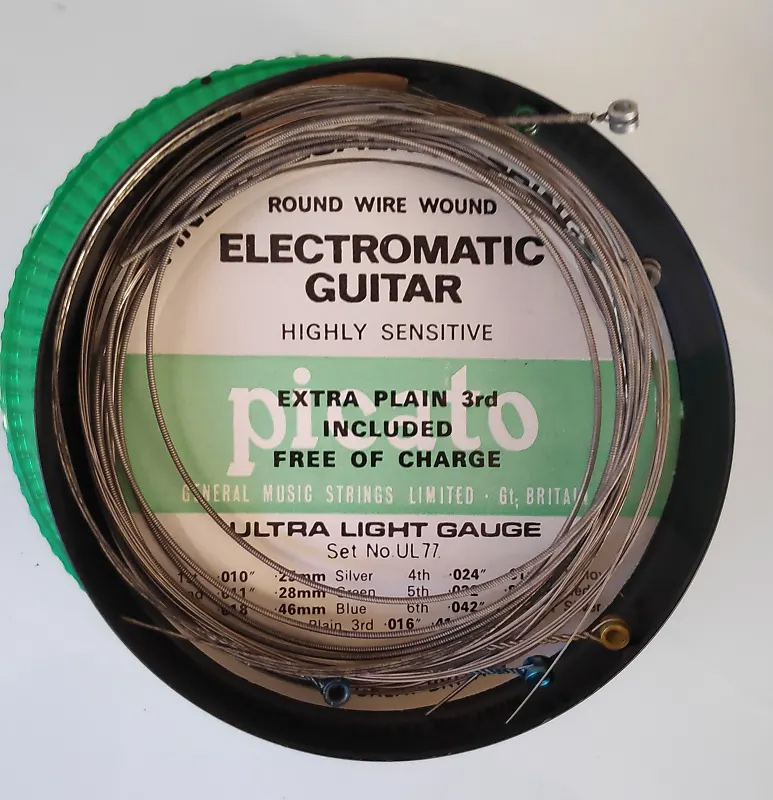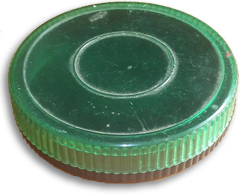 The Picato UL77 'Green Pack' guitar string box
Photo: David Osbiston
"The Patto yodel was started by Bernie Holland who's brother Chris (large) was also our roadie for quite a while. Before that we had Roger Manifold, Barry Bloar, Archie (an out of work actor) who was a useless roadie, but oh boy could he act, except for the part where he played a roadie. A really nice guy whose name was Dave and was from Swansea, much too nice to be a roadie for us bunch."
- John Halsey
Noy!