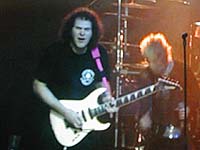 Saxon guitarist, Graham Oliver, recalls his first encounter with Ollie - at an unlikely venue:
---
In In 1965, as a thirteen year old boy, I went to Butlins holiday camp in Filey, Yorkshire, with my father, as we had done the previous years.
In the evening, he went to the dance hall for old time ballroom dancing and I headed to the hall that had the groups.
In 1964 it was Sandra Brown and the Boyfriends, but this year a band [Take Five] was on with a blond keyboard player [Chris Holmes].
As I was a budding guitarist, I watched the set every night for a week. After a few days, knew that, every night, the singer would announce that some of the band had to break for a pee. The guy playing the vibes stayed on stage with a couple of the others and put on the guitarist's guitar [I think it was a Gibson Les Paul] and played Booker T,s Green Onions for about 20 minutes.
But he played the guitar upside down, without reversing the strings, and played brilliantly. This became the highlight of the night for me as I had never seen anyone play like that, or that good.
In 1970/1971, I had just teamed up with Steve Dawson and we started to go to the Black Swan in Sheffield every Sunday night to see the bands. We saw Status Quo, Argent, Chicken Shack, Trapeze etc. But one Sunday, we arrived a little early and, at the bar, wearing a check sports coat, was the guy from Butlins!
I said to Steve "F**k me. That bloke's amazing on guitar!" This was, of course, Ollie Halsall with his band Patto, and they became regulars at the venue gig.
Everyone hoped that Ollie would play more guitar, but sometimes he would mainly play the vibes - disappointing the guitarists in the audience.