I am a professional musician (guitar, and pedal steel guitar) living in New York City. I was a very close friend of Ollie's in Deia Mallorca for many years.
We worked in a jazz band for a while. The band was called "Mainstream Machine". The bassist was Fernando Calvo, and the drummer was Dez French. Unfortunately no recordings of the group survive.
There was only one cassette tape of  the band that I loaned to someone back in the eighties and it is floating around Mallorca or England if it still exists.
I used to hang out a lot with Ollie and Kevin way back in the eighties, and we used to play a lot together. I haven't been to Deia since 2001 and am long overdue to visit all my friends there.
Ollie  and I used to play pool alot together,and one summer day I bought a used pool table from a Spanish cop (he had dozens of them from bars that he had raided!) so Ollie helped me move the pool table into my house.
The damn slate weighed so much it almost gave us each a hernia. We carried it upstairs, and then  went downstairs to the kitchen to have a beer.
We were sitting there when we noticed the old olive wood beams of the kitchen ceiling were starting to slowly give way and bend from the weight of the  pool table above.
The house I lived in (and owned) was, after all, over a hundred years old. We then quickly ran upstairs and then carried the slate and legs and the rest of the table downstairs to the entrada..
The floor there was solid stone built on rock so their was no problem with it holding the weight of the table, but unfortunately the entrada's space was limited in certain areas thus making some pool shots impossible with a regular sized cue stick.
So we then cut two cue sticks in half so we could make shots, and be able to draw the cue back properly. Ollie named one stick 'the dwarf' and the other tiny one 'the mini-cue'. Whenever a shot required a short cue, Ollie would grab the dwarf stick and say 'Dwarf shot'. That always cracked me up. He usually beat me too.
Well, there were lots of great times we all had in those days. Ollie was really one in a million. Easily the funniest guy I ever met and probably one of the most gifted too. I get a bit sad when I think about his untimely passing.
Mike Shefrin 2006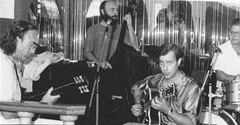 Ollie | Fernando | Mike | Dez