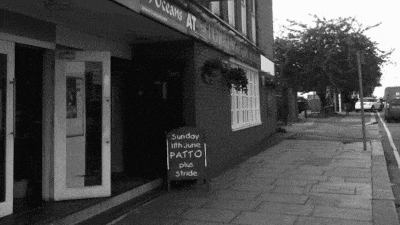 The Torrington Arms, 811 High Road, Finchley, London N12 [corner of Lodge Lane]
Images include the pub in 1890 and 1920
Well, this is where it all happened. The 'Mucky Duck' [Black Swan] Sheffield and The Torrington, North Finchley [pictured here in various incarnations] were probably The Pattos' favourite venues.
The 'Duck' was their last gig before Ollie left in May 1973 - although they did both the final 'Patto' gig without him shortly after and the last ever gig of the 1975 reunion at The Torrington in July 1975.
Promoter George Blevins started booking jazz bands in 1968 and switched to rock in 1970. He carried on for 30 years. Early performers here were Shakin Stevens, Alan Bown, Nucleus, Heads Hands & Feet, and Bob Downes' Open Music.
The Torrington was part of the 1970s pub rock circuit, booking bands like Brinsley Schwarz and Dr Feelgood. Towards the end of the venue's life Pete Feenstra took over as promoter. By then blues rock and tribute bands were much more common.
The venue finally closed on 3 October 2004 and part of the building is now a Starbucks and the music room is a dance studio, which isn't, perhaps, quite as bad.

Perhaps the best illustration of the excitement they generated in concert occurred some two years after they had split up.
On a Friday [Sunday - Ed] night in July 1975. at the Torrington in Finchley (one of Patto's regular gigs and the scene of their farewell show two years earlier), the four original members played a one-off benefit for the family of one of their old roadies, who'd been killed on a trip to India.
The queue stretched round the block, literally hundreds were locked out, and inside Patto were playing like they'd never been away.
They performed songs from all four albums, with some of their stage favourites like "Mummy", "Shakin' All Over", and "Stairway Of Love". It was the best way to remember them, belting through "Loud Green Song", "Hold Your Fire" and "San Antone".

Nick Saloman, Record Collector magazine August 1990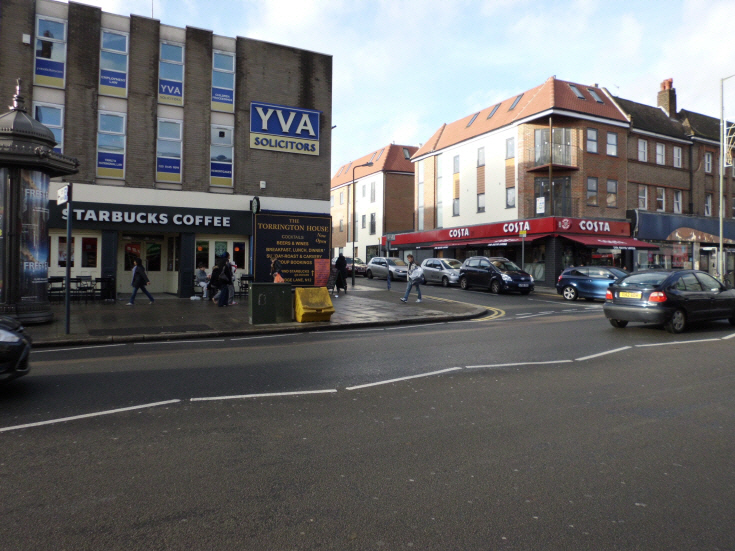 Site of the torrington on the left
" I do remember someone, maybe Boz recording a late Patto gig from the back of the room with one of those 'human skull' devices which I think he told me should make an excellent recording. I also remember Martin Ace standing in for (or alongside) Mike. Quite a surprise - I didn't even know they knew each other.
"One more memory. Early seventies, I went to a late night Time Out Party with Patto as the featured band. Topless waitresses, waiters with flowers in their hair and a trans-sexual stripper (very odd). The sound for Patto's performance was 'shite' so I accosted the sound man with some fury. He then improved it considerably. Mike beamed and gave me a thumbs up."
- George Blevins 2016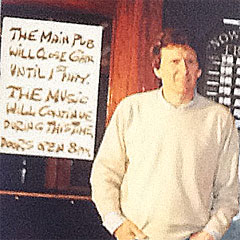 Here's George Blevins's closing words over the 'standing ovation' [well, there wer no seats anyway] at the 6 Jully 1975 Patto reunion above.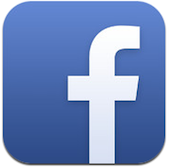 Torrington Music
FaceBook Group

Patto
Here, as far as I can establish, are all the dates Patto ever played the Torrington, North Finchley. There could be more. Anyone?
1971
Sun 11th July
Sun 7th Nov
1972
Sun 2nd Jan
Sun 6th Feb
Sun 9th Apr
Sun 11th Jun
Sun 6th Aug
Sun 12th Nov
1973
Sun 21st Jan
Sun 6th May [without Ollie]
Sun 17th Jun [Dick and The Firemen]
1975
Sun 6th July [Reunion]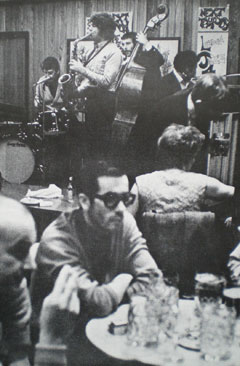 A rare photo of the inside of the music rom from an earlier jazz age.