Traveling Show: The Serendipitous & Surreal Six-Stringed Life & Times Of Ollie Halsall
by Ralph Heibutzki
This is the nearest thing to a complete book about Ollie and is reproduced by kind permission from a series of articles in issues 29, 30 and 31 of UglyThings magazine
© 2009 Mike Stax/Ugly Things No part of this publication may be reproduced without the express written permission of the publisher.

'Chairman' Ralph Heibutzki's 'Ministry of Truth'
Rock 'n' roll has never been a meritocracy, so it's hardly surprising that compromise adds zeroes to paychecks. As any musician who's felt the calling is acutely aware, today's hottest flavor often becomes tomorrow's cutout fodder-which comes as a cold consolation, then, for those whose names don't crop up among the immortals.
Still, by all rights, Ollie Halsall-whose fluid, melodic lead guitar lit up many a backline behind Kevin Ayers, Boxer, Patto, Tempest, and Timebox-should have been a household name like Jeff Beck, Eric Clapton, or Jimmy Page, plying their six-stringed trade in assorted enormodomes around the globe.
But that's not quite how it worked out. From the 1960s through the 1990s, Ollie remained the essence of the low-key, unassuming sideman, whose unerring musical instincts would find their chief outlet in nightclubs, pubs and small theaters-a setup that, to all appearances, suited him well.
At least, that's how the situation struck Helen Newman, or "Lady H," as she became known within the Timebox/Patto set. When Helen dreamed of becoming famous, she'd wonder about how to answer what seemed like the inevitable question: "Who's your favorite guitar player?"
Thus cued, Helen expected to respond: "It would be Ollie Halsall, because people didn't know Ollie so much. He didn't seem to be going after the fame, number one. He was after the music. You know, he wasn't playing to get famous, he just had to play."
How characteristic, then, that so many pieces of Ollie's legacy are still continuing to surface, such as a crackling 1971 French TV appearance that, sadly, remains the sole surviving video document of Patto's explosive concert alchemy. Yet this state of affairs is hardly coincidental, as '60s keyboard legend Zoot Money suggests: "Becoming 'a household name' has far more to do with whom you associate yourself on both a business and musical level, than it does with the musician's desires. Ollie never tolerated arseholes, opportunists or morons. So the question never arose."
Yet Ollie's work did not happen in vain; far from it. Two decades after friends laid Ollie's ashes to rest in June 1992, on the Spanish island of Deja, the groundswell around his legend only continues to grow, as shown by the objects-invariably, guitar knobs, or picks-left on his cracked headstone. These visitors already know what drummer John Halsey, Ollie's bandmate in Timebox, and Patto, has maintained for years: "Ollie may not have been the best guitarist in the world, but he was certainly among the top two."
Helen's ex-husband, drummer Tony Newman-who worked with Ollie during the hard-rockin' Boxer era-goes further still. "If you're on that radio station, the same station he's on during that performance [of a guitar solo] you'll see where he's coming from, and you'll love it," Tony says. "If you're not on that plane, you won't-I mean, it's just one of those things."
OUR STORY (TAKE ONE): JUST JERKIN' LIKE UNCLE CYRIL
Imagine the story unfolding, then, like some grainy black and white '60s period movie, with the opening credits panning over a wide-angle shot of Southport, the northwest coastal city known for tourist attractions like the Model Railway Village; Southport Pier; and Pleasureland, a fairground and amusement park that operated, uninterrupted, from 1912 through 2006.
Now, cut barely 15 miles up the road, to neighboring Liverpool-whose mid-'60s status as Beatles Central exerted a powerful gravitational pull on youth hoping to buck the nine-to-five grind. These daydreamers included Peter John Halsall (born March 14, 1949), whose dropped-h pronunciation of his surname resulted in the nickname forever identified with him; "Ollie." At seven, he first tinkered with a guitar owned by one of his older sisters, as well as piano. However, the drums became Ollie's first instrument, which he began playing around 1962 in local area combos like Peter & the Pawnees, Rhythm & Blues Incorporated, and The Gunslingers.
By most accounts, Ollie's earliest influences included Buddy Holly, Elvis Presley, and Gene Vincent-with whom he became acquainted, via his sisters' record collections-as well as the Beatles, whom he saw several times in Southport, and retained a lifelong fascination. Ollie's future took shape when he quit art school at 16, and moved to London to begin the musical career that would take him around the world many times over-a feeling that he captured in his haunting McCartneyesque ballad, "Traveling Show": "I just go, New York, Paris, and Rome." (The song can be heard on the 1999 reissue CD, Caves.)
The move coincided with yet another transition-from self-effacing drummer of the Music Students, to master of the vibraphone, an instrument more typically associated with jazz masters like Gary Burton. Indeed, Ollie's penchant for making any instrument sound as if he'd played it for all his life-from drums, to guitar, sitar, keyboards, and even saxophone-would serve him well throughout his career. Take the vibraphone, for example. It's a story that John Halsey has told often, and one that former Bonzo Dog Doo Dah Band member Neil Innes recounted in similar fashion during a December 12, 2006 interview for Jon Kanis's "State Controlled Radio" program.
"You know, let's get analytical about it-I think, in some ways, he was kind of a gifted autistic sort of thing," said Innes, who worked on many projects with Ollie. "When he wanted vibraphone, his parents sort of said, 'Well, you don't know how to play it,' so he cut out black and white pieces of paper, and put them on his bed, and started hitting them with mallets, and things like that-and sort of proved that he was interested in it. And so, they bought one, and then, he played it immediately."
Ollie's burgeoning talents came in handy for the Music Students, whose lineup also included guitarist Bill Lovelady, (of "Reggae For It Now" fame; more about him later), and keyboardist Chris "The Professor" Holmes. With setlists that drew on soul nuggets from Bobby "Blue" Bland, Ben E King, the Impressions and the Temptations, the band cut an unusual figure to a public still caught up in the thrall of Beatlemania.
"We took a gamble, and all came to London," Holmes says. "But we were different, and we starved, basically; came to London, and found it very difficult before we hooked up with a manager, (and) an agent. And one club owner took pity of us in the middle of the West End, 'cause we were using a vibraphone. We called ourselves a rock group, but 'pop-dash-rock group' -- using a vibraphone was quite unusual."
Indeed it was, which might explain why Laurie Jay-a drummer-turned-agent, whose resume included the likes of Screamin' Lord Sutch, Dusty Springfield, and Gene Vincent-saw something in these errant hopefuls who sought him out in 1965. Only a recovering drummer, perhaps, might appreciate the vibraphone's percussive properties, particularly in a band with a growing jazz influence.
The Music Students had become Take 5, whose lineup of drummer Geoff Dean, guitarist Kevan Fogarty, bassist Clive Griffiths and vocalist Peter Liggett had weathered a troubled German tour, according to Monks's liner notes for Timebox's 1998 Deram Anthology CD; hence, exit guitarist Peter James, enter Ollie, and Chris. The band soon found an outlet on package tours behind names like Lou Christie, the Kinks, Small Faces, and Tommy Quickly-and such unlikely venues as Butlin's holiday camp, where the band performed in early 1966.
Frank Dixon had become the new frontman, but didn't last long-thanks to coming down with the dreaded lung disease of tuberculosis, a situation that many chroniclers chalk up to an overabundance of cold nights spent barreling up and down the country in drafty vans. In November 1966, the band settled on a different name - Timebox, an obscure American slang term for "prison cell." This moniker proved more appropriate than anybody realized at the time, since the new singer, John Henry, happened to be a U.S. military deserter - an unfortunate situation, since he'd already appeared on the first single, released in February 1967, on the Piccadilly label.
Credited to "The Time Box," the A-side was devoted to a remake of the Spinners' "I'll Always Love You," with Ollie's vibes playing a central role on the instrumental flipside, "Save Your Love." The single earned little attention, although back home, a Southport retailer claimed it was selling "quite well" (this, according to a clipping from Halsey's scrapbook, posted on the Timebox/Patto Fan Site, www.pattofan.com). Henry's career ended in March 1967, following his arrest after a London club gig. "It was an upmarket discotheque, as they called them then, a lot of upmarket show biz people in there-and he did the gig," Holmes says. "He rehearsed with us, you know, we had grand plans. Whether it was [for actual desertion, or dishonorable discharge, I have no idea."
Circumstances dictated the double-barreled instrumental lineup of "Soul Sauce"/"I Wish I Could Jerk Like My Uncle Cyril" (April 1967). Once more, the vibes took center stage, and once more, the band endured yet another lineup change, this time, losing Geoff Dean, also to tuberculosis (hence, the appearance of top-flight sessioneer Ronnie Verrell).
For the A-side, the boys did a Cal Tjader instrumental, while the flipside emerged at the producers' behest. "It's not the American interpretation of 'jerk', by the way-it's a dance," Holmes explains. "There was a dance called 'the Jerk,' where we invented it, basically. It was a pisstake! The producer said, 'Come on, boys, write a B-side while you're in the studio,' so-it's basically a shuffle."
That lunatic B-side has gained life from an unexpected quarter. After hearing his local BBC station use "Uncle Cyril" as music for a show hosted by Jonathan Ross, Holmes consulted the Performing Rights Society (PRS) to see if any royalties were due, only to receive an unpleasant reminder of his membership in The Bands That Time Forgot Club.
"Some of them [at PRS] are saying, 'Yes, you deserve it,' in an accompanying letter-'you'll get the money,' but, no, it's gone pear-shaped," Holmes says. "I got very upset. The lady phoned me up, and said, 'We only backtrack six months.' Very sad, that, because it's £22, English pounds sterling per play, and it's been played every Saturday for seven years."
OUR STORY (TAKE TWO): MR. PATTO (YER BAND AWAITS)
Like countless many bands of their era, Timebox's bread and butter focused around a full gig sheet, working a network of clubs whose names evoke the DNA of Swinging London: the Bag O'Nails, Blaises, the Cromwellian, the Scotch Of St. James, the Speakeasy, the Temple Club, and so on. This network stretched from London, the nation's natural music epicenter, to smaller cities "oop north," like Blackpool, where Tony Newman-then with Sounds Incorporated-first observed Ollie, working the vibes as if his life depended on it.
"I can remember him, distinctly, with his black hair, and, when we came offstage, I remember seeing the vibes just thrown in a heap, just like..." Tony laughs, before he can fill in the blank. Like the Who's mad drummer, Keith Moon, perhaps?, the interviewer is tempted to ask. "Exactly, that's what he thought it was like," Tony says, "so they were sort of shoveled into this van. So that was my first experience with Ollie."
As hectic as the date sheet got, however, the constant personnel shuffles threatened to stifle progress for good. The first order of business focused on finding a new frontman-preferably, one without the military police trailing every move.
Near the end of July, the solution arrived in one Michael Thomas McCarthy (born September 22, 1942, in Circencester, Gloucestershire). According to the most commonly accepted accounts, the introduction came from Jack Barrie, who'd first brought Mike to London, for an unsuccessful audition with the Robert Stigwood Organisation.
For a business brimming with colorful characters, Mike had a good deal more color on offer than most, starting with his teenage years as a dance competition winner, and amateur boxing champion. On one occasion, at least, his fistic talents proved useful "oop north," against someone heckling during a Timebox gig. "During the middle eight of the song they were playing, Mike stepped down from the stage, knocked the guy out out and returned to carry on singing the rest of the song," Mike's younger brother, Phil, recalled in an essay posted for www.pattofan.com
("Reflections From A Fellow Skyliner"). Then there's the matter of Mike's stage name, which his brother asserts came from one Johnny Patto, a guitarist with whom he'd played at Butlins holiday camp. Like many stage names, Mike's moniker served as a protective coloration, of sorts-as far as his family's privacy went-while establishing a distinctive identity of his own (especially since his surname sounded too close to "McCartney" for comfort). Compared to his predecessors, Mike was well-traveled, indeed.
During his school years, he'd sung in a skiffle group, The Skyliners, which featured Phil on lead guitar. His career began in 1962, with a pop covers band, The Fretmen (later to become the Breakaways). Mike's pre-Timebox doings could make a grand UT article unto itself. However, space compels a more succinct approach, so our account starts with the Bo Street Runners, whose name and hard-edged R&B approach took cues from Bo Diddley, and gave Mike his first major public exposure. Between the spring of 1964, and June 1966, the Runners released an impossibly rare EP-which fetches around £1,500 for a mint condition copy, according to Record Collector-and four singles, none of which aroused any great public interest.
Yet these non-successes hardly dented Mike's standing in London's clannish, fiercely competitive pop scene. This was a man who'd won a "Ready Steady Go!" talent contest, and even tasted the solo route through 45s with the Chicago Line Blues Band, and his own stab at poppy Valhalla, "Can't Stop Talkin' About My Baby"/"Love" (December 1966). Nor was Mike restricted to R&B belting. When he and his new bandmates got acquainted, Mike was singing with a 24-piece big band, The London Youth Jam Orchestra, further confirmation-if anybody needed it-of his multi-faceted abilities.
Mike's good humor, lack of pretense and confident air are only three reasons why people speak of him emotionally to this day. The cancer that would cut him down in March 1979, aged 36, was an unthinkable prospect to anyone who saw Mike in his prime-as Helen did, many times: "Patto was just mesmerizing onstage. I don't know, he was so charismatic, he was crazy. He had a great voice; he sang with such passion." Mike's gritty, world-weary vocal demeanor bore the air of a much older man who'd weathered whatever injustices life had thrown his way.
Not surprisingly, writers wrung plenty of mileage from this quality, to Halsey's amusement: "Well, he sings like he did, but it [Patto's musical history] wasn't that long! He wasn't old enough to have a long history. He'd been around a bit, yeah." Mike's commanding swagger made an immediate impact, as an August 1967 live review from the Marquee Club makes vividly clear. For Melody Maker's man on the ground, "all the action came from singer Mike Patto, of whom I can only record that he was an absolute gas," although he also praised Ollie's vibes playing on "Sketch," by the Modern Jazz Quartet, and hailed Timebox as "one of the musical pop groups on the scene." With raves like these, and such a passionate frontman on board, nothing seemed out of reach-for now, at least.
OUR STORY (TAKE THREE): LADY H MAKES THE SCENE Notice spread quickly among those in the know, such as Helen Newman, who'd gotten her earliest rock 'n' roll mileage as a DJ in Bournemouth, where she met David Bowie-then still doing business as David Jones & The Lower Third-as well as the Moody Blues, "all these wonderful people," she recalls. "Keith Moon used to come down a lot, because his girlfriend lived in this town, as well, who he later married-Kim [Kerrigan]."
Taking the next logical step, Helen moved to London, and became a DJ for NEMS Enterprises (the corporate face of Brian Epstein's business empire, when not preoccupied with the Fab Four). Helen fell into bit parts and modeling, as she got her first taste of a scene that made the Bournemouth one look small. "Everything was happening in London, it was quite amazing," Helen continues. "I used to hang out with Keith Moon. They [the Who] had a [road] manager called Wiggy [Wolfe], and we used to ride around London, and go to all the hip clubs. That was where I first saw Ollie, and I cannot remember the name of the flipping club!"
Helen does remember that Laurie Jay owned the venue-the Club Noreik, perhaps, a bingo hall that also belonged to his partner, Laurie Boost, where the boys rehearsed. (Boost also owned a string of greyhound betting shops, which provided him another lucrative sideline.) In any event, Helen walked downstairs, heard Timebox go through its paces, "and it was love at first sight," she says. "Of course, they would do something totally out of context-Mike would wear something ridiculous onstage. I don't know, I'm just thinking-one time he came on in tights." As for Ollie, the attraction came from another direction. "If he did a solo, or something, even if you didn't know much about music-I didn't, and my friends didn't-you knew [that] Ollie was a genius," Helen says.
Years later, long after the freewheeling madness of Ollie and company had settled into rock legend, Helen remembers taking the plunge and asking ex-road manager John Taylor: "Did everybody just think of me as a groupie?" "He said, 'Oh, no.' They all called me Lady H because there was another fan called H, and I was sort of a snootier one," Helen laughs, "so they called me 'Lady H.' He said, 'No, no, we loved you, Lady H-plus, you always had good dope!'"
Out in the real world, the band continued struggling with lineup changes. Andy Peters had kept the drum seat warm for the spring, but, before long, Laurie Jay found his percussive talents pressed back into service, at least for live gigs. Geoff Dean had returned to Southport, hoping to recover from the illness that had cut his career so brutally short. If the band were to go forward, a permanent drummer was the only realistic solution.
OUR STORY (TAKE FOUR): MAKE WAY FOR THE ADMIRAL Enter John Halsey-now and forever, known to fans as "The Admiral"-and, as luck would have it, well-acquainted with the Timebox manager's musical doings. "The first time I ever saw Laurie Jay, he was playing with Gene Vincent," John recalls. "All these American artists used to come over here, way before the Beatles-Jerry Lee Lewis, Eddie Cochran, that sort of genre. He used to go out, invariably, and back them. He was a good player, Laurie."
Halsey recalls his musical journey starting in 1958, with a little encouragement from Peter Rettig, a school friend who was played drums in a combo called the Black Diamonds. There was one slight hitch, however, John recalls: "I didn't have any money, nor did my parents. I couldn't afford any instruments. In theory, I was in a band with these two friends of mine that sort of lived down the road."
The dream picked up speed around 1961-62, after John's mother spotted a drumkit at somebody's house. He bought it, started playing, and joined a band in north London's Holloway area-Barry Reed & The Avengers, one of countless hopefuls looking to make their mark as the beat boom dawned. "At that time, there were bands playing everywhere-there were so many groups in England," Halsey says. "You couldn't go past a Scout hut without a band playing in there."
Once the music got more serious, so did Halsey's tastes, particularly soul bands that featured Hammond organ-playing frontmen, and horn sections, like Georgie Fame & the Blue Flames, Chris Farlowe & the Thunderbirds, or Zoot Money & the Big Roll Band, to name three relevant examples.
John began spending a lot of time at the Flamingo Club on Wardour Street, where these sorts of bands could be more readily found than anywhere else, and where every blues, jazz, R&B and soul star made a point of stopping. Not surprisingly, John's next band, Felder's Orioles-named after the Crusaders' bassist, Wilton Felder-became the vehicle of choice for his newfound musical tastes.
Formed in 1965, the lineup included another of Halsey's friends, Paul Hodgson (guitar); singer/organist Barry Huband; bassist Nick O'Brien; baritone saxophonist Rod Mealston; and tenor saxophonist Pete Newman, who'd worked with the likes of Johnny Kidd & the Pirates, Screamin' Lord Sutch, and the Tornadoes.
"This is all around Finchley, Watford, all north London," Halsey says. "Eventually, we had the band we wanted, which was a singer who played Hammond organ; guitar, bass, drums; and two sax players. We were doing [songs by] Otis Redding, Sam & Dave, all that Stax sort of stuff, James Brown. And we were playing the Flamingo Club, the Marquee, Klooks Kleek, [and] the Ram Jam Club. All the places we used to go and see bands, there we were.
At last, we were one of them." An early break happened at a talent competition, where producer John Schroeder-riding high from "Walking Back To Happiness," the #1 hit that he'd written for Helen Shapiro-was also a judge. (The connection proved fortuitous, indeed: Schroeder also produced the first Timebox single, "I'll Always You.") "I think we came in second; he actually signed the band up," Halsey recalls. "For about a year or so, we released four singles, and we used to just gig around, and play." Like the Bo Street Runners, however, the Orioles would remain little more than a street-level local band. None of their singles made any great impact, though the second-"Turn On Your Lovelight"/"Sweet Tasting Wine" (October 1965)-is generally considered their finest hour.
The band soon got dropped, although John remembers the fun ending for a different reason, one he can laugh about now: "We took the big step of packing our jobs up, trying to do it [music] fulltime-and the band split up, two weeks after that! Everybody went back to work." Everybody, that is, except Newman, and Halsey, who, as October of 1967 beckoned, began advertising what he calls "a 'drummer for sale' sort of thing in the Melody Maker."
After an initial call from Laurie Jay, Halsey went to the Scotch of St. James, "another club where people used to hang out," he says, "I went down there and sat in, and played really, really badly, because I was so nervous-which I always am, in any situation like that." But another call came the next day: could John try again, this time, at Bentwater's, a club tucked away at an American airbase in East Anglia? "It was a mid-week gig. You'd go out there and play for about three or four hours, for a fiver each," he laughs.
At the appointed hour, the boys loaded Halsey's drums into their van, and shot off to Bentwater's, where the outcome proved more satisfactory. "I was quite relaxed then, played the way I'd normally play, and they were all pleased," John says. "They said, 'Why didn't you play like that last night?' I said, 'Well, I was just too nervous, really.'"
Eddie McHenry-like the Admiral, a fellow drummer and north Londoner, from Finchley [who played for The Lee Sabre Combo in 1962] - witnessed his share of surreal moments as the calendar heated up. John's mate found himself called on to help out, too, such as one occasion in 1968, after he returned from a trip abroad. "They needed a roadie, and nobody had a driving license," McHenry recalls, laughing. "I didn't have a gig, so I just drove until they got a roadie, and then, were mates of the band, and would go to gigs."
OUR STORY (TAKE FIVE): OLLIE COMES INTO HIS OWN
Undoubtedly, nobody appreciated these developments more than Laurie Jay, who could resume his managerial role-though not without one more drumming appearance on "Don't Make Promises"/"Walking Through The Streets Of My Mind" (October 1967), which was in the can when Halsey joined. The single marked Timebox's first offering for Decca's new Deram imprint, although Holmes is keen to point out one little fact: "It wasn't a deal, there was no money involved at all, not in those days!" Halsey, for his part, had no real inkling of his bandmates' situation before he joined up. "They were all living in a really bad condition, more or less in a room with no money really, really struggling," he says. "They had all these gigs, a Decca recording contract, all these sort of promises coming up, and no drummer."
Based on this outing, Timebox had a promising future ahead. The A-side featured a Tim Hardin lament ("Don't make promises you can't keep"), given a truly epic treatment. The production is impressive, featuring some glistening sitar lines from Ollie, a burbling Griffiths bassline, and swooning female backing vocals-showing the sound had matured, to a degree unimaginable on those more tentative earlier singles. (Collectors, take your marks: promo copies feature a different vocal take and vibe solo, minus the sitar and backup vocals.)"Walking Through The Streets Of My Mind," which features Ollie's first lead vocal, is a lower-key original built around prominent strings, vibes and wind chimes that strives for a more American R&B feel (though it did become the A-side in France). For Holmes, "Don't Make Promises" marks the time that Ollie "was beginning to show his prowess, playing a sitar he'd only had for two months," the keyboardist says. "He was one of those chaps who could pick up any instrument, and master it.
He was just a complete one-off." Indeed: if stellar musicianship alone guaranteed success, "Don't Make Promises" should have turned the trick, but the public ignored it, as they'd done with Timebox's other efforts.
The single also marked the last bow for Fogarty, who'd lately begun feeling some heat from a certain O. Halsall in the guitar department. Halsey suspects that he knows one reason. "Well, Ollie had a big thing about Kevan Fogarty, Kevan was from quite a privileged background," John explains. "When they were all down in London, after they'd been there a little while, they had all their equipment stolen. And Kevan's guitar was replaced immediately-by his parents, I think-whereas the others all struggled to get instruments around them again, rather than go back to Southport, and admit defeat."
That said, Halsey sees a more basic reason for the latest lineup change, even if Ollie happened to be the instigator: "He [Fogarty] didn't really seem to fit in. There was a close, 'five of us [bonding],' and he was a little bit the odd one out. So, he got the shove, Ollie got a guitar, and then he just had to get it together."
At this point, Ollie knew his way around the fretboard, and could play a little piano, too. However, nothing prepared his bandmates for what happened next, after Laurie Jay bought him a standard model Telecaster. "He started playing reasonably well very, very quickly, and then started playing exceptionally well, after about a year or so," Halsey says. "Mind you, we used to work seven nights a week. He used to practice and practice all the time."
But Ollie soon determined that, to fully refine his style, he required a different sort of guitar-In this case, the white Gibson SG that became his main onstage weapon until 1976 (more about this circumstances later, however). "Well, he didn't buy it, Laurie Boost bought it," Halsey says. "That's when he bought the SG, and managed as if there was no stopping him then. He then just became this incredible guitar player. Everywhere we played, especially in London, it [the venues] would just be filled with guitar players."
Unlike his peers, Ollie avoided emulating the era's major guitar heroes, such as Eric Clapton, Jimi Hendrix, or Jimmy Page. "He didn't sound like anybody else, except himself," McHenry observes. "Being friends, I was listening to the same things they were: Coltrane, Mingus, Thelonious Monk, and James Brown, so he had a wonderful mixture, and I always thought that used to come out in his playing."
It's an ethic strongly reminiscent of a quote attributed to Mile Davis: namely, if you're not making mistakes, you're not trying. "He didn't stick to standard blues pentatonic stuff very much-[but] he could do that," says Monks, who saw many an inspired Halsall moment onstage. "He used to tie himself in knots, go into a solo, get totally lost, but he'd always get out of it, find his way back."
And, like many jazz-oriented players, Ollie's approach owed more to emulating keyboard or saxophone sounds, than other guitar players. "He used to pretend it was a saxophone, and breathe along with the phrases," Monks says. "He'd do a particular line as long as he could breathe it, then he'd do the next bit, know what I mean?"
Ollie would get plenty of chances to sharpen his skills. Without a hit record to ignite the charts, live work remained part of the job description, ensuring that nights off were few and far between. Yet whether a band stayed close to home, or ventured into the provinces, there was more than enough work to go around-enabling the musicians to earn a decent, if hardly luxurious living, as McHenry points out.
"Well, in those days, things were so much cheaper. The equipment all fitted in one van, a Thames Transit-[with] two roadies, four or five people in the band, and that was it, you'd be off to gigs," McHenry says. "I mean, obviously, if you had to stay overnight, you'd try to work it out so you'd try and get two or three gigs in the area, but, if not, back to town."
OUR STORY (TAKE SIX):
THE ONE THAT GOT AWAY Tightening wallets or not, there were compensations-with Flower Power in full swing, standing outside the whole nine-to-five equation felt logical, and natural. "We were all young men, having this sort of good time, [being] big music fans," McHenry explains. "It was just a nice lifestyle at the time. The Beatles had been big - it was a remarkable time, especially [with] 'swinging London,' in the '60s."
Back in rehearsal, Timebox were starting to write their own songs, at first, focusing on the emerging collaboration between Mike and Ollie, "but we all contributed, especially in the early days," Halsey says. "We wrote about half a dozen songs over the next few weeks." Getting the results on tape, however, proved problematic.
Between February and March of 1968, Timebox worked on an aborted album with Wayne Bickerton-who'd started off in the Pete Best Four, then moved into production with Petula Clark, and Giles, Giles & Fripp, those cheerful (if rather unsuccessful) forerunners to King Crimson.
The Deram Anthology's emergence in 1998 gave a better snapshot of the contents. Certainly, the band could tackle any style it fancied, from straightahead pop ("Love The Girl"), to soul balladry ("Leave Me To Cry"), funked-out rock ("Black Dog"), even laidback country ("Country Dan & Lil"). Often, the characters in these songs yearn for something greater than themselves, as in "Treehouse," whose narrator's desire to shun the grind of urban life ("But they're not scaring me/'Cause I'm here in my tree/And I'm alive, and I have no regrets") isn't terribly removed from the sentiments of a song like "Octopus's Garden."
Similarly, the hero of "Barnabas Swain"-a soulful, vibes-driven pop-rock number-lays out the story of one man's search to find true love. Like many Timebox songs, it's a nod to real life; "Barnabas" was the nickname bestowed on Phillip Swain (who served as the main roadie alongside his brother, Eric).
The hero of "Eddie McHenry"'s whimsical vaudevillian pop declines to read any deeper meaning into the song named after himself: "I think the idea was, I was just a very good friend of the band, and they just used my name for a song-just one of those things, a nice thing to do," McHenry observes. "It was just a sort of madcap humor thing."
How Bickerton saw his role, however, proved a different matter. "We came out of the studio very, very discontented," John recalls, "because we weren't allowed to play the way that we thought we should be playing. He was very, very insistent that things were done in his way." (Bickerton has become a high-ranking music publishing executive; attempts to contact him for this story were unsuccessful.)
Amid all this collective frowning, the results-save for one key B-side, "Gone Is The Sad Man"-went straight to the vaults, which is a pity. These songs contained an album that would have held up against any of the era's major offerings-if only the band had been allowed to release it.
The Deram tracks should not be confused with The Original Moose On The Loose (Peters International/Cosmos Collector CCLPS-9016), which came out in America and simply compiled all the later-period singles, from "Don't Make Promises" onward. "I don't think we had a title for the album when it was being recorded," Halsey says. "That [Moose On The Loose] had been tacked on 20 years later."
Fine; forget the album, then. Deram went back to the old game plan: secure the breakout hit that, presumably, might buy the freedom to record something a little more groundbreaking. Aldred handled the production for the next single, "Come On Up"/"A Woman That's Waiting," a French-only affair that also marked John Halsey's recording debut (April 1968).
The A-side featured a Young Rascals tune that the band had been playing from its earliest days, while the flipside featured an original co-written by Patto and Ivan Zagni (an associate of the Bo Street Runners keyboardist, Tim Hinkley). Once more, the lavish orchestration reappeared for a typically understated pop-soul number, and passionate Patto vocal, that-once more-fell on deaf ears.
In May 1968, Deram tried another favorite culled from the band's live sets-"Beggin'," which had been a hit for the Four Seasons (with "A Woman That's Waiting" conveniently recycled on the B-side). For this production, there were no half-measures, from the bubbling 16-bar Latin percussion breakdown by Ray Cooper (who'd become a mainstay of Elton John's touring band), to the swooning orchestral arrangement from Mike Vickers, who'd just left Manfred Mann. "I think his arrangement was the first job that he got," Halsey recalls. "And he brought in various string players, and put the orchestral arrangement on it.
A drummer called Barry Morgan [later in Blue Mink] played percussion - all this, to put one over the top. He played congas on it, and things like that." (As if that reinforcement weren't enough, Madeleine Bell and Kiki Dee also sang backup vocals, too.)
For many listeners, "Beggin'" remains "the one that got away"-the hit that Timebox might have produced, with more support, or less pressure, behind the scenes. Disc And Music Echo crowned "Beggin'" as "This Week's Best Disc" (June 1, 1968): "It doesn't let up for a moment and Michael Aldred has every right to be very pleased with the production and net result. If it's not a hit there's something very very wrong and it's going to be all your fault!" Melody Maker's verdict was equally positive: "Great production by Michael Aldred and with a driving, dramatic tune, seems destined to hit. Listen for the conga drums and vibes which add taste and depth to the overall sound" (June 1, 1968).
The big push was on, as both papers reported. By June 14, "Beggin'" would be available in Belgium, Denmark, Holland, Luxembourg, Norway, and Sweden. According to Melody Maker, negotiations were also underway for a French tour-supposedly, to make up for dates spoiled by the recent student riots there, a story that Halsey has laughed off as a management fabrication. (The paper also claimed that a live album was being contemplated for the French market; nothing came of that scheme, either.) Finally, the public responded-at first, anyway.
On July 27, 1968, "Beggin'" entered Record Mirror's Top 50 charts at #49, peaking at #38 during the following week. By August 17, "Beggin'" slipped back to #48, and down into the netherworld of almost-hits-though, as the boys knew well by now, "almost" didn't cut it anymore.
As Record Mirror noted in its August 17 issue, the pop chart business was a mysterious one, indeed. The paper's story ("Keep One Eye On The Charts Say The Timebox") quoted an anonymous representative from Decca, who claimed that, the 10-place drop aside, "Beggin'" had actually increased in sales! Being the group's spokesman, Mike Patto did his best to put a positive face on things.
Claiming that "Beggin' "wasn't representative of Timebox's stage act, he hoped that its success would finally allow his band the breathing space it needed to survive: "It's important to have one eye on the charts-I think we have our own sound, yes, but we have to compromise a bit so that people will listen." Still, Halsey reckons that "Beggin'" did better than its chart positions suggest, despite being released on the same day as the Rolling Stones' "Jumpin' Jack Flash"! The difference between the two songs? "Jumpin' Jack Flash" shot to number one, "and 'Beggin'' didn't go anywhere, really," John says. "By the time it dropped on the BBC playlist, 'Jumpin' Jack Flash' had only two more plays than 'Beggin'.'"
Holmes remains proud of the song, which he rightfully labels "way ahead of its time, as a production piece." Its appeal has grown over the years. "'Beggin' has been actually a DJ hit. Unfortunately, it wasn't our version," he notes, with a rueful laugh.
An unlikely reminder surfaced a couple years ago, when one of Halsey's nieces wrote to thank him for their anniversary present. After the usual pleasantries, the niece casually stated, "By the way, they're still playing 'Beggin'' over here." "Yeah, that was a good record, that's stood the test of time," Halsey enthuses. "In fact, that could be released, and still be a hit now. It was a record of such good quality."
OUR STORY (TAKE SEVEN): CHASING UP THOSE CHARTBOUND RAINBOWS Undaunted by the failure of "Beggin'," producer Aldred revisited the same lavishly orchestrated blueprint for the next single, "Girl Don't Make Me Wait" / "Gone Is The Sad Man" (November 1968), that again failed to win public favor. For fans of Ollie's work, however, it's the B-side-his first of many collaborations with Patto-that merits more attention.
"Gone Is The Sad Man" builds around a piano/vibes frontline, but creative touches abound, such as the backwards guitar swirls that rear up in the middle, rounded off by a truly infectious chorus. (Not surprisingly, due to its inclusion on many freakbeat and psychedelic compilations, "Gone Is The Sad Man" easily remains Timebox's best-known track (after "Beggin'," of course).
By now, though, a resigned mood seemed to be taking over the camp, judging by Melody Maker's headline of December 21, 1968 ("Timebox Still Chasing That Elusive First Hit"). Mike emphasized that change was in the air ("We can't sell jazz to pop audiences"), but hoped the fans would understand: "Of course, we want a hit. We need it from the financial point of view and to get better and bigger bookings."
So why, then, didn't that happen? By his own admission, Monks was well aware of Timebox's capabilities, having seen them "at the open air swimming pool in Finchley, in 1968," he says, "but I didn't take too much notice of them at the time." Monks believes that the band's choice of material had some bearing on their prospects. "At that time, everyone was playing Wilson Pickett, and a lot of Tamla Motown stuff," Monks says. "They tended to play Nina Simone songs, a lot of Booker T [& the MGs]-a slightly different situation from what everybody else was playing. A bit more classy, if you like."
Classy, yes, but confusing to anyone expecting to hear those singles at gigs - the same dilemma that bedeviled better-known bands, like Pink Floyd. "They were sort of hard to pin down," McHenry believes. "They weren't like another band from the period, Free-[a] very straightforward, basic, sort of bluesy band. You heard a couple numbers, you knew exactly where you were with them." There was one undeniable benefit, however. "Everyone became pretty proficient at what they were doing, because we were playing so much,"
Halsey notes. "I used to say to Eric [Swain], 'When do we get a night off?' And it'd be like, '20 nights.' We were working every 20 nights, and then we got a night off. And then, it was another 15 nights, you'd get a night off. In the meantime, these [other] nights would be filled up." When those nights got to be too much, a good time lay around the corner at "my infamous flat," as Helen Newman calls it-No. 10 Albion Street, near EMI Studios. "It was quite an address," Helen says. "It was right at Marble Arch, on the Bayswater Road, right opposite Hyde Park, three doors down from Mike D'Abo."
The boys came over frequently, "mainly to get stoned, and play whatever they were working on," Helen says. "They were the best guys to have around. I was thrilled to bits. I don't think I ever fed them very much, but I would have done, just to have their company. As I say, I had good dope. I was so central." By now, having started to plunk around a bit on guitar herself, Helen worked up the nerve to ask Ollie if he could show her a few things: "Those wonderful eyebrows of his went up: 'Really, H? That's great!" Popping such a question to many other male musicians of that era, as Helen notes, would have earned snorts of laughter, but Ollie responded, as only he could-by bringing over his set, all 10 books of it.
Helen has no idea where those books are now, but she still holds vivid memories of them. "I can remember the size of them," Helen says. "They were softcover, sort of biggish books. They were all different colors, for the different lessons, and he had written stuff in them-a whole tuition set that, obviously, he had purchased. But these, he said, were his grounding tuition manuals."
Ollie showed Helen the first book, "that sort of explained how they [the set] worked," she says. "He said, 'Here you are, just do one page a day-just a do a little every day. Just play every day'-which I did, and my fingers used to get really sore." "I never became much of a musician-but, anyway, it was a thrill that he took me seriously, because I was so in awe of him, and his playing. When he did a guitar solo, you could hear a pin drop."
The band had truly come far as a unit, even if the records remained hit-or-miss, as shown by the March 1969 release of "Baked Jam Roll In Your Eye"/"Poor Little Heartbreaker," in which the band swung from the sublime to the silly. The A-side is a bright, poppy novelty song about a failed Martian invasion whose hapless leader, Klaus, resorts to firing baked jam rolls at his unwitting Earthling hosts-hence, the chorus, "Are you trying to kill, or feed me?" "That was self-produced, really, to all intents and purposes,"
Holmes recalls. "We did it in a private studio, you know? And that was quite good. I thought the actual sound of Mike, personally, was a good production." "Baked Jam" is reminiscent of the Bonzo Dog Doo Dah Band (minus the surreal wordplay, perhaps), or "You Know My Name (Look Up The Number)," by the Beatles-except, in this case, the novelty track would have graced the B-side! Imagine the buyer's remorse, then, after hearing "Poor Little Heartbreaker," a thunderous rocker capped off by some of Ollie's most biting lead work to date-and buried on the B-side, at that. The confusion had to be massive. "That was the sort of the arrow pointing the way that Patto would become-not lots of chords in it, not lots of arrangement, but you hear Ollie developing that guitar sound," Holmes says, "and Mike singing his heart out. It's great!"
John Halsey felt more enthusiastic about the B-side, too: "The day before it ['Baked Jam'] was due to be released, we all more or less looked at each other, and said, 'What have we done?' Then, it was released, and it was like, 'What have we done? The other side was much better. I tell you, 'Poor Little Heartbreaker' would have been a great song for the Four Tops." Some reviewers voiced similar doubts. "If I didn't like and respect the band I would be a lot ruder about this sad production about 'Martians coming to earth-you'd better watch out,' etc," Melody Maker's Chris Welch harrumphed in his singles column for March 8, 1969. Disc And Music Echo's verdict, handed down that same day, took a lighter-hearted stance on the song, which it likened to the Bonzos: "A sort of mad nursery tale of an invasion from Mars led by one 'Galloping Klaus.' Ho, ho, a merry wheeze indeed. "
There would be one more attempt to pique public fancy with "Yellow Van" / "You've Got The Chance" (October 1969), a Wayne Bickerton production that, once again, showcased two distinctly different musical personas. "Yellow Van" flew the pop flag proudly, buoyed by a sprightly horn section, although its image of a "heart-breakin', woman-crazy salesman"-who promises to provide "everything you want, and more," if you only let this lustful interloper in your home-isn't as cheery as the production leads the listener to believe.
The blueiser B-side, on the other hand, served largely as a showcase for Mike's full-throated emotive style, which had never sounded better on record. Alas, even this stab at conventionality couldn't boost the band's fortunes, once the BBC slapped a ban on the single, largely, it seems, due to those suggestive lyrics on the A-side.
OUR STORY (TAKE EIGHT ): FROM POPSTERS TO PROUD PROGRESSIVES Records were one thing, of course; live, however, the jazzy, vibraphone-flecked side of Timebox was fast receding into memory, with Holmes increasingly feeling "like a bit of a passenger," as he puts it. "It was getting [into] heavy time signatures-very complex, extremely complex," Holmes says. "Don't forget, some of these rehearsals would be five-, six-hour rehearsals, with lots of dope smoking going on, you know?"
Among musicians in the know, a new buzzword was fast gaining ground: progressive rock," whose trademarks put a premium on lengthier, more intricate material. The old "three chord trick" would no longer do; classical and jazz influences were fair game for inclusion now. Albums were becoming experimental platforms. Songs might occupy an entire side, or tell an extended story, as the Kinks, the Pretty Things and the Who did with their respective masterpieces (Arthur, S.F. Sorrow, and Tommy). Pop's eternal promise of romance and rebellion was old hat, too; lyric writers like Peter Brown (Cream), Pete Sinfield (King Crimson) and Keith Reid (Procol Harum) were delving into more challenging turf, often laden with dense literary and mythologic name-dropping.
The implications didn't take long to grasp. "People were booking us for dances, and college balls, and we were turning up with the stuff we'd developed," Halsey says. "And the stuff we were playing wasn't dance music, in any way-well, it was like having an end of term ball, and booking Ornette Coleman, you know? So we had to change the name of the band."
By the fall of 1969, Timebox's redoubtable keyboardist had drawn similar conclusions. During a meeting at Halsey's flat, where he also lived, Holmes gave his notice to the band. For John, the news simply affirmed the transition that was already underway: "We felt that we had more freedom without Chris in the band-it was rather restrictive [otherwise]."
"They were very much concentrating on Ollie playing guitar, writing their own material," McHenry agrees. "They loosened up, the numbers got longer. It was a heavier rock sort of approach, plus this jazz undercurrent they always had - lots of improvisations, funny time signatures, [and] expanding musically." All the same, a circle had broken, which hardly made his decision any easier, according to Holmes: "We'd all come and gone back to '65, you know, making music from art college, but it was very hurtful to leave. I actually asked them to let me go. They said, 'Pull your socks up, you know, we don't want you to leave.'"
Getting a new record deal was the next priority. Right off, Mervyn "Muff" Winwood, the older, lesser-known sibling to Traffic's keyboardist/frontman, Steve Winwood, voiced interest in producing this new, proudly progressive entity. Yet Muff's involvement raised hopes about the band's creative home that were quickly and brutally dashed, as Halsey explains: "He wanted to get us on Island [Records], obviously, being a director up there-head of A&R, or whatever it was-an d [Island boss] Chris Blackwell wasn't keen."
Instead, Patto landed on Vertigo, the subsidiary label that Phillips Records created to counter its rivals' own efforts in the progressive scene. Though time has conferred an ample sheen of credibility and collectibility on Vertigo's eccentric output, John has little doubt about which association might have proven more beneficial: "We really wanted to be on the Island label, just for the prestige of it-it was the label to be on. It would automatically win you respect, you know?" (As we'll see, the boys would end up on Island - only, in less than satisfying circumstances.)
The next step proved mercifully easier. With one less member-and a radically different sound-the time seemed ripe for a new moniker. The obvious choice presented itself in due course. "I think, in the end, Muff Winwood and Laurie Boost turned up in rehearsal," Halsey recalls. "They both said, 'It's obvious what you got to call the band: Patto.' And we did." Next time: The road to Patto, and beyond... from small gigs in London, to the madness of supporting Joe Cocker, the Faces and Ten Years After on tour...and why, it all came crashing to an end, after only three years. . .
---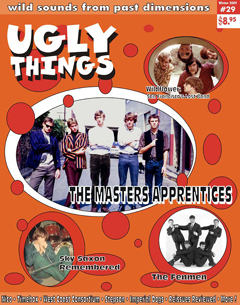 Traveling Show: The Serendipitous & Surreal Six-Stringed Life & Times of Ollie Halsall' by Ralph Heibutzki
Reproduced by kind permission from a issue 29 of UglyThings magazine © 2010
Thanks to all who participated in this installment, including John Halsey, Chris Holmes, Eddie McHenry, Barry Monks, Helen Newman, Tony Newman, and Zoot Money, Also: special thanks to Jon Kanis, of "State-Controlled Radio," for permission to use the Neil Innes quotes excerpted here.
---
When our story left off, the former Timebox members stood ready to enter the progressive era as Patto, having renamed themselves after their soulful, strutting lead singer, Mike Patto, whose ability to strike an instant rapport with an audience remained unmatched. Mike's creative partner, Peter John "Ollie" Halsall, could cut any guitarist alive—boasting ferocious chops that he'd honed after barely three years of constant live work and late night hotel room practice sessions.
Bassist Clive Griffiths and drummer John "The Admiral" Halsey proved the ideal rhythm conspirators for Mike and Ollie to work their respective magic, as they did, rattling up and down the British countryside—night after never-ending night, showcasing an explosive chemistry that nobody who witnessed it would ever forget. Nobody knew that better than the man who signed and produced them, Mervyn "Muff" Winwood: "There was something about the four of them together. Somehow, it was always totally uncontrollable. It was incredibly interesting, but never perfect. When you split the guys up a little bit, they were a little bit more focused about what they did."
OUR STORY SO FAR (TAKE NINE)
A MUSO'S EPIPHANIES IN 1970
Word spread fast about this new combo at venues like the Temple Club, located on Wardour Street, in the heart of central London—where Barry Monks' band shared a bill with Patto in 1970.
"We were actually above them on the bill, but this was only because it went on till about three o'clock in the morning—and most people wanted to get out of the place as soon as possible," Monks says, laughing.
What happened when Patto took the stage, playing to hardy rock 'n' roll rats loathe to go home, left Monks transfixed as he watched from the bar. "I was trying to think, and I didn't realize, till even a few days later—that it wasn't any guitarist I've ever heard before, it was a sax player. That's what it sounded like, because of the intervals he was playing, and the runs," he recalls.
Sixteen-year-old Andy Moore, who became a guitar designer himself, had only been playing for a couple years when he caught Ollie at the Temple Club—not the same night as Monks, necessarily—yet he too came away with his sensibilities rearranged.
Moore's initial inspirations included some of the usual suspects (Eric Clapton, Peter Green, Jimi Hendrix, Jimmy Page), and some not so obvious (Tony McPhee, Stan Webb), but nothing prepared him for what he saw that night. "His speed was unsurpassable," says Moore. "His ability to play a combination of rhythm chord structure with well thought-out lead riffs was extremely rare. Most bands had a chord man and a lead man. Halsall more than competently did both at all live gigs. I felt like his lead runs were more like listening to a saxophone soloing than a guitar."
Ollie's unnerving speed enabled him to squeeze major and minor runs "into totally irrelevant bars, but (still) get back to the critical notes of the song structure before the human ear/brain had time to work out what he had done," Moore continued. "Also, at a time of long hair, and hip image, to see a guitarist dressed in a Harris Tweed jacket and shortish hair made me connect to a great individual."
Before long, the "Pattos"—as they were becoming known—found a cadre of hardcore fans greeting them wherever they played. For Monks, that was relatively easy; one of the band's favorite venues was the Torrington, a north Finchley pub "just around the corner, from where I used to live," he recalls. Anything and everything could happen. "I mean, they never had any sort of pretensions to have a stage act, or anything," Monks says. "They'd suddenly just do some old Victorian music hall song, or a cappella stuff—John Halsey would start singing old doo-wop tunes, with the rest of them backing. I suppose a lot of people couldn't understand what was going on."
Other nights, that might involve everyone kneeling down to sing Disney's "Dwarf Chorus"; belting out "Strangers In The Night" in 5/4 time, with expletives to fill in the missing beat; or even doing excerpts from operas, like The Pirates Of Penzance.
Patto's other favored base lay "oop north," in Sheffield—at the Black Swan, a pub gig inherited from Timebox's regular date sheet. "They could do no wrong for this audience," recalls John Taylor, Patto's future road manager. "They almost used to play it once a month. Two [sets] would be, 'OK, this is a gig,' but the middle set would be lunacy, like pantomime, almost. It was like improv, not always musical. They'd put the guitars down, and there were whole passages of bullshit. We took costumes, and dressed up for it! 'OK, now this set, we'll do The Pirates Of Penzance'—it was like, time out from it all."
The schedule didn't let up, as the "Concert Dates" section of the Patto/Timebox Fansite, www.pattofan.com, illustrates. Pick a week, any week: On November 3, 1970, Patto recorded a BBC session (transmitted the following Tuesday). On Friday (November 6), it was off to the Sisters Club, with Renaissance; Saturday, to La Grotto (Southend-on-Sea); Sunday, the Hotel Horn (Braintree); then back to the Temple Club on November 14. Yet Mike and Ollie, in particular, began finding time for the odd extracurricular venture. On Sunday, November 15, 1970, they both appeared at London's Lyceum with Centipede—the sprawling, 50-piece freeform big band fronted by pianist Keith Tippett.
A grainy photo captures Ollie standing proudly center stage at the show, designed to promote Centipede's Septober Energy double album—just another night out, while waiting for that big break to come. "Chris did go, and then we were away—[doing] the free things, with [Mike] Patto singing," Halsey says. "We then felt we owned the world. But time proved that we didn't."
OUR STORY SO FAR (TAKE TEN):
ENTER THE PROPER ROAD MANAGER
Still, all that grueling roadwork had one positive effect, with the introduction of a proper road manager in John Taylor—who would remain in that role until the band's breakup, in 1973. He was well aware of Patto, having caught them at some free festival on the outskirts of London. "Here was this band that could just rock, unbelievably," he says. "And Ollie was just unbelievable. He had the black beard, and looked like Abraham Lincoln, and that is what really freaked me out that day. I thought, 'Here is this guy who looks like fuckin' Abraham Lincoln, and he rocks better than any guitar player I've seen, ever.'"
Taylor's pedigree was equally unassailable. Having played from his 12- or 13-year-old school days around Liverpool, and Manchester, "playing the Cavern and those sorts of places—well after the Beatles," he recalls.
Eventually, like many aspiring musicians from outlying areas, Taylor felt London calling. He soon became the bassist in the progressive blues band, Ibex, best remembered for its lead singer—a certain Farrokh Bulsara, light-years before he morphed into Freddie Mercury, the leering, peering, strutting face of Queen. Among the first people that Taylor met in London were guitarist Brian May, drummer Roger Taylor (no relation), and bassist Tim Staffel—then doing business as Smile.
"We were a trio, they were a trio, and Freddie hung about with them—he was a friend of theirs," Taylor says. "He could sing, and he wanted to be in a band. I was singing and playing bass, and we felt we could do with a singer, a real frontman."
Thus reconstituted, Ibex changed its name to Wreckage, in October 1969—just as Timebox's final single was making the rounds. Only a month later, however, Wreckage broke up. Bulsara hooked up with Smile, whose members carried on a tad longer, into 1971. With John Deacon replacing Staffel, the reconstituted Queen marched into rock Valhalla—but Taylor kept busy with other interests, such as selling records from a stall in Piccadilly Circus. As someone who dealt with record buyers, he felt certain why Timebox's street-level vibe never yielded bigger returns.
"It was almost like they had a double life—having minor hit records, playing society balls, pop venues, the things that pop bands did," Taylor says. "But it wasn't satisfying to guys like that, 'cause they were three-minute pop songs, basically—didn't stretch anybody. And you had four great players in that band."
OUR STORY SO FAR (TAKE ELEVEN):
I SAW THE MAN (REALLY)
How proficient became vividly apparent on Patto's self-titled debut album, which appeared as Vertigo's second release in December 1970 (after Jimmy Campbell's Half Baked). Patto landed in record bins with a bright golden gatefold sleeve—an apt accompaniment for Tony Benyon's "exploding head" cover art—and sparse, hard-edged sound, one that owed little to studio processing.
Recording proceeded at Island Studios, under a compromise that Muff Winwood brokered with Chris Blackwell: "He said, 'Look, I just can't see this at all. But if you're so strong about it, if you record them in our studio—bring the income into the recording studio—I'll happily let you go and get a deal for them.'"
In the studio, necessity definitely proved the mother of invention. "I was paying for the thing myself, so I didn't want to spend hours, and hours, and hours—so there was a sense of keeping things moving," Winwood says. "And often, you've got to motivate people to keep it moving."
But that ideal could be difficult to achieve when Patto's key decision-makers—Mike and Ollie—were, "in most parts of the recording process, completely out of it," Winwood laughs. "I look back on it now with a big smile on my face, and it was great fun. But at the time, of course, I was trying to make a record."
Eventually, Winwood focused on communicating with the quieter members, Clive and John, "and we could leave Mike and Ollie to get on with what they wanted to get on with," he says. "At least, that's how I remember it."
Taylor only wishes that the band had been captured at its concertizing prime. "They weren't a band for lots of overdubs. When you're reacting to an audience, you can just progress to the next level," he says. "To my mind, they were never really captured in the studio at all, in any form that represented how good they were."
But live performance and studio recording are two different animals, in Winwood's eyes. "It was nutty to get organization into those recording sessions," he maintains. "You need organization, even to get the wildest stuff. The rhythm section needs to be right, to get the most power out of it, and stuff like that—and it was very difficult."
The album's opening salvo, "The Man," exemplifies what the band did so well—building from a hushed, near-conversational vocal and Ollie's muted vibraphone solo. Suddenly, Halsey's tom-toms enter the fray, after the halfway mark, jolting the ending into a balls-out assault, while Mike screams like a man possessed: "I saw the man, yeah, I saw the man!"
"San Antone" became another peak of the live set, with time signatures pulled apart like mere taffy—offering an ideal launch pad for segueing into unexpected fare, such as Elvis Presley's "Burning Love."
Not everything relied on a band going bang—such as on "Government Man," where Ollie lays down a glistening vibes solo, whose laid-back blast against family farm foreclosures makes it one of several key songs cementing the "people's band" vibe that characterized Patto's career.
For many fans, Patto's tour-de-force is "Money Bag," a sprawling, 10-minute freeform epic where Ollie spars with his rhythm mates, until Mike cuts in with a dreamy, haiku-like vocal—just half a dozen lines, or so—about the price that he's paid to protect that precious green stuff. As Halsey notes, it's the kind of song that separates true believers from also-rans: "Yeah, that's one of his [Ollie's] little fragmented sort of things. That's the sort of thing we were doing, and playing. It seemed to make sense to us."
Melody Maker certainly thought so, citing Ollie as the star presence ("It is beyond my comprehension that he has not been heard before, seeing that he has been on the music scene for quite some time."), with Halsey not far behind, if "a bit too busy and fond of flashy rolls."
New Musical Express's one-paragraph review praised Ollie's playing, although it rated the album as "a modest group effort."
In America, the New Haven Rock Press gave a three-and-a-half-star rating—because Jon Tiven felt that Side One didn't match the quality of Side Two. Otherwise, Tiven liked what he heard: "They are a band, not just a bunch of good musicians. And they write diverse and intriguing songs."
But now the reality check arrived. Patto sold roughly 5,000 copies, a fair showing for a new band introducing itself, but hardly the stuff of confetti blasts, either.
The marketplace could be unforgiving indeed, as Taylor notes: "They were getting 400 or 500 quid a night as Timebox, the pop act. They went back right to nothing to be Patto, the credible act, doing what they wanted to do—which is pretty impressive."
Since there wasn't money in record sales—let alone per diems, something that Taylor doesn't remember seeing until 1972-73—the boys made do with £40 per week, "which was an OK, hand-to-mouth sort of wage," Halsey opines.
The odd advance did come through, with farcical results. Shortly after Patto's release, Muff Winwood informed the boys that they had £600 apiece coming—so they trooped down to collect it, at an Indian restaurant somewhere on Kensington High Street. "He [Winwood] gave us these envelopes, with £600 each in them. It was more money than I'd ever seen in my life," Halsey recalls. "And I'll never forget—Ollie spent his [portion] before we got home."
First, Ollie snapped up two Italian rugs, "virtually in the shop next door," Halsey says. Then, on the way home, Ollie—who didn't drive, making his transport one of Taylor's regular assignments—popped into Lasky's, on Tottenham Court Road, and emerged bearing an Akai reel-to-reel tape recorder. Alas, the machine wound up gathering dust, because Ollie's newly-depleted advance didn't stretch far enough to cover the special mics and speakers that his new gadget required. "We dropped him off at home, and he'd spent all his money," says Halsey. "And there he was, married, with a child. He might even have had two children at that time."
Such hijinks presumably failed to amuse Ollie's wife (Monica) and children (Allison and Andrea). "Well, no, they're still not," Halsey retorts. "I mean this is a side of Ollie being outlandish, and unpredictable, and irresponsible. This is a side of him that people don't realize."
Muff Winwood doesn't dispute the gist of Halsey's story, but suspects that some bits and pieces changed in the retelling. "Absolutely, I could see that [happening], but some of these things get into folklore," Winwood asserts. "I mean, he couldn't have done [spent his share in a day], 'cause I paid him by check! So, it's not quite like that, but I bet you it's pretty close to that. He probably spent it within the next couple of days, but certainly not before he got home."
OUR STORY SO FAR (TAKE TWELVE):
YOU (YOU POINT YOUR FINGER)
As 1970 faded out, Patto began playing more frequently at colleges and universities, "which were good in those days," Taylor recalls.
For a flavor of the era, ponder the monikers of those who played with Patto, names that mean nothing nowadays (so, take a bow: Angel Dust, Aural Plasma, Bubastis, Capability Brown, Collusion, Fusion, Gnome, Graphite, Home, Nucleus, Sacrilege, Slowdog, Smooth Bitch, Spike, and Uncle Dog).
Another favored activity point came at north London's Roundhouse and its Sunday "Implosion" shows—such as December 20, 1970, where a young Elton John and the Who joined the many newcomers meeting Patto on their way up.
"They'd [the Implosion gigs] begin around 1:30, finish by 9pm, something like that," Taylor recalls. "Almost as good as it gets. Patto opened up, Elton was in the middle, and [there was] the Who. That was a phenomenal show."
Whatever happened onstage, Taylor had to be prepared. "A road manager, in those days, did absolutely everything. He drove the van, he had to fix the equipment. When things broke down, he had to keep everything running," he declares.
There were no lack of technical gremlins to keep Taylor busy, such as the old-fashioned Wurlizter piano—whose keys functioned like tuning forks, outfitted with notches of solder on each one. "When they went out of tune, there was a special tool for getting out these little tuning forks," Taylor explains. "You'd have to drop some [solder] on, put it back in, see how sharp or flat it was—you'd file it down, or put a bit more on. That was a bit tricky, and very time-consuming."
Once the calendar included Europe—as it did on March 6, 1971, where Patto filmed its only video clip for French TV, with Bernie Holland subbing on bass—the distances could feel endless. "We came from southern Italy to the north of England once to do a show—took us two and a quarter days without sleep, and we did it," Taylor says, laughing. "Well, I slept during the shows...[and] we got three hours on the ferry."
The band found novel ways to pass the time. The second half of Taylor's 1970 diary is filled with scores for "Knock," a card game "which we played relentlessly on some trips," he says. "The idea is to get rid of all your cards—aces count as 20, face cards as 15, and you get minus five for winning a hand. So it's one of those games—the guy with the lowest score is the winner."
In April 1971, Patto supported the Faces on a brief German outing through Dusseldorf (April 14), Hamburg (April 15), Frankfurt (April 16), and Munich (April 17). On this occasion, May Blitz served as the other support band, allowing Newman to renew his friendship with Ollie. "I worked with Rod, and Ronnie, in [Jeff] Beck's group—we'd talk, but not as close as the underlings, you know?" Newman says. "We did theatres, two- or three-thousand seaters, all over Europe. It was a package show."
Such exercises seemed to cement Patto's reputation as "support band for hire," a role it never entirely outgrew. "We started to realize, everybody [in the industry] knew us," Halsey recalls. "They hadn't made us. The general public hadn't made us a top of the bill band—we then started to realize, we never were gonna be."
Those feelings were hardly new, as Halsey had outlined in a January 23, 1971 Melody Maker interview ("Bitter Patto: Two Years Ahead"): "I'm completely disillusioned with the whole scene. The thing is that you've got go out and play, and if you earn a living you're lucky."
For evidence, Mike only had to cite Hold Your Fire, which appeared in December 1971, and is generally considered the band's finest hour. A richer, fuller sound had replaced the debut album's in-your-face minimalism, and, certainly—as the 4/4 to 6/4 time shift of "Tell Me Where You've Been" makes clear—the band had grown by leaps and bounds musically.
"That was the album everyone used to carry around with them," Monks says. "It was a really well-known album—amongst musicians, especially."
Now playing keyboards, as well as guitar, Ollie carried the main musical load—co-writing five songs with Mike, and taking sole credit for the remainder ("How's Your Father," "See You At The Dance Tonight," and "Air-Raid Shelter").
Muff Winwood doesn't remember any great strategy. "Obviously, we'd learned some lessons from the first album," he says. "The band were getting better, and playing better. They'd learned more about the recording process, as you do every time you make a record. Whether it was any better in the material, that's open for other people to judge."
Time has dimmed Halsey's memory of the recording, but he has no trouble citing his favorite tracks. "'Hold Your Fire' is pretty good, and Ollie's guitar playing on 'Give it All Away' is absolutely breathtaking," he says. "The guitar solo was just played live as we recorded the track. The solo itself is just awesome."
"Hold Your Fire" proves an ideal opener—building on a steamroller of a groove, while Mike spits out his sarcastic look at life on the counter-cultural margins ("Don't shoot me, I'm in need of a friend: I'm bored, and taking shelter from the storm"), while Ollie cuts loose with scarily wicked abandon.
For all the talk about Patto, "the people's band," it's easy to forget how they often sent up the culture associated with them—as they demonstrated on "Give it Away," a galloping blues-rock rave-up whose acrid observations ("Do you think it really matters all that much/If we drive in style, or we walk the last mile, to the gallows") might bypass the listener completely ("Do you think it really matters 'cause you're rich/That you broke the law/While a poor man stayed poor, to feed his children?")
Ollie proved an equally effective accompanist on slow-burning fare like "You (You Point Your Finger)," whose heartfelt retort could apply to anybody frustrated with a judgmental older generation ("But when you bastards die, we'll still be here/Then we'll take over"). About halfway through, the song really kicks into gear, as Ollie abruptly shifts gears to a sparse, swirling rhythm pattern that effectively complements Mike's observations ("You, you slowly fester, gripped by your disease").
Ollie's originals showcased a quirkier side—packed with subtle, yet odd phrasing and time signature shifts on "See You At The Dance Tonight," another bang-'em-up rock 'n' roll shoot-out along the lines of "San Antone."
And what to make of "Air-Raid Shelter," exactly? It's basically a showcase for Ollie, the free jazzer, brimming with enough surrealistic lines to earn a thumbs-up from Wings-era Paul McCartney ("...put your clothes on, I've just been taken on by the clothing department...").
Contrary to some reviewers' observations, the song's hardly a lyrical brain-teaser, especially in how Ollie chooses to round off the lyric—by telling his love interest what he'll do with those material contrivances ("If you want one/I will bring you a sample of the things they have made/Things that they produced/Things that have no use").
The first album hadn't sold well, yet Vertigo allowed the indulgence of another gatefold sleeve—whose Roger Dean-designed cover featured characters based on the game of "Consequences," where each player takes turns drawing the next body part (head, body, and so on). The front cover was cut into three sections. The "heads" could lift each flap individually, to reveal parts of the three characters printed on the inner gatefold. Eight different character combinations were possible this way.
Rightly regarded for his Yes-related artwork, Dean worked similar graphic magic with many cult acts of the era, like Patto. He recalls entering the picture after Vertigo deemed the band's original cover art mock-up too costly. "The band had proposed very complex paper cutting that apparently would have been prohibitively expensive—a pity, because their mock-up looked great," Dean advised the author in a January 2009 email. "I was asked to rework it, so I did, but I always thought the band's version would have worked just as well."
Hold Your Fire's US version came out with a gatefold sleeve, but ditched Dean's concept altogether. The reworked sleeve featured printed lyrics, larger band photos, and a new character created by John Youssi—evidently inspired by Dean's alien figure, although he's not seen it.
"It was an expensive sleeve to produce, but in those days, record companies were more willing to make the expenses," Dean says.
However, Hold Your Fire's reissue by the German Repertoire label reproduced the original gatefold sleeve, "and they have taken a lot of care about the quality," he adds. "I was very impressed—it is fully functioning, check it out."
For all that effort, Hold Your Fire still fell between two chairs at the box office: too ballsy for progressives, yet too quirky to divert teenagers already investing lots of air guitar time to the burgeoning glam-rock invasion of David Bowie, the Sweet, and T. Rex.
"When you think about some of the stuff they were doing, all those weird time signatures—it wasn't very accessible music to many people," Monks says. "You know, numbers like 'Air-Raid Shelter'—completely atonal music. It's hard to think of anyone who actually did anything quite like that."
Muff Winwood was keenly aware of those issues, "but it was very difficult to change it [the approach]," he says. "Ollie and Mike were very 'stuck in the mud,' in the way they wanted to take things. The only way I could deal with this was to make sure that I represented what they wanted, as best as possible, on disc."
Not for nothing did music press coverage of Patto—such as it was—began focusing on their live act, Winwood believes. "It was complicated, if you were sitting in your room listening to it," he says. "If you went to a show, and saw it performed, it did make sense."
As always, the musicians "got it" a bit sooner—including guitarist John "Olly" Alcock, who first encountered Ollie on June 11, 1971, at the Marquee Club, where his band Universe shared a bill with Patto. (Trivia buffs, take note: Universe included future Babys vocalist John Waite, of "Missing You" fame. Olly is still plugging away, too: check www.olly-alcock-band.co.uk).
"My first impression of one Ollie Halsall was a strange one, as we never spoke for almost two hours!" relates Alcock. "In the dressing room he grabbed my old (left-handed) '59 Gibson 330, and I duly grabbed his lovely (left-handed) white Gibson SG! Various roadies and band members came and went, but on we played. He was Ollie and played left-handed, I was Olly and also played left-hand. The music was our only communication and we ended up with a fairly healthy respect for each other at the end of our session. We jammed away like dervishes, and I'm sure we covered all our practice scales and modes during that afternoon. Great stuff!"
OUR STORY (TAKE THIRTEEN):
THE DREAM TURNS PEAR-SHAPED
In February and March 1972, Patto landed yet another prestige assignment—this time, supporting Ten Years After on a tour that focused around 1,500- to 2,000-seat halls in Germany and Scandinavia.
Tales of the headliner's lead guitarist, Alvin Lee, trailing his tourmates with a Revox tape recorder are the stuff of Patto legend. "I don't know that he did [record], but I've also heard that he's got loads of Patto tapes!"
Taylor says. "I must ask him, he's a good friend of mine." (Attempts to reach Lee for comment on this issue were unsuccessful.)
Time will tell whether any Patto tapes emerge, but John Halsey isn't bothered: "Oh, he [Lee] was blown away by the whole thing. That was the reaction we always got, but it still didn't put money in your pocket."
For Halsey, the tour served as a painful confirmation of Patto's nether status in the grand scheme of rock 'n' roll. "Nobody took any notice of us all, and Ten Years After went on afterward," Halsey says. "We all stood in the wings, watched them, and just thought, 'This is unbelievable.' There they were, tearing the place up, and we just knew we were so much more capable than they were, you know? That was so frustrating."
The next day, it was up at 7am with the roadies, "driving however far it took to the next gig—humping all the gear in, setting up and playing, to no response at all," Halsey says. "They were getting on an airplane, flying down to the next gig—picked up in a limo, tearing the place up to a fantastic audience reaction, earning a load of money—and there we were. It seemed an injustice."
Mike's comments for Sounds (May 13, 1972) were characteristically more measured: "We found quite a few differences. Obviously, they wouldn't understand the rapping and looning, so we tended to become a bit more of a visual thing. They seemed to dig the music about the same though."
Adored by fellow musicians, lionized by the press, Patto seemed fated to remain eternal underdogs. "Looking back on it now, the direction was wrong," Halsey asserts. "We thought it was still gonna work, but it didn't. It didn't appeal to enough people to give us all big houses in the country, like Alvin Lee, and all those other people we knew."
Asked whether the band ever shared these feelings beyond interview settings, Eddie McHenty responds: "They enjoyed each other's company, they worked really hard at it. They rehearsed most days of the week, when they weren't gigging—possibly frustrated about one or two things, but never any show of temper, or anything like that. They just got on with it, and had a good time—that's my impression."
Some good-humored grinning 'n' bearing would definitely be needed; Vertigo had dropped the band, following the poor sales of Hold Your Fire. But John Halsey's wish was about to materialize, for Chris Blackwell had changed his mind, after all. "Being on Island was an important milestone in an artist's career, and we wanted to make sure that the [next] record sounded like the move that we'd made," Muff Winwood says. "I think we over-tried, to be honest."
OUR STORY SO FAR (TAKE FOURTEEN):
MAD DOGS & COCKER'S MEN
Before long, another unlikely lifeline arrived. After a two-year silence, the man regarded as Britain's greatest soul/blues shouter needed an opening act.
On September 1, 1972, Joe Cocker returned to the US, supported by flashy jazz-rockers, Mark-Almond, and Patto—who now shared the same manager in the late Nigel Thomas, with whom UT readers are amply acquainted. The formal introduction essentially came on July 21-22, 1972, as support for Cocker and a band fronted by Chris Stainton, who'd become his full-time keyboardist.
In America, a grander schedule awaited. The tour kicked off at Detroit's Cobo Hall, then zigzagged along the East Coast, South and West, where Patto faced some of their biggest audiences at the San Francisco Civic (September 25), Long Beach Arena (September 27), and Hollywood Bowl (September 28).
Initially, the expanded ensemble included two drummers: Jim Keltner, and Jimmy Karstein, who already knew the Cocker boys through pianist Leon Russell—the force behind Mad Dogs & Englishmen, the 30-piece-plus ensemble that burned across 48 American cities from 1969-70.
"I used to live at Leon's house, and everybody was getting a little bit too high for my comfort zone," Karstein says. "PCP was comin' in, and DMT, and they were smokin' all this stuff—it was a little bit [hairy], you know."
Karstein recalls seeing Cocker and his partner, Denny Cordell, hatch the Mad Dogs concept during those crazy bouts—and might have been along for the ride, if Taj Mahal hadn't needed a drummer for his own touring band.
"They all just kind of flipped out," Karstein says. "I'm not trying to pass myself off as some kind of Presbyterian, but it was a little bit too much for me, and I just took off."
Not surprisingly, Karstein needed some persuading when the call came from Keltner—another fellow Oklahoman, from Tulsa. "We'd been friends for years, and I said, 'I'll do it if you'll do it,'" Karstein says. "I didn't really know what I was getting into."
Indeed: after only a handful of gigs, Keltner left the tour. "We played about three [nights]—I think he had that in mind all the way," Karstein says, with a rueful laugh. "He thought, 'Well, I'm gonna break in Karstein, and I'm gonna bail on the deal.' I've never got him to admit that, but..."
More basic concerns preoccupied John Taylor's mind. "The weirdest thing was having appendicitis on the first gig, limping around America," he says. "I remember going out in Kansas one night, because we couldn't get any food. I took a cab, and said, 'Somewhere, I wanna pick up some food.' This cab dropped me off, and fucked off!"
For those who liked riotous behavior, and substances aplenty, the tour didn't disappoint. Questioned what he saw happening on that front, Taylor quips: "And that was just the wives!"
He pauses to clarify the point: "It did go on, the rampaging down hotel corridors, and wrecking of things, the usual fare. He [Cocker] was having a hard time with his voice—he went on with a bottle of champagne, a bottle of brandy, and he took good swigs out of both!"
Of course, as UT readers already know, Cocker's touring band included a certain Glenn Ross Campbell, former steel guitar player for the Misunderstood (see UT#22)—who doesn't have any particular recollection of Patto. "To be quite honest, I only remember one opening band and that was Stevie Wonder," says Campbell. "Unfortunately, our sminders would have us arrive literally seconds before we went on, and just as quickly remove us from the premises and back to the hotel. If we didn't run into them at soundcheck we never knew who else was appearing. I hated it, being herded about like sheep, but let's face it, we were a capital investment property, not human beings, so it's not surprising we had no such luxury as freedom of movement."
With so much attention centered on the headliner and his excesses, it was almost easy to forget that Patto were around. However, although Karstein wasn't familiar with their music, he didn't take long to become a convert: "Ollie was just a monster guitarist. I always thought Patto had as much jazz in them, as they did in rock 'n' roll. But they were just a dynamic tour de force, you know? And I'd sit and listen to them every night."
Legends persist of abbreviated 20-minute Patto sets, although Karstein suspects they averaged half an hour, with 45 to 50 minutes for Mark-Almond, and 75 to 90 minutes for Cocker. "I don't have any down recollections of that," Karstein asserts. "It seemed like everything was up and buzzing, every night, every gig, you know? Patto and those guys, shoot, they were so strong they couldn't help but get the audience going."
The band played its final US gigs in Honolulu, Hawaii (September 29-30), where Jon Mark—Mark-Almond's guitar-playing half—lost the ring finger of his left hand in a bizarre drunken accident. "We all sat around, watching the sunset [on] Waikiki Beach, and Jon Mark shimmied up a palm tree, and slipped," Karstein recalls. "It was his wedding band that got caught. He lost his grip, that ring caught, and it just pulled his finger off."
However, not even a hospital visit stopped the quips from flying...within one quarter, anyway.
"These English, they've got a sense of humor—Patto starts to say, 'Well, Django Reinhardt only does it with two fingers,'" Karstein says. "I saw Jon Mark a year or two later, and he was playing. You'd never knew it'd even happened."
"Here was a jazz guitar player, now suddenly down a finger," says John Taylor. "He coped!"
Incredible as it seemed, however, the greatest craziness lay just around the corner.
Australia loomed next on the calendar, but Taylor—still struggling with his illness—didn't make it there.
OUR STORY SO FAR (TAKE FIFTEEN):
KEYSTONE KOP BLUNDERS (DOWN UNDER)
How well popularity translates between territories is up to the public—but Harry M. Miller, who'd brought the Rolling Stones (1965) and Eric Burdon & the Animals (1966) Down Under, could feel reasonably confident of betting on Cocker.
Following quick stops in Christchurch (October 3) and Auckland, New Zealand (October 6), multi-night stands loomed in Sydney (October 10-12), Melbourne (October 18-20), Brisbane (October 24-25) and Perth (October 27-28).
At first, the schedule hadn't been so extensive, but public demand forced Miller to add the extra nights—which undoubtedly pleased Halsey, who'd found a way to make £30 extra per week.
"I started going off with Joe, and Ollie sneaked in," Halsey says, laughing. "I don't think [the management] really wanted him to get up and do it, but he sneaked in, as well. I'd come off, change my shirt, and go back on with Joe."
The tour routine came unglued on October 14, following the show at Adelaide's Apollo Stadium. "We got to Sydney, and stayed at Kings Cross, which is kind of the Times Square of Sydney," Karstein says. "One of the roadies found some gal, and everybody bought a couple of ounces, and everybody got a bag, right? Well, the cops were watching the whole thing."
Nobody thought much more when the Cocker entourage rolled into Adelaide's Holiday Inn, which faced a large open park. "Everybody got their weed, rolled up and went out on these balconies—but, anyway, the cops were across the street with binoculars, watching the whole thing. Everybody was way too high in those days, you know?"
Australia's reputation as a black hole of heavy-handed authorities, hostile attitudes and thick-headed media—which the Who, Small Faces and Paul Jones encountered abundantly back in '68—reared its ugly head anew. "Jimmy and I were sort of splitting it in the room, the cleaners walked in, and then—as they say—the shit hit the fan," says Halsey, laughing.
The next day, it was off to court, where $300 fines were levied against Cocker and six members of the touring party—who found themselves facing inflammatory headlines and a 48-hour order to leave the country.
Further trouble followed. On October 18, after the first Melbourne concert, police busted Cocker and a girlfriend at the Commodore Chateau Hotel, claiming they'd joined a brawl in the foyer. Once more, Cocker stewed in an Australian lockup—this time, for assault and resisting arrest—until the next morning. The band managed two more dates on October 19-20, at Melbourne's Festival Hall, while Brisbane and Perth were promptly canceled, scotching their brief flirtation with Cocker/Pattomania.
There was nothing else to do, but find a new gig, as Karstein recalls: "My folks in Oklahoma heard about it. By the time the tour was over, and we got back to England, hell, it was front page news."
The bust disrupted more than mere schedules. "We were meant to go to Japan, I think, after Australia," Halsey says. "They cut out the Japanese bit, and we just came straight home. That was it: come home with no money."
Patto never revisited the country, although Cocker returned in 1975—thanks to a deal cut with a new Labour government—and again in 2008. Karstein also made it back, though not without learning a thing or two about the Aussie memory: "You know, I've worked with JJ Cale over the years. We went back down there two or three years later, and I almost didn't get in."
OUR STORY SO FAR (TAKE SIXTEEN):
ROLL 'EM SMOKE 'EM (AHEM)...
The roadshow rolled home, just in time for that difficult third album, Roll 'Em Smoke 'Em Put Another Line Out, which Island released in October.
As usual with Patto, that small matter of timing reared its little head. "You know, we absolutely went down a storm on that Joe Cocker tour—played almost every night, some of the biggest venues in the States," Halsey says. "It was released the week after we left—by that time, everybody's seen another two bands!"
Yet the band seemed in a feisty mood, as the opening blast of "Flat-Footed Woman" makes abundantly clear: "OK, two of you lads 'round the back!" (For a complete explanation, which space doesn't permit, see Lady H's recollection on the Patto/Timebox Fansite.) As Clive and John lay down a rollicking backbeat, Mike pours out his heart to a policewoman—hence, the title—and Ollie races across the 88 keys like a greyhound.
Evidently uneasy with the guitar-freak cult growing around him, Ollie focused on the piano—using it to explosive effect on "Turn Turtle," among the few rock songs to address the unwilling sex partner ("When I touch you, you scream/ You turn turtle, play dead").
For "Singin' The Blues On Reds"—whose references to "screwin' on hotel beds" and "keepin' an eye on the feds" are straight from the Australian headlines—Ollie pulls out some nifty James-Brown-ish licks against a nimble Halsey backbeat. The middle section features a web of densely layered guitars, recorded with the tape slowed down to achieve some classic Les Paul-style runs.
Guitar-freak cultists had to make do with "Loud Green Song," which Monks has memorably described as sounding like Jimi Hendrix jamming with the Sex Pistols—an apt snapshot for the sole place where Ollie allowed himself to cut loose.
If all this diversity weren't jarring enough, Halsey's "Mummy"—an eerie a capella ode to incest, tucked away on side one—would have done the trick. (The Australian pressing discreetly omitted the track.)
The album closes out on a confusing note with the eight-minute "Cap'n P & The 'Attos"—whose uneasy mixture of anarchic noodling and pirate pisstake comes across like a Monty Python skit, without the visuals.
"Even when we did that Joe Cocker tour, we used to do silly songs, and have silly things happening onstage," Halsey says. "But then, we would sort of intersperse that with the more straight-ahead stuff that we were doing. We always did that, so that's why we decided to put a bit of it on that album."
Not surprisingly, given Ollie's decision to downplay guitar, Roll 'Em Smoke 'Em gets short shrift among Patto fans. In Halsey's view, the band wanted to move on, with mixed results.
"The failure of those [first] two albums, where we gave our all, affected the third album," he says. "We started thinking, 'We'll try something else.' That's why there's a lot of piano on it, not much guitar."
Muff Winwood supported the band's willingness to experiment, but the ingredients to a successful album remained maddeningly elusive. Of Roll 'Em Smoke 'Em, he says, "We were always falling in between the stools—we weren't pop, we weren't rock, we weren't jazz, we weren't indie, or whatever else was going on. And the different styles of music showed that."
Press reaction varied markedly. Disc & Music Echo praised the album for showing "a much looser, more natural feel than its predecessors" (November 25, 1972), while New Musical Express's December 2 verdict cut right to the chase: "If you're going crazy, and you're looking for some soundtrack music to help you on your way, this is the month's best buy."
ROCK (December 18) gave Halsey considerable stick for "Mummy," which it slammed as "a rather flat attempt at comedy," with "Cap'n P" amounting to "a pretty pointless track that really seems to be there just to fill space." John Swenson liked side one, particularly for "Loud Green Song," but felt less warmly about side two: "Still, the album is worth hearing for the few gems it contains, even though they're not the type you'd choose for a friendship ring."
Music World's review (January 1973), on the other hand, dished out praise for "Mummy," which it chalked up to Halsey's alleged fondness for "singing loudly in posh restaurants while accompanying himself by banging his spoons on his water glass. This I believe is a fair excuse."
Perhaps, although the magazine's praise of "Turn Turtle" raises the old "cloth-eared reviewer" cliche: "Olly's guitar has never sounded better, and the song contains a great smash 'em up ending." Fair enough, although there's nary a guitar on the track.
Still, Music World believed that Patto "have finally managed to capture on record much of the insanity that characterizes their stage act," for which it praised Ollie's instrumental abilities—singling out "Loud Green Song" for "some of the nastiest sounds ever wrenched out of a guitar."
None of these verdicts surprise Muff Winwood. "To be honest, I was never particularly that happy with the way that any of the albums turned out," he says. "When we got to the end of the recording process, I was utterly drained—you know, I always felt that we'd missed something. I don't know what we missed, but we'd missed something."
OUR STORY SO FAR (TAKE SEVENTEEN):
OLLIE (YOUR DAYS ARE NUMBERED)
The new direction emerged during Bob Harris' "Sounds Of The '70s" show, aired January 24, 1973. The band mixed standbys like "Flat-Footed Woman" and "Singing The Blues On Reds" with new efforts that featured a snappier, poppier approach—in this case, "General Custer," inspired by the Australian tour fallout.
On February 12, 1973, the band taped three numbers for John Peel, including "Loud Green Song"; "San Antone," featuring John Mayall on harmonica; and the unreleased "Holy Toledo."
The following day, Patto recorded its final BBC session, which featured another notable new song in "Sausages." This time, Ollie took the vocal for an arch, sarcastic ode to the grind of eating "grey meat from the aeroplane, don't cry, 'cause it's all in vein—excuse me, while I go insane."
Saxophonist Dave Brooks, later of Kokomo, guested on all three sessions. His appearance marked the latest twist in a Patto universe that effortlessly accommodated fellow travelers like Bernie Holland, and Pete Davey, "who could play two saxophones in his mouth at the same time," Halsey recalls. "He was a great player, and played with us for awhile."
With Brooks on board, the band started rehearsing and writing poppier songs, "very influenced by the success of Joe Cocker," Halsey says. "His band, and what they were doing, had a really big influence."
After all the experimentation, nobody expected Patto to follow a conventional path, but that's where the fourth album sessions were headed during the spring of 1973—an agenda that coincided with Mike's growing interest in singer-songwriter-type material, and playing piano onstage.
Soon, however, the band began to pick up on a distinct lack of interest on Ollie's part—when it came to recording Mike's songs, anyway. "Instead of playing what he normally played, or what he played at rehearsal, he was just playing on one string," Halsey recalls. "That's what we were objecting to. In the end, he said, 'I wanna pack up. I just don't wanna do this anymore.'"
Winwood doesn't recall such dramas, but "it was difficult to see an endgame on this thing," he declares. "We were almost making an album to make an album. I couldn't see where this was all going."
In his eyes, the problem came down to the material—and what he says might send Patto fans scurrying for the nearest available cricket bat. "At the end of the day, Patto were a great band, but the songs they wrote weren't as great as all their other attributes as musicians, personalities, entertainers, all those things they were brilliant at," he declares. "I've said all along, it's a matter of personal suggestion. I liked it. I was just frustrated, because I always could see that it could be better."
From Winwood's standpoint, the Halsall-Patto relationship lacked the competitive edge that drives classic songwriter partnerships like Lennon-McCartney, or Strummer-Jones. "They had this feeling—if it came from the heart, it should be left untouched," Winwood says. "And that, in a way, is a very hippie ideal. If Mike had written a song, Ollie would have respected that, and not wanted to change it."
Taylor also doesn't recall the sessions, but had picked up on a distinct ennui within the ranks. "After the Cocker tour, people were less willing to bend with each other, I suppose, is the best I can say," he suggests. "It's like a family, isn't it? You have your niggles with each other that are ongoing, that get submerged, and left alone, and forgotten."
This is the trouble with rock 'n' roll dreams. They don't go down easily, but without any resources, they expire all the same, as the band finally realized during the Roll 'Em Smoke 'Em era, Halsey says: "We recognized then, we were always gonna be a band 'bubbling under,' and we'd never really break through. We were still living in rented rooms. Nobody owned a car, nobody owned any property, nobody owned anything. We were just working musicians. I hate to sound like a total mercenary berk, but that's what it came down to."
As Halsey and company soon discovered, Ollie's decision came down to equally basic reasons. "He'd been offered a gig with Tempest, and saw an opportunity to go and do something else, and earn decent money," Halsey says. "He was being offered proper money, which we never, ever earned in six years."
Winwood suspects that Patto's freewheeling approach no longer suited Ollie's evolving tastes. "After three albums like that, and traveling around the world, I think Ollie began to realize that the material wasn't moving forward."
Without a band left to promote it, Monkey's Bum stayed in the can. This hasn't stopped various bootlegs from appearing throughout the years—taken from cassettes, with all the resulting tape flutter and dropout—but a superior-sounding version has appeared on the Ollie Halsall Archive. (For details, see www.olliehalsall.co.uk/.)
Why Monkey's Bum didn't at least earn a posthumous release, Winwood has no idea, but he doesn't see a proper CD reissue happening. For one thing, other than rough mixes that he and John Halsey have kept, he's not sure that any master tapes have survived. "You know, they'd [the band] moved on ," he says. "And I would think the tapes are probably oxidized now, partially destroyed. There's nothing to be done about them."
Despite all those headaches, Monkey's Bum is not without its charms—foreshadowing the simpler, straight-ahead blueprint that Mike and Ollie pursued in their next outfit, Boxer. Mike's vocals never had sounded more self-assured on tough rockers like "My Days Are Numbered," or the haunting ballad, "Good Friend"—two songs that rank among the band's finest hours.
A bit more guitar would naturally have gone a long way, but Mel Collins's horns lent discreet shading to tracks like "Sugar Cube 1967," "Hedyob," and "Get Up And Do It," on which Griffiths' bass—which often fought for air in the mix—rises to the fore.
Halsey remains bullish about Monkey's Bum. "It was all becoming a little more interesting, a little more diverse, and also going a little more in the right direction. That's what I think. I listen to that album, and think, 'There's some songs on there that probably stand the test of time, if they'd been done properly,'" he says.
As an example, he points to "General Custer," which Mike wrote on his own. "That is the one track on that album that really irritates me, mainly because of the way I play on it," Halsey says. "I just listen to it, and think, 'Oh, God, it's so annoying.' I'd loved to have re-recorded that, anyway. If we'd gone on to finish the album properly, we'd probably have done another evening on that song."
But there wouldn't be anymore studio evenings, nor second chances. Fittingly, Ollie's last gig occurred Sunday, April 29, 1973, at the Black Swan. Without him, the boys had one more contracted affair at their other old stronghold, the Torrington (May 6), aided by luminaries like Holland, keyboardist Tim Hinkley, plus the redoubtable Eddie McHenry, and the Islands-era King Crimson lineup (Boz Burrell, Mel Collins, and Ian Wallace).
Equally fitting, the epitaph came from Melody Maker, the one paper where Patto could expect consistently supportive coverage. The night struck reviewer David Rudland as "more than a modest triumph," because the participants "haven't lost sight of one important criterion for playing publicly—entertaining the public."
Melody Maker had also run the official epitaph ("Why Patto Had To Split") only a day before, with Mike getting the last word: "It's bloody stupid, but we just couldn't keep going up the hill. It had to end somewhere."
As a final payoff, John Taylor received the band's van, and Ollie's prized Fender Twin amplifier. "I think he gave it to me, because he didn't want any of the others to have it," Taylor says, laughing.
"I actually don't know why, but there was very much that thing to it. And, you know, we'd still see each other rarely, but it would happen."
© Ugly Things magazine 2011.
Special thanks to all who joined in this installment, including: John "Olly" Alcock, Glenn Ross Campbell, Roger Dean, John Halsey, Eddie McHenry, Barry Monks, Andy Moore, Tony Newman, Lucy Piller, John Taylor and Muff Winwood. The author appreciates their good humor, support and insight.
NEXT TIME: Ollie meets his lifetime collaborator, Kevin Ayers, flirts with heavy rock temptation in Boxer, becomes a jobbing "player for hire," flees the British punk explosion for the Spanish mainland...where his story comes to an untimely end, leaving those "in the know" to carry the torch.
---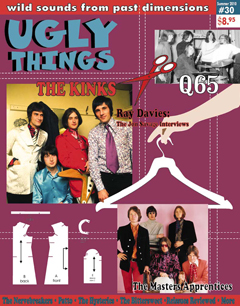 Traveling Show: The Serendipitous & Surreal Six-Stringed Life & Times of Ollie Halsall' by Ralph Heibutzki
Reproduced by kind permission from a issue 30 of UglyThingsmagazine © 2010
Thanks to all who participated in this installment, including John Halsey, Chris Holmes, Eddie McHenry, Barry Monks, Helen Newman, Tony Newman, and Zoot Money, Also: special thanks to Jon Kanis, of "State-Controlled Radio," for permission to use the Neil Innes quotes excerpted here.
---
"AND EVERYBODY NEEDS SOME MONEY"
When we last left Ollie, he'd abruptly quit during spring 1973 sessions for Patto's final unissued album, Monkey's Bum. The rationale became clear soon enough to drummer John Halsey: "He'd been offered a gig with Tempest and saw an opportunity to go and do something else, earn decent money." 
Anchored by bassist Mark Clarke and drummer Jon Hiseman, Tempest kept Ollie busy well into 1974--between sessions for such disparate projects as albums from ex-ELO bassist Michael de Albuquerque, and the Jesus Christ Superstar soundtrack.
In January 1974, Ollie even released an instrumental single as Rusty Strings, redoing a Jerome Kern song ("Can't Help Lovin' That Man"), with an engaging original ("Medium Twist") tucked away on the B-side. Nodding to Les Paul, Ollie recorded the songs at slower speeds, which made his guitar sound faster when played back normally. Having seen this technique during the Patto-era, producer Muff Winwood wasn't surprised that Ollie wanted to try it again. "I've got a whole pile of songs at home, that we did like that. I've listened to them recently, and they're really not that good," Winwood asserts. "Now, you can do it [the technique] so much easier, and quicker, it's not even clever anymore--in those days, it was all so clever." 
Tempest released its second album in February. Ollie made a strong contribution to Living in Fear, writing or co-writing four of its eight tracks. The album remains best known for its take-no-prisoners cover of the Beatles' "Paperback Writer"--a fitting connection, since engineer Geoff Emerick had also done many a Fab Four session.
Unfortunately, Tempest imploded shortly afterwards, but Ollie found a more appealing job in May as lead guitarist for Kevin Ayers - with whom he'd remain for 18 years. They'd cemented their relationship that winter, when Ayers needed some wild guitar for "Didn't Feel Lonely ('Til I Thought About You)," which appeared on his fifth Island Records album, The Confessions of Dr Dream and Other Stories. With someone else fronting the band, "you don't have to do any writing, or singing, or performing, all you have to do is stand there and take the solos and play," Ollie explained to readers of Melody Maker's July 13, 1974 issue.
"He never really went too over the top with the stuff that he did with Kevin - not on record, apart from 'Didn't Feel Lonely,'" Barry Monks says. "After that, all the solos are very disciplined, very arranged, quite beautifully done. When he played live with him, he'd do some incredible stuff, obviously." 
Indeed, as June 1, 1974 bears out. Hyped as a cult heroes' live summit, John Cale, Brian Eno and Nico made do with four songs between them, with Ayers getting five, but it's Ollie's soloing that carries the night, shifting from lyrical ("May I?"), to moody ("Stranger in Blue Suede Shoes"), and searing ("Shouting in a Bucket Blues"). 
Ollie's studio abilities knew no limits, as ex-Third World War guitarist Terence Stamp discovered during the October 1974 sessions for his Fatsticks album, at Morgan Recording Studios, in north London. Producer Roger Cook wanted Steve Marriott, who, being too busy, suggested Ollie.
Though he knew nothing of Ollie's work, Stamp got the idea after they recorded the first songs, "Motor Head," and "Itchy Feet." "His guitar playing was out of context with the norm," Stamp recalls. "Most people, like myself, were based in the Chuck Berry style. The way he transposed that vibe work, those notes, those scales, and just switched them to guitar is part of that unique style of playing that he had." 
But Cook had other ideas. "On that Monday, they called Ollie upstairs, and played him a Montrose album, to get that Montrose sound. But, if you listen to Fatsticks, he must have gradually gone back to the sound he wanted, because it isn't [like] Montrose," Stamp says, laughing. "He didn't say anything, because I think everybody was paid £1,000, which was quite a sum of money back then. And everybody needs some money." 
Bassist Jim Avery, Stamp's Third World War writing partner, recalls "Itchy Feet" starting from a riff that he instigated with Tony Newman. "Lots of things went down that we didn't really know about. We did it in rehearsal, and it was a real raver," Avery says. "We did it in the studio, and Cook said, 'No, we can't have this.'"  
The next week, Stamp found Avery's place taken by Herbie Flowers, a fixture of T. Rex's twilight years. Ironically, Cook used "Itchy Feet"--guide vocal, unfinished lyric and all--on A&M's 1975 release of the album. Gone were most of Avery's basslines--redone by Alan Spenner--but he did hear himself on "Itchy Feet."  
"It sounds like a mismatch--like, things have been stuck in," Avery contends. "It's chopping and changing, and never actually finding the winning formula that he's [Cook] looking for. I mean, it's just my opinion. Different record producers have different ways of doing things." 
Stamp saw something else happening as the sessions wound down. "By the time Ollie got to the Friday or Saturday, him and Newman are just stripping the clothes off each other," Stamp says. "I just got out of there: 'OK, see you all later...'" Stamp returned to driving a truck, just as he'd done before the sessions, swearing off the music business until the '90s, when he and Avery resumed their collaboration. But that's another story. 
OUR STORY SO FAR (TAKE 19):
YOU HAD TO BE THERE
In January 1975, Ollie and Tony joined Ayers for a European tour, with keyboardist Zoot Money, and bassist Rick Wills. "It was a good, good rock band. Kevin loved it. It really was a nice experience, but the drinking and the drugging were absolutely phenomenal, you know," Tony says.  
One night in Spain, everybody played the infamous drinking game of "Cardinal Puff" with Bull's Blood red wine. "We were supposed to go to this big dinner that night, and everyone passed out! We didn't make it out of the hotel bar, any of us," Tony says. "It was all over."
In Switzerland, the boys unwound with a lowbrow costume party. "I went as 'Bin Man,' so I put a [garbage] bin over my head, with a face [drawn on it]," Tony says. "George 'Zoot' Money had 'Squig Kid.' We had a toilet brush strapped to his head, with a squigger, and toilet paper. We went to this five-star restaurant to eat, they escorted us out of there, and that's all I remember about that. There was all that, going on all the time." 
Some band members had less patience for these antics. "You notice, I haven't said much about the music, but the music was dynamite," Tony says. "I loved Ollie's playing, and we'd just have a great time. Of course, George Money would get on his case. He would always be saying, 'Ollie's all right, for about three weeks, then he's just flaky as can be.' You'd never really know it, because I used to talk to him a lot about stuff; we never really had any short conversations." 
Once the tour ended in March 1975, Ayers's merry men needed other work. For Ollie, that meant calling Mike, now doing promotional work for Nigel Thomas's latest venture, GoodEar. Other than the odd project--such as Spooky Tooth's final album, The Mirror--Mike's musical activities had tapered off considerably, which he yearned to rectify. 
That wish came true when Patto reunited on May 15 (Dingwalls), July 13 (The Torrington) and July 25 (The Black Swan), to raise money for roadie Erik Swain, who'd been murdered while vacationing in Pakistan with his family. 
The itinerary also included a trip to the former Yugoslavia, where Swain was harvesting marijuana that he planned on smuggling back to Britain. But a run-in with Pakistani mountain bandits ended those plans, says former Patto road manager, John Taylor. "They started shooting from a long distance, and hit Erik a few times," Taylor says. "She [Swain's wife] got hit in the legs a couple times, but was OK. A couple truck drivers came by, and they were armed as well, so they started shooting back, and these people buggered off. By the time they got Erik to hospital, he died. But it wasn't [over] a drug deal." 
In any case, the gigs sold out quickly, forcing the unfortunate to listen outside.
Barry Monks caught the London gigs, with the Torrington yielding the last bootleg. Amazingly, it's one of just two complete shows that exist.
Alas, Monks doesn't think the quality is release-worthy. "If you were there, it sounds fantastic," he says. "If you weren't, it's difficult to make sense of it, especially when the last [part] is comprised of things like [Johnny Kidd & the Pirates'] 'Shakin' All Over.' They used to do 'Shakin' All Over' at a low volume, almost acoustic version, finishing with Ollie leaping from a table in the middle of the audience back onto the stage, to play the last note. You had to be there."
OUR STORY SO FAR (TAKE 20): 
ROCK'N'ROLL'S LAST CALL?
In August 1975, Ollie's new band--now called Boxer, with Keith Ellis (ex-Juicy Lucy) on bass--began rehearsing at De Lane Lea studios. "It was almost as if they were trying to do it properly," Monks observes. "It was very professionally organized. They even had lights, a sound crew, the rostrum for the drummer, and the dry ice machines, everything."
Behind the surface, however, lay "a last call for rock'n'roll," as Tony sees it. "There was a melancholy and a darkness about it. You know, if you were doing the amount of drugs we were doing, it's gonna get pretty bloody dark."
Helen Newman remembers those nights well. "They were all getting pretty loaded," she recalls. "Ollie drank, Keith drank, Tony drank, so they were awful for each other. And mostly, I would join in; who wants to be around these people sober? So, for me, it was very sick as well. I didn't need to be doing all that, but I did. I always saw myself as one of the lads, so whatever they could do, I could do."
Keith's wife, Deborah Ellis, entered this madness when Mike and Ollie picked her up at Heathrow Airport in the summer of 1975. While she'd been a touring guitarist herself, nothing prepared Deborah for Ollie and company's newfound "Hitler rages"--essentially a cue for food to start flying, furniture to get thrown, that sort of thing.
These outrages typically occurred in high-end restaurants, but not even the Manor--where Boxer recorded its debut Below the Belt--was safe from them, either. "Here's this gorgeous place, this humongous dining room--they had this Hitler rage, and the whole table went up in the air, and onto the floor. I mean, it was just insanity," Deborah says. 
Still, the recording proceeded in reasonably businesslike fashion. "They were like kids in a candy store," Deborah says. "They were so happy, and I'm glad, because only one person [Newman] remains, so it was a very important time in these musicians' lives." 
Unfortunately, Below the Belt (Virgin V 2049, January 1976) became remembered for the boxing glove shrouding its nude model's genitalia, not the music, which downplayed the pyrotechnics of yore for a crisper, harder-rockin' approach. The first single ("All the Time in the World") featured no extended soloing--proof positive that Mike and Ollie put the songs first.
For Tony, the cover controversy--which eventually forced the addition of a belt around the lady's waist--crystallized his growing doubts about their management. "Nigel Thomas's business style was rather different to what I'd experienced before, you know. He had always had legal cases going, always lots of stuff going on," he says. 
"I thought the adverse publicity was great," Helen maintains. "But, you know, England can be very prudish as well. Nowadays, nobody would think twice about [a cover like] that. Do you know, I found an old sweatshirt with that [image] on the front?" 
OUR STORY SO FAR (TAKE 21):
A LITTLE BIT OF BLOODLETTING 
Rightly or wrongly, reviewers smelled desperation in Boxer's approach. In pure commercial terms, Mike and Ollie were seeking a second chance that many of their peers weren't getting--though their manager hadn't produced a major success since losing his biggest act, Joe Cocker. 
Barry Monks suspects that Ollie's heart wasn't in the exercise. "On the surface, it was a much more professional thing, but the root of it was still just Ollie and Mike looning about, you know?" Barry says. "In a way, he [Patto] was a bit stuck with Ollie, who was a bit of a maverick, and obviously had no interest whatsoever in becoming a star." 
A live tape taken from Boxer's February 21, 1976 Roundhouse gig tells Tony all he needs to know. "It was quite amazing to hear what we had done with 'Shooting Star,' things like that. It was just a jam band, you know, 'cause we were all so bloody out of it, that's why," he says. "What we had was well-played, and had some of 'it' [the chemistry]; it wasn't commercial enough, it wasn't bright enough."
With Britain looking like a brick wall, hitting America seemed the next step. Yet Boxer would never play a single date there, once Mike heard some devastating news about his health. "We were carousing around the clubs every night. We'd rent a yacht, go to Marina Del Rey and sail out there," Tony says. "We thought we were like Errol Flynn. We'd hang out with all the Hollywood stars, but it was all very dark, because Patto had got cancer." 
Back in London, another horrible surprise awaited. "My contract, and Ollie's contract, had been canceled by Nigel Thomas. He'd impounded my drums, so I couldn't have a drumkit," Tony says. "Ollie didn't have a guitar, or any amps, he'd taken the lot. That was the end of it, for Ollie and I." 
While Tony readily accepted an offer to join the T. Rex touring lineup, Ollie returned to sessions--though he wouldn't even own a guitar again until 1981. And other difficulties loomed; punk rock had swept Britain, driven by provocatively monickered combos like the Sex Pistols and the Clash, who shared a bill on July 4, 1976, at Patto's former stronghold, the Black Swan.  
Raw simplicity was in; progressive eccentrics like Kevin Ayers were fast going out of fashion, though Mike's and Ollie's wildest nights might have given many punks pause. "They were one of the old school, weren't they?" Monks says. "But in 1976, anything from the '60s was really just dismissed, you know?" 
A generation of virtuosos vanished overnight, although Deborah Ellis felt hard-pressed to understand the phenomenon. "Me and [Sex Pistols lead singer] Johnny Rotten, he used to stand next to me [in clubs], and spit on the floor or my shoe. I'd be, 'So what? I hang out with four guys who are so much more insane than you could ever be, and it's real!'" Deborah laughs.
With Mike as the only holdover, a reshuffled Boxer plodded ahead, but the punk-barmy Brits ignored its next album, Absolutely (Epic, 1977). Soon, Mike was too stricken to continue as a musician, though he put his best face forward--right up to his death from lymph cancer on March 4, 1979. That same year, Mike's last hurrah came out in Bloodletting (V 2073); recorded around the same time as Below the Belt, it's best known for another notable Beatles cover ("Hey Bulldog").  
No matter. Looking at Below the Belt's expansive gatefold photo is a haunting experience, at times, for Tony Newman. "It has the stigma of such sadness in it, no one wants to touch it, you know," he says. "Nigel Thomas is dead now, and everyone's dead, who was ever involved in it. Maybe it's just one of those things, that you leave it alone." 
OUR STORY SO FAR (TAKE 22): 
WHERE DID I GO RIGHT?
During the summer of 1977, Ollie joined Neil Innes, John Halsey and former Beach Boy Ricky Fataar to record songs for the classic Beatles parody film, All You Need Is Cash (1978). It's tempting to imagine how Ollie would have fared as the Rutles' Dirk McQuickly, whose parts he played, and sang, but the producers opted to cast Eric Idle, who hatched the Rutles with Innes. Ollie's bit was cut to a blurry photo of "Leppo," the unheralded "fifth Rutle."
By December 1977, Deborah returned home, wearying of Britain and the drug abuse overtaking her friends. "It scared me, so I got the hell out of there, and paid for Keith to come back with me, because he was my husband," she says.
Keith Ellis died as he'd lived, following an accidental overdose in 1978, while touring Germany with Iron Butterfly. This occasion marked one of the last times that Deborah spoke with Ollie, "'cause I remember talking to all his friends--people were calling me from England," she sighs. "And it was a drag."
For Halsey, the tour served as a painful confirmation of Patto's nether status in the grand scheme of rock 'n' roll. "Nobody took any notice of us all, and Ten Years After went on afterward," Halsey says. "We all stood in the wings, watched them, and just thought, 'This is unbelievable.' There they were, tearing the place up, and we just knew we were so much more capable than they were, you know? That was so frustrating."
"Up against it" financially, Ollie joined Gary Glitter's band, only to get sacked after some violent arguments. A welcome distraction emerged from jamming with singer-songwriter John Otway, who'd gotten a five-album deal with Polydor Records off his 1977 hit, "Cor, Baby, That's Really Free.
"I don't remember it being too much of a down period," Otway asserts. "I remember going 'round his house, we had a tape recorder, and we'd sort of knock all these demos together. That was when he gave me that tape, the one you've heard." 
"That tape" became Caves, released through Market Square Records in 1999. Apparently using borrowed equipment, Ollie produced a strong, multi-tracked series of originals like his wistful McCartney-ish ballad, "Traveling Show," and the unsettling "Summertime Kids," whose "paint your eyelids" reference makes clear that he's not talking metaphorically. A more complete statement is harder to imagine, since Ollie plays all the instruments, too. For Barry Monks, it's a fascinating and frustrating exercise to consider what Ollie might have done, had these songs become a solo album. "He could play perfect riffs--organize choruses, verses, arrange--which he never really seemed to want to do with his own stuff," he says. 
Ollie graced Otway's next effort, Where Did I Go Right (1979), and live dates, joined by John Halsey, who didn't play on the album. "It wasn't really a tour," he maintains. "We all got the push on that, because Otway wanted a band that kept falling to pieces, where guitar strings kept breaking, amplifiers kept falling over. In the end, he went to New York and toured." 
In Otway's eyes, the economics simply favored a duo, which turned into "a pretty comprehensive tour" that included New York, Toronto and the West Coast. "I remember New York being particularly good," Otway recalls. "I think Ollie was meeting up with [Brian] Eno. They were hanging out a bit together. Chris Spedding, I seem to remember him around as well. A lot of people came out, specifically because Ollie was doing it." 
OUR STORY SO FAR (TAKE 23): 
BUSY TURNING INTO A PUMPKIN
Back in Britain, Ollie looked to form a trio with Halsey, whose own phone was ringing less often. "I was struggling to earn a living. I was doing some jingles and recording sessions," he says. "We got involved with a Viv Stanshall album, Teddy Boys Don't Knit [released in 1981]--that was pretty good. It was done very, very quickly, and we didn't get a lot of money for it." 
The scene at Abbots Langley--the large, sprawling house that Ollie had bought, in happier times--struck Halsey as emotionally and financially arid. Ollie's marriage was imploding, due to him squiring a 14-year-old girl, in full view of his family, and that was before the monthly bills reared up. 
"They had no running water, no electricity, no gas," Halsey says. "He had no telephone, didn't own a guitar, couldn't drive, didn't own an amplifier, and couldn't understand why he wasn't working! There he was--no means of getting anywhere to work, 30 miles outside of London, and no money, you know? It was wild." 
Released as Abbots Langley (Market Square, 2007), these 1980 sessions feature some spirited punky originals, as well as three jingles for Marietta's Pizzas. This was Ollie, stylistic chameleon for hire, though the jingles never got used, so the musicians never got paid.  
"He played this horrible star-shaped guitar that was Gary Glitter's. What we wanted was a bass player who could sing. We advertised in Melody Maker, and things like that," Halsey says. "Nobody was interested, we never got anybody--and that was the end of that, really."
Ollie had drawn the same conclusion. A tour offer came from Sweden, where former Music Students bandmate Bill Lovelady was riding a hit single, "One More Reggae for the Road," which reached #1 there in July 1980, en route to a 12-week run."He was an old friend of Ollie's, from Southport," Halsey says. "Ollie said, 'I'll see you when I get back.' Off he went, left Susan--the young girl who lived in the house--went to Sweden, and never came back, basically." 
Swedish singer-keyboardist Zanna Gregmar was among those called for pre-tour rehearsals in London. "What really triggered our friendship was our mutual knowledge of George Formby songs," Zanna says. "Ollie had never come across anybody else who knew these songs. We used to try and outdo each other with our repertoires of 'Our Sergeant Major,' 'Window Cleaner,' 'Snapshot Album,' etc."
On the road, Ollie "was always up to some mischief or other, especially after a couple of pints," Zanna adds. "He did silly stuff, like following artists around in mid-performance if they left the stage to connect more personally with the audience. It was not a very nice thing to do, but he was very, very funny." 
When the tour wrapped up, Bill relaxed with Ollie and Zanna at her old hometown of Landskrona, Sweden. Shortly before Christmas, Ollie returned there, "and joined my band," Zanna says. "We did a load of gigs, and Ollie spent a lot of time fishing. He also managed to learn a few fishing-oriented phrases in Swedish, to everyone's delight!" 
OUR STORY SO FAR (TAKE 24):
ANOTHER SATURDAY NIGHT iN DEJA
In May 1981, Ollie and Zanna followed Ayers to Deja, a small village on the island of Majorca, off the Spanish mainland. Now Ollie was living on an island, fulfilling the scat-sung yearning he'd voiced on his Caves-era lament, "Back Against the Wall." Few homes had electricity in this environment, where residents bought their own gas and water in separate canisters. These things didn't faze Ollie, who "really loved this basic lifestyle!" Zanna says. "For awhile, I believe it worked wonders for his whole nervous system, and he was calmer and more at ease with himself than at any other time."
Deja has welcomed all sorts of creative types, most famously, the poet Robert Graves (whose son, Tomas, also played with Ollie), along with actor Pierce Brosnan, author DH Lawrence, and former Animals frontman, Eric Burdon (whose autobiography refers to "Ollie Halsell").
Signs of a creative boom were unmistakable in Spain, whose nearly 40-year dictatorship finally ended with Franco's death in 1975. "Everybody was amazed at what they were allowed to, and trying to achieve," Zanna recalls. "Everybody was reaching for a bit of assistance from the free world, I think!"
The scene also struck Zanna as "extremely chauvinistic," where people often labeled her "Ollie's woman on keyboards." "I found that quite hurtful," she says. "I believe I was the stronger songwriter out of the two of us, and Ollie actually sold some songs that we had co-written, in his own name only!" 
Ollie and Zanna later based themselves in Madrid. Between Ayers tours and albums, they rehearsed, produced and wrote for outfits like Spain's first notable punker, Ramoncin; the Sex Beatles; and Cinemaspop, a techno act that scored four Top 10 Spanish hits.  
For UT readers, this period merits less interest since Ollie's distinctive guitar work is barely evident. Monks notes: "I find it very hard to listen to. It all sounds very middle-of-the-road, very lounge bar stuff, sort of cod Latin, you know?" Zanna suggests that the blame lies closer to home. "Ollie's productions were always severely lacking in bottom, for my liking. He made wonderfully heavy rock bands sound like little pop bands. We always argued about this." 
Yet Ollie's creative chops never ceased to amaze those around him, as Cinemsapop's producer found out. When he needed more material, Ollie and Zanna responded with 34 songs in one week! "He could play and sing songs when he had only heard them once or twice, sometimes 20 years ago. This last ability also turned him into a tyrant, since he expected everybody he worked with to have the same ability," Zanna says. Not surprisingly, this quality didn't endear Ollie to his fellow musicians; Ayers nicknamed him "Hassle," "and I'm not going to tell you mine," she adds. Zanna also finds the prevailing description of Ollie's self-effacing nature amusing. "For instance, if I or somebody was on a roll with a solo, Ollie would immediately start a 'duck walk'--and, of course, he did a great one--or some other visual spectacle, so that attention was taken away from the musician!" 
However, these same qualities paid dividends. Zanna recalls an Ayers gig in Belgium, or Holland, where the power died, forcing the band to fill time by playing acoustically. Then Ollie took center stage, with a 10-minute version of Lord Buckley's "Jonah and the Whale." "You could have heard a pin drop, and he received huge applause at the end!" Zanna says. "Then it became clear we wouldn't get the power back on, so we invited everybody back the next day, and that gig was a great one. So, on that occasion, I think 'Hassle' saved the gig."
OUR STORY SO FAR (TAKE 25): 
GOING FROM CALYPSO TO COLLAPSO
The Ayers roadshow rolled through the '80s--although without Zanna, who left for Hollywood in 1985--with Ollie ever at his friend's side, playing for diehards not the least concerned about their hero's commercial prospects.  
Ollie's British ties remained confined to his live work there, though he always found time for other ventures, such as a week-long April 1991 run at London's Bloomsbury Theatre, to celebrate the artistry of ex-Bonzo Dog Doo Dah Band frontman Viv Stanshall. The occasion marked the last time that Ollie saw Halsey, who'd largely forsaken music for the pub trade and now found himself in a 10-piece band that hadn't rehearsed with its featured artist. The first night set the tone, when Stanshall called out a tune, "Calypso to Collapso," not on anybody's sheet music stand. "He just sort of started singing, and I started playing along, because I knew the song," Halsey recalls. "Everybody started playing along, trying to follow what the hell was going on. Nobody knew. This whole evening was like that. It was just chaos." 
Former Cream bassist Jack Bruce resigned after that night. To restore order, his successor, Pete Moss, imposed a setlist, which he ran down, minus Viv, to everyone's satisfaction. Morale improved dramatically, though Ollie's daughters, Andrea and Allison, tasted disappointment after the shows ended. "Apparently, he said, 'Oh, I've gotta go,' and rushed off," Halsey says. "It was the longest spell they'd had of not seeing him, and he just didn't have any time for them." Halsey remains puzzled, because Ollie had voiced excitement about seeing his children, at least initially.  
Ollie's musical relationships fared better. Like many cult figures, Ayers's mid-'80s output had struggled with production values that didn't suit his style. With Falling Up (1988), the "back-on-form" reviews resumed, and continued on the largely acoustic Still Life with Guitar (1992), his last work with Ollie. Their final shows came on April 28 and 30, 1992, at London's Shaw Theater. 
Barely a month later, Ollie died from a drug-related heart attack on May 29, 1992, in Madrid. His flatmate at 13 Calle de la Amaragura ("Bitterness Street") found him the next morning. 
A stunned John Halsey got the news from Tubular Bells producer Tom Newman, who'd heard it from Ayers, and Spanish musicians' circles. He soon found himself pressed into tracking down the relevant people in Ollie's life, including his estranged family, so they'd know what happened. "I can't even remember how I started off on the trail now," Halsey says. "I know I was on the phone nearly all day. I eventually spoke to some guy in Madrid, who didn't speak any English. I don't speak any Spanish. This guy was pretty distraught, telling me in his broken English that Ollie was dead, he'd found him, and all this sort of thing." 
On June 9, 1992, Ollie's friends laid him to rest at Cementiri de Deja, appropriately, next to Mati Klarwein, who'd painted Miles Davis's Bitches Brew and Live/Evil album covers. The Musicians Union paid the costs. The prior week saw Ayers complete a four-date Japanese tour with another Kevin (Armstrong) on guitar; he would not record again, until The Unfairground (2007). 
So what happened? According to Barry Monks, the consensus seems to suggest "tragic accident." Ollie had joined another topflight Spanish band in Radio Futura, whose bassist was allegedly heavily involved with heroin. Not having touched that particular drug, Ollie "was asked to look after him, keep him off the hard stuff," Monks says. "In fact, it went the other way, and this guy got Ollie on it, for the first time in his life. And he overdosed. That was all in just a few weeks, after not even touching anything like that before."
In many respects, Ollie's life comes across as messy and unfinished, yet many who witnessed his reckless behavior weren't the least surprised. Taylor recalls one mad night after a gig, when Ollie demanded to take the wheel of their van. "He drove it into a tree, and totaled the van," Taylor laughs. "My knee wrapped [around] the dash; I was limping about for three months. You know, there were great things, highs and lows: amazing things happened with him." Yet he never entertained any illusions of Ollie reaching a ripe old age, saying, "You never thought you'd be always around him."
The emails from Genesis's drummer-frontman Phil Collins tell Halsey just how far Patto's influence has rippled; he only wishes those accolades had come sooner. "It's just quite amazing, but these people are out there," Halsey says. "I had a car accident [in 1983] with Clive [Griffiths; Timebox, Patto]. Phil Collins is saying if he'd have known he would have done anything to help--fantastic compliment after compliment, but it doesn't put money in your pocket."
Zanna Gregmar suspects that Ollie's demons stemmed from low self-esteem, coupled with an inability to talk about them openly. "He desperately needed reassurance, even though he was well aware of his own skills and talents," she says. "I believe the secret behind his tremendous creativity was this great connection with--and I hesitate to use the phrase--his 'inner child,' which was to be found in other areas of his life, as well." 
Tony Newman wonders what might have happened if they'd verbalized such things. "We didn't recognize this [tendency] then; it was just, 'Boy, he's in a mood tonight,' or, 'He's very quiet.' Today, his doctor would say, 'Let's get you on some medication, get you stabilized, start living the joy of your life--without trying to kill yourself with alcohol and drugs!' But, back then, we didn't know what else to do." 
Forty years after working with them, Muff Winwood is amazed to see how brightly Patto's flame burns, considering the fact that the band's first album sold just 5,000 copies: "In this world, where albums sell millions, Patto achieved zilch. And yet, I go to places around the world, and somebody will say: 'You're Muff Winwood! Ah, Patto's my favorite band!' Patto? How did they hear Patto?" 
In another time, though, Patto might have become "amazingly big," and Ollie, "one of this country's most talked-about guitar players--what a missed opportunity," Winwood asserts. "Many people didn't get that opportunity to understand who he was, and that's the one thing that always upsets me. He didn't push himself in any commercial way. It's part of the problem, but it's now become part of the folklore."
Yet Ollie's musical legacy is secure; a wealth of material awaits people ready to dig beyond the Beck-Clapton-Page guitar trinity. The Ollie Halsall Archive averages about 200 hits per day, Monks notes. Not bad for someone who never joined his Led Zeppelin or Yardbirds peers as household names. 
As for what Ollie might be doing nowadays, Monks is only sure that change would have been part of the equation. After the Shaw Theater gigs, he remembers chatting briefly to "a very positive and upbeat" Ollie, who expressed notions of doing a solo album. "He was the finest guitarist I've ever heard, apart from Jimi Hendrix," Monks says. "As to why, it was just his humor, his creativity. I mean, you could demonstrate through listening to some of the solos, can't you, really? People always talk about it, but it was just amazing." 
Like many who knew Ollie, John Taylor would share the experience again--and carry a tape recorder to capture those nights "that nobody's ever touched, or is likely to, again," he says. "You can't imagine how much I enjoyed my work, watching this band. Ollie just did things--you'd think, 'God, did I just see that?' Not only that, it didn't happen once a night, it happened several times a song. But there are those guys who are just the real genuine article, can't get away from it, and can't do anything about it, even if they wanted to. Although he didn't ever get anyone to put it all together for him, he was one of those talented guys that you'll come across in a lifetime." 
The author would like to thank Jim Avery, Deborah Ellis, Zanna Gregmar, John Halsey, Barry Monks, Helen Newman, Tony Newman, John Otway, Terence Stamp, John Taylor and Muff Winwood for their time, and insights...where did we go right, indeed? 
---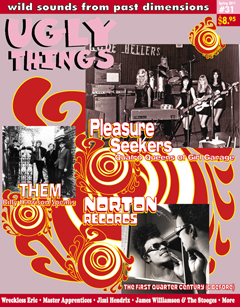 Traveling Show: The Serendipitous & Surreal Six-Stringed Life & Times of Ollie Halsall' by Ralph Heibutzki
Reproduced by kind permission from a issue 31 of Ugly Things magazine © 2010
Thanks to all who participated in this installment, including John Halsey, Chris Holmes, Eddie McHenry, Barry Monks, Helen Newman, Tony Newman, and Zoot Money, Also: special thanks to Jon Kanis, of "State-Controlled Radio," for permission to use the Neil Innes quotes excerpted here.
© 2009 Mike Stax/Ugly Things No part of this publication may be reproduced without the express written permission of the publisher.

 'Chairman' Ralph Heibutzki's 'Ministry of Truth
---