Zanna Gregnar 2014
I still remember quite clearly the first encounter with Julian Ruiz at the Audiofilm studio in Madrid. Juan de La Cierva- Kevin's manager, a wonderful gentle and very generous man who kept us all on retainers during this time, Kevin, Ollie and I arrived in a group into the rather big control room where most of the music was recorded.s
The studio room itself was huge carpet clad and free from any natural resonance, rather sterile as was the chilly atmosphere… A few months earlier we had all been in New York to record some demos for CBS. It had been a fantastic experience recording in the historical building on Manhattan where Screen Gems once had had its offices and studio.. where people like Carole King and Neil Sedaka once had been composing/recording some of their most famous stuff, like the Tapestry album and Oh Carole… in small rooms next to each other.
The producer was a most wonderful being, a big jovial warm man with a great sense of humour with the utmost respect for everybody's musical and personal integrity- Bert de Coteaux who had worked with a lot of giants in American music history. We all loved him instantly. The rooms were big and open and resonant and there was very little carpet in sight. We were all positively amazed to see that here the drums were recorded in a wooden room with plenty of natural echo...not a carpet in sight.
The drum sound was fabulous. The recordings were wonderful. Everybody had a say in the process and the atmosphere was warm and creative, we shared lots of laughs and every morning Bert would greet me and Ollie with new names like Oh here comes Beauty and the Beast, Grim and Gorgeous and so on haha. The musicians were some of the top session guys in New York and they were all very friendly and interested in especially Kevin and Ollie and when the time came for Ollie to record his solos all the other musicians stayed behind to listen and spontaneously broke out in applause after some of Ollie's takes and musical jokes… Bert also showed great appreciation for my and Ollie's back up vocals and I think they were recorded in a way that framed Kevin's voice harmoniously.
The whole time in New York was wonderful, filled with much good food which was always very important in Kevin's world and also in Juan's, music, many meetings with various musicians and it was with a considerable amount of disappointment we had to return to Spain when nobody wanted to pick up the possible album project… Juan de La Cierva, Kevin, Ollie and I arrived in a group into the rather big control room where most of the music was recorded.
The studio room itself was huge and rather sterile… It was a very strange experience because the atmosphere in the room was instantaneously encompassing … Julian Ruiz in his own little domain with his private crew of obedient musicians ready to bow to his every need… Julian had here created a commercial "hit-factory" where the same musicians were used for every project.
The chill reached out to us…as Ollie and I were to learn later, Julian was a "One-Eyed Man in the Kingdom of the Blind". A sports journalist who had decided to become a music producer and I understand he returned back to sports journalism some years later. He was mastering the art of sterile music making, cloning successful songs from the British charts at the time and turning it into hits on the Spanish radio… We felt like invaders into a dictator's private territory… It was to take quite some time for the atmosphere to thaw.
Julian introduced himself and the musicians, Javier De Juan Drums, Manolo Aguilar Base, Joakin Montoya Keyboards and Carlos Garcia Vasos who was a captain in the Spanish Army on Guitar and together with Joakin formed the very successful top ten techno act Azul y Negro. They were all very skilled session players, which Ollie and I later were to form friendships with as we during the following two years were pulled in on several of Julian's recording projects always laced with disrespectful undertones and Julian and I constantly fought verbally like dog and cat as I refused to take his chauvinistic approach to me.
It quickly became very obvious to us that he had no need nor respect for either of us as far as our musical abilities were concerned since we weren't sounding "Moderno" one of Julians favourite adjectives. He proudly started playing the already recorded tracks for us and we were all quite shocked as these arrangements didn't seem to have very much to do with the songs we had been playing and we all instantly hated what we heard…
"Look what they've done to my song Ma" – Kevin sang later that day when we left the studio. Kevin tried in his humble way to suggest a few "humanizations" of the tracks, but they all fell on stony ground…
In Julian's (later nicknamed Dracula by me and Ollie, since he sucked the life out of all he touched) opinion we were nothing but a bunch of hippies and he'd rather not have had us there at all. He reluctantly allowed Ollie to play some guitar but it was quite clear he'd rather have used Carlos as he had no understanding at first for Ollie's original style but as the work progressed the other musicians started to show admiration for him and gradually Dracula defrosted a little bit.
Kevin limited his visits to the studio to what was absolutely necessary. Kevin was reluctantly allowed to sing on what now was Julian's project as opposed to Kevin's Original music. It felt as if there were no longer any place for Kevin's voice in all this synthetic sterility, it seemed like an unsuccessful attempt at merging two completely different worlds.
I too was allowed to sing, but not to touch any piano… Julian could only appreciate the obvious instantly commercial sound and "poo-pooed" most true artistic expression… Nobody had envisaged this result Juan and Kevin had after our return from New York visited a night club and heard a "modern" Spanish band playing and Kevin had expressed to Julian that maybe some of his songs could work well with some of that treatment, and that's when Julian was (regrettably) contacted.
Zanna Gregmar 2014
---
Curtis Roberts 2019
I prepared the following at the request of Rob Caiger when he was putting together (apparently; I don't think they ever released it) a remastered and improved version of Kevin's Diamond Jack and the Queen of Pain record, which was supposed to include some of the Kevin/Ollie tracks from the show at Hurrah in NYC.
That show was extremely good and received a rave review from Robert Palmer in the NY Times, but the other gigs were also very good. The band was terrific and, obviously, Ollie Halsall played lead guitar. It's interesting and pretty great how much people continue to care about Kevin and Ollie. It's interesting and pretty great how much people continue to care about Kevin and Ollie
During the time my wife, Caroline, and I spent with Kevin and Ollie we got to meet and spend time also with Kevin's Majorcan band, Marvin Siau, Zanna Gregmar, Ian Carpenter (Buda, their tour manager, a very nice person), and a host of other people, including John Cale whose relationship with Kevin was interesting, intense, and, as I recall, fraught with tension.
At the time I think a lot of that had to do with the fact that although they were both famous and legendary (and absolutely knew their own worth), nobody was terribly successful financially. Deya was certainly a trip and a half.
Kevin was extremely sure of his talent (but didn't have an ounce of pretension), but I think that all the pre-release build-ups he'd had from record companies (kindly intended, I expect) followed by post-release let-downs had taken a toll on his spirits.
He was the most purely artistic person I've ever known and obviously that suggests that he was a very sensitive soul. Kevin was an excellent houseguest. He taught us how to cook (I mean it; we spent a lot of time in the kitchen; he was extremely talented and skilled and a great teacher) and a great deal about food and wine, and we enjoyed many extraordinary evenings at a Malaysian restaurant in Brooklyn Heights called the Bali Rice Shop where I would say Kevin was loved and respected for his knowledge of the cuisine), as well as in any number of Chinatown discoveries of his.
We were both out all day, so Kevin had a lot of time to read, listen to music, work on his own music, watch tv, etc. (He was the first person I knew who enjoyed and vigorously defended Benny Hill – we Americans really don't care for Benny Hill in general.)
He wasn't the most gregarious fellow but he enjoyed dining out, going to various rock shows, record business parties, etc. He kept a voluminous and up-to-date address book and sent a lot of post cards and letters to friends, family, etc.
Two more things that might be relevant. While staying with us, he definitely worked out some of the Diamond Jack material, including My Speeding Heart, You Are A Big Girl (called Stop Playing With My Heart then), Give Me A Little Bit (as it was called then), Champagne and Valium and a great song called Thank God For A Sense Of Humor.
The first three songs, plus Lay Lady Lay were recorded as demos for Columbia Records in very good versions produced by Bert de Coteaux at a top mid-town studio, although Columbia declined to go further.
The first three featured a sort of fast, "new wave" tempo, but they were very much Kevin songs with great Kevin vocals, lead guitar by Ollie Halsall (whom Kevin insisted Columbia fly over for the recording sessions) and keyboards and drums by top NYC session players Paul Schaeffer and Richard Crook. (I don't recall who the bass player was; Zanna Gregmar may have added background vocals, I forget.)
Lay Lady Lay featured really warm vocals by Kevin and extraordinary acoustic guitar by Ollie.
On another visit, just following the release of That's What You Get, Babe, we mounted a Kevin mini-tour of the NY/Connecticut/New Jersey area. The band featured Kevin, Ollie, Bruce Brody (ex-John Cale; future Patti Smith and Marie McKee collaborator) on keyboards, Donnie Nossov (later Pat Benatar's longtime bass player) on bass and Richie Teeter (ex-Dictators) on drums. (Bruce, Richie and Donnie also performed in a band called VHF along with Ritchie Fliegler, ex-John Cale and Lou Reed guitarist.)
The band performed material spanning Kevin's career and played excellent, packed, well-received shows at Hurrah! (subject of a rave NY Times review by Robert Palmer), Trax and Heat in NYC, My Father's Place on Long Island, and a few other venues. I believe the Trax show also marked the first meeting of Ray Davies and Chrissie Hynde, who were both in attendance.
Caroline and I visited and stayed with Kevin a few times in Mallorca and also traveled with him to Alicante once. He shared a bill with Dr. Feelgood (ca. A Case Of The Shakes) in the bullring there and it was a very fine show.
I remember there were difficulties getting there, but I also remember Kevin standing at the Palma airport after the usual scarifying drive from Deya saying that he would definitely get the band to the gig. He was absolutely a professional and a fiercely determined man.
We stayed in touch regularly but intermittently over the years and he was never far from our thoughts. As I said, he really taught us a lot about a lot of things and was a marvelous, unique person.
Curtis Roberts, 2019
---

Madame Butterfly

Lay Lady Lay

Who's Still Crazy

You Keep Me Hangin' On

You Are A Big Girl

Steppin' Out

My Speeding Heart

Howling Man

Give A Little Bit

Champagne And Valium
---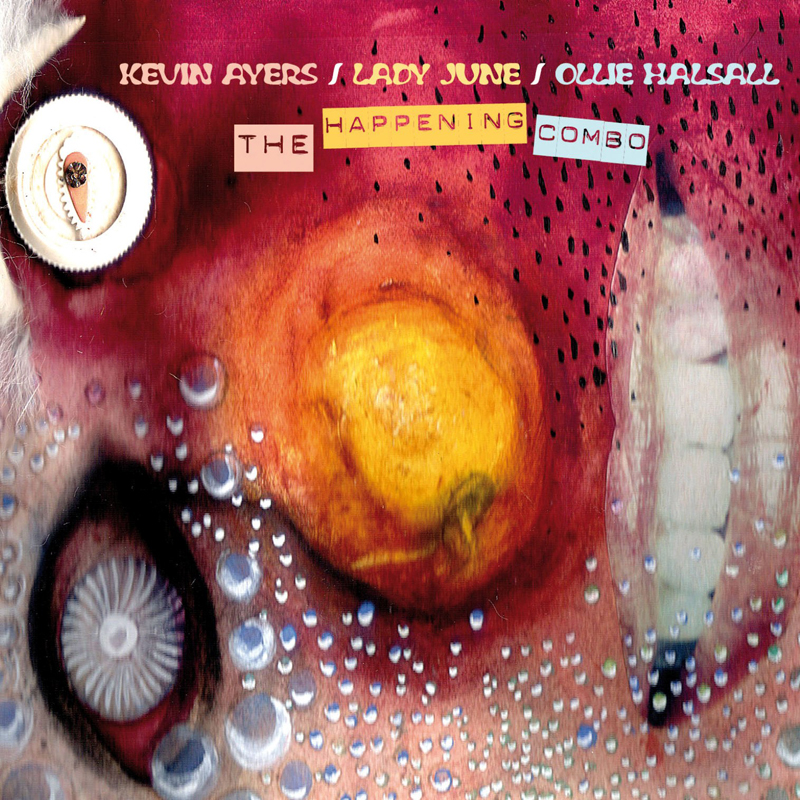 The 2017 album The Happening Combo includes demo versions of the following tracks:

Lay Lady Lay


My Speeding Heart


Give A Little Bit