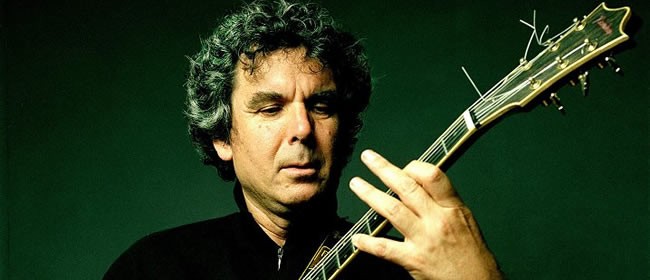 John's long and varied career includes a number of Halsall-related associations. In 1975 he was asked to join The Soft Machine [a later incarnation of Kevin Ayers' original band] and, in 1994, he released a duo album, Invisible Threads, with longtime friend Andy Summers [who played with Ollie on Kevin's Muical Expess TV Spanish show.
I have so many memories of Ollie who I heard loads and got to know a bit. I remember exactly where I was when I first heard Patto on BBC in concert. I was living in one room in Kilburn, March '71 and switched on half way through the broadcast and was absolutely floored by Ollie. This was the direction I was going in myself - but he had really nailed it. Of course, the legato thing really freaked me as I had been picking every note and thought.. blimey, you obviously don't need to!
The sound was amazing and the spontaneity and energy amazing. So obviously I went and bought Hold your Fire - incredible playing on that and Give it all Away is in my all time top five solos! I started following the band in the usual North London pubs etc. The usual gig started pretty straight with two or three tunes on which Ollie would play blistering solos, then the anarchy would set in! I actually loved all that - very funny (cod versions of Shaking all over for instance ).
I met Ollie through John Altman and went round to his place a few times when he was with Monica. I also went to some of the recordings of the Blue Traffs. Also I listened live to the broadcast of Tempest with Ollie and Holdsworth. Apparently Ollie just appeared and joined! Totally over the top broadcast - all my friends left the room (too many notes! ) - but I still love it.
I lost touch with the Kevin Ayers stuff.. And was not crazy about Boxer. Ollie Playing a Strat - not the white SG - wrong!!
At his peak, Ollie was untouchable and truly inspired and pioneering. I remember someone playing me Van Halen in 1978 as the latest dude and I thought - sounds a bit like Ollie in 1971 but not as good!!!
- John Etheridge 2016

When you start off, you want to cover everything and you want to cover all areas of playing, and gradually you specialise in one that becomes your thing. That sort of happened to me in the sense that I love Django Reinhardt and I loved Eric Clapton and Jimi Hendrix and I wanted to put those things together.
This was an early ambition of people of my generation who were slightly jazz-interested. So, like the other guys of my age like Ollie Halsall and Allan Holdsworth, all in different regions of the country - we were instinctively trying to put these things together in the middle and late 60s. When I heard Ollie Halsall, I realised, 'Oh God, there's somebody doing it much better than me!' "
- John Etheridge, Guitar Player magazine November 2016