"As for copying people," he says, "a lot of people copy things. You see, if I bought a Jimi Hendrix record that would be it. It would destroy me. I've heard his records, but if I sat at home with one and lived with it I know what I'm like. I get influenced terribly easily, you see.
"That 's why I never buy any records. I've always played music but I don't follow anybody.
"If a musical situation occurs. I take it and face it, but to be honest I'm more into people and situations than the intrinsic technicalities of music. That's why I was knocked out with Eno."
Ollie, fresh from a remarkably unproductive stint with Jon Hiseman in Tempest and various sessions with Neil lnnes et al., had collided with Kevin Ayers at Air Studios during the recording of the "Dr. Dream" album and was instantly co-opted into laying down a guitar solo on "Didn't Feel Lonely Til I Thought Of You", which led to Ayers inviting him to tour and partake of the June 1 A.C.N.E. Rainbow gig - which is where he encountered Eno.
"You see," he explains, "I was very affected when I heard that Cecil Taylor had got this bass player in one of his bands who'd never touched the thing before in his life. I was knocked out to meet Eno, and to play with him, because he thinks along the same lines basically.
"The thing is, you see, I hate the thing of limiting yourself to being a sideman. I love playing alongside Kevin. It's a very naive type of music. It's terribly simple but it's totally creative and free."
He says that one of the reasons why his style is so inordinately different from any body else's is that he's never had to endure the stultifying routine of doing extensive tours 11 months a year.
"It's always completely spontaneous because I'm basically bone idle, he says, "The only world tour I ever went on was as support with Patto for Joe Cocker. Even then I really had to fight not to end up playing the same notes every night.
"I mean, take Alvin Lee - I'm not putting him down, he's a good friend. He's a great front room guitarist. He can play a superb blues, but the strain of years and years of touring has conditioned him only to one approach. With people like him and Clapton it s down to 'that solo's famous' etc. People expect you to play the same one over and over. It's like having to play your greatest hits. "Not that there's a lot that can be done any more. It's down to the individual. I've got the same guitar as everyone else, the same strings…
You always played like that?
"Yes, of course. It's me. It's not something I've suddenly hit upon. I've always been a musical freak.
"It's perhaps down to the way I live. I don't live surrounded by music, and I've not got loads of guitars and I don't go out and buy the latest Stevie Wonder album . . .
"I mean, so many guitarists are into 'following people'. They're searching for some thing, but I've already found it. I know that sounds arrogant. What I mean is that I know what I'm doing and I know that because of the way I approach it, to a certain extent probably about 60 per cent of what I play comes out sounding new."
Any Tricks ya got, Ollie?
"Well I always practice on heavy-gauge strings at home, with a very high action. It's like training with heavy gloves on in boxing - not that I've ever boxed. When you take them off and come down to a low action with nice light strings can really take off."
And any advice for young hopefuls?
"Don't go to 'Top Gear' or 'Orange' for your guitars, don't listen to any music, don't buy any records."
Yeah but surely . . . I mean most people contend that you're supposed to listen to as much music - of all types - as possible, and then distill the results.
"That's bullshit. Do that and you're perpetuating the whole trip - just another Suburban Clapton.
Pete Erskine
New Musical Express 16 November 1974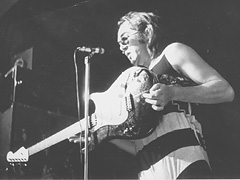 To Bee or not to Bee
Photo courtesy of Bob Beecher
---
"Ollie Halsall is a very good guitar player. At one time, I got tagged with the 'Fastest Guitar in the West' title. It was a bit silly really, it was never my intention, but Ollie can play twice as fast as I can, twice as clean, and he's a far better guitarist, he's just unrecognised. He's just over the heads of most people."
- Alvin Lee 
International Musician and Recording World, August 1975