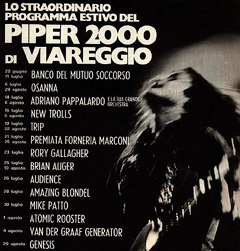 Viareggio Piper Club 30 July 1972

Hold Me Back

Flat Footed Woman

Time to Die

The Man

Big Hunk of Love
Recording coutesy of Francesco Malfatti
Poster: Thanks to Massimiliano Garre
---

The band's only gig at The Piper was on 30 July 1972. They were touring with with Amazing Blondel, who played The Piper a couple nights earlier.
"Ollie's guitar|keyboard and Clive's bass are pretty clear. Some of John's drums are lost. Mike's strong vocals are somewhat distorted, but not so much that you can't hear when he occasionally jumbles up words.
"Fantastic guitar from Ollie straight away in "Hold Me Back" - he even throws in "Strangers In The Night" á la Jimi Hendrix. Flat Footed Woman features Ollie on electric piano. Screaming ending to "The Man" which John kicks into high gear behind great soloing from Ollie.
"Mike jokes that it is Elvis's birthday and they have received a telegram from The King asking them to play one of his songs and the band rips it up with "A Big Hunk O' Love"
Ken Thornton


The Timebox and Patto Fan Site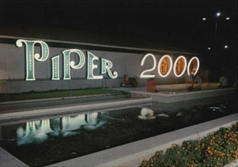 ---
The Seventies in Viareggio, Italy
Despite being only a small tourist village along the coast of Tuscany, a number of worldwide reputation artists were used to play there thanks to the Piper 2000": there was not anymore the need to go abroad to see our favourite rock performers.
Being then a young guitar player, one day, in 1972, a dream came true: The most accomplished guitar player at that time (in my opinion, of course), Ollie Halsall, was coming to play with his band, Patto, a couple of kilometers from my house.
I can still remember that concert as one of my favorite ones; the audience was limited to about 80 people, but I bet they still have in mind the exhibition of that sadly under-rated band. I already knew it was going to be a unique event, so I brought a Phillips cassette recorder with me; nothing professional, but a necessary instrument in that period if you wanted to learn the deepest secrets of the best musicians around.
I went to the concert with a friend of mine (some things are better if shared) and when we entered the Piper the band were already playing. In those times each date consisted of two distinct concerts, one in the afternoon and the other one in the evening. This story concerns the latter, which was considered better than the more experimental-oriented first one.
I immediately fell in a trance while I was trying to follow Ollie's right hand running on the fretboard of his white Gibson SG, not completely understanding how he could be so technically fast without losing the melody feeling.
I was so caught-up in the event that, when the concert ended, not more than 10 minutes had passed in my head - It could not end in that way! So, despite the fact I was a shy boy, I pushed my friend across an excited small crowd and we went straight into the band dressing room (security staff were not a priority at such a small venue).
When we jumped in, Ollie was there, sitting on a chair in a corner of the small room, completely wet because of his vibrant performance on that hot summer
night, wearing only a pair of jeans (which had seen better days) and a pair of monk sandals, drinking a well-deserved glass of beer.
All I could say was "You are the best guitar player in the world!" He immediately started to laugh and gently replied that there was a better guitar player in UK, but didn't mention the name. My personal idea is that he was speaking about Allan Holdsworth, but God only knows. Anyway, in that special moment, nobody could have been better than Ollie.
Before leaving the room I just had time for one question so I asked about his technique of course ("how the hell can you do that?") and he interestingly said that he took most of his inspiration from a jazz clarinet player. [Ornette Coleman? - Ed.]
Before having the time to ask another question, a man from the show organisation (much bigger than both me and my friend!) gently showed us the way to go out of the dressing room back to the main hall. We reached the bar for a beer right in time to observe Clive Griffiths making advances to the girlfriend of a friend of ours.
On the way out I checked that my recorder had done a good job, listening once again to that fascinating music coming out of a small and cheap speaker. Ah . . . those were the days.
"Franceschino" Malfatti © 2007
---
Many thanks to Beppe Casini [transcription] and Massimiliano Garre for the translation and for organising this story and audio.