I won't do sessions anymore. It's like being a plumber. They get you in to patch up a track" OH 1976
---

I first met Mike Patto in 1967, in my home town of Kings Lynn in Norfolk. Patto was mates with Boz Burrell, later of King Crimson and Bad Company. I got to know Boz through my older brother Keith who was a roadshow DJ. I didn't know Mike well, but we met a few times and he was always charming funny and full of spirit.
By 1975, I was writing songs with Geoff Westley, then of the BeeGees, up to the Main Course album (Jive Talkin' era). Geoff and I were signed to RSO and we were funded to go into the studio to record our new stuff. The studio was Tom Newman's Argonaut barge, moored at Little Venice, London. It was previously Richard Branson 'office' till he sold it to Tom, who had made a bit of money out engineering Tubular Bells. It was mid winter and freezing.
I remember, the barge was locked into the ice. We booked a rhythm section of Alan James on Bass (Cat Stevens Catch Bull at Four) and Simon Phillips on drums. Simon was still only young. Around 17. consequently, his mum and dad would bring him to late night sessions and sit outside in their car in the freezing cold. But man could he play anyone off the stage, even then.
All the guitar work was played by the one and only Ollie Halsall. Ollie was wonderful to be with. He was heavily into his politics - The Worker's Revolutionary Party. So he was always arriving straight from being at a meeting or protest with Vanessa and Corin Redgrave.
He was so excitable and brimming with life. Passionate is not a strong enough word for Ollie. But when he picked up his guitar, he was in another place. His body contorted and his head swayed. I've seen pianist Keith Jarrett move like that. Immersed in the music and a higher place. Especially on the softer songs.
But when it got to the heavy, rocking tracks, Simon Phillips mercilessly pounded the life out of the drum kit. The Barge was narrow and so it was near impossible to baffle Simon's relentless pounding of the drums. Ollie was driven to turn his amp up to way beyond 11. At one point, he lifted his head up from it being near stuffed down the cone of his speaker and yelled, "How am I supposed hear what I'm playing when I'm in the same room as F**king THOR over there". It was all in good fun. Simon offered to move his kit a bit further away. Ollie suggested to somewhere around Watford.
It was a marvellous experience. In breaks we talked about what Ollie was doing. His Work with old mate Patto. It was all over too quickly and our paths never crossed again. Next time I heard Mike and Ollie playing together was at Playboy's private mansion in Hertfordshire. I was a house guest and the room to room sound system had a 33rpm album jukebox. The most popular album that was played for the week I waster, was Boxer, Below The Belt. It was/is an awesome recording.
Not too long later Mike sadly died. I recall the benefit gig in London for his widow and family. Years later, I was again saddened to hear of Ollie's passing. But the memories remain vivd and special. Thanks for listening.
- Bob Ashwood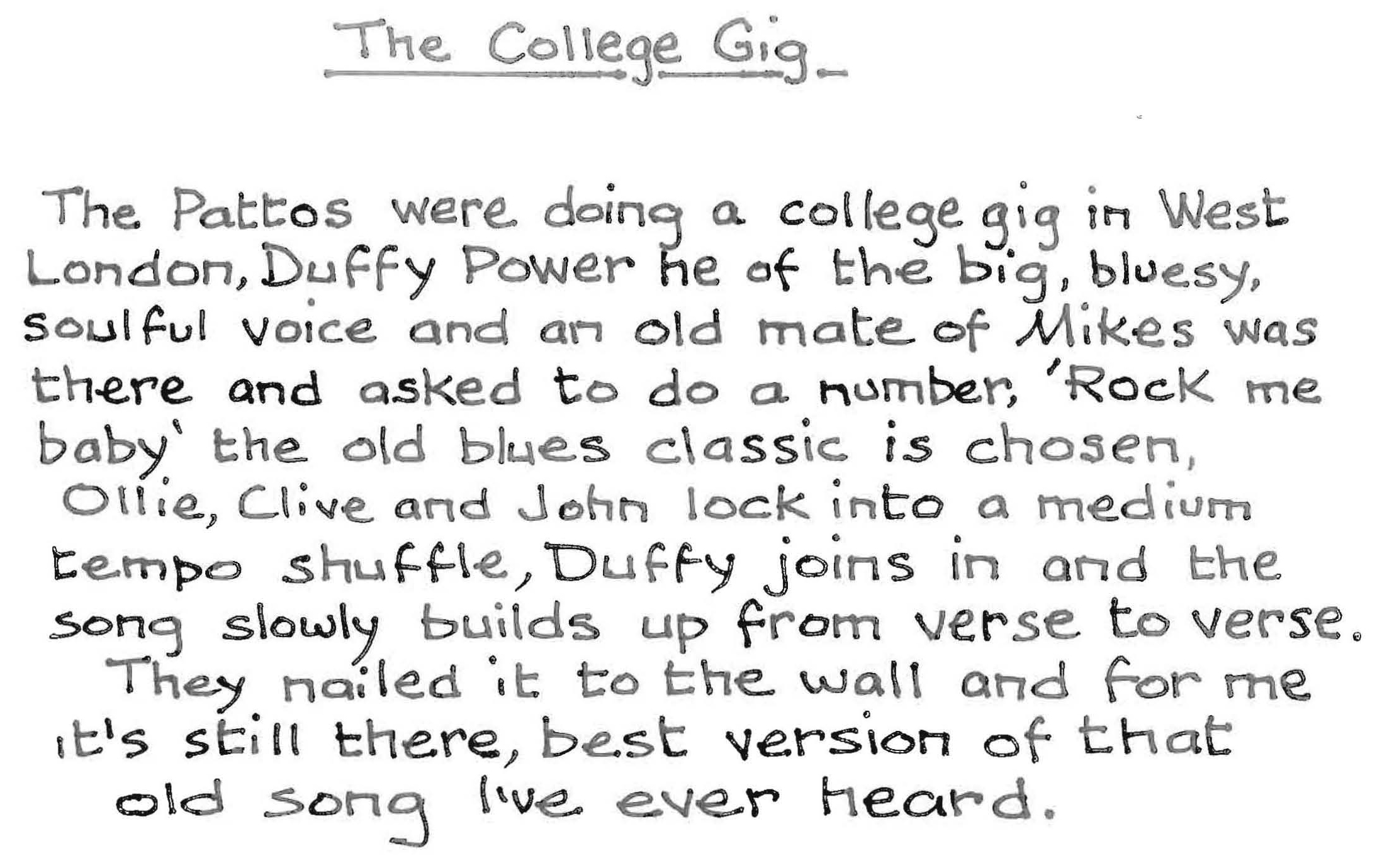 - Eddie McHenry
Mete Kelly's Solution
Midnight Confessions b/w If Your Love Don't SwingTen Songs 1968
Ollie plays lead guitar on the B-sde of this Decca single from 1968, alongside some former bandmates from R&B Incorporated, John McCaffrey [bass] and Bill Lovelady [drums]
---
Also released as 45rm single 1970.
Ollie is uncredited on Hellhound and miscredited as Russ Ballard on Lover's Prayer.
Duffy Power (born Raymond Leslie Howard; 9 September 1941 – 19 February 2014) was an English blues and rock and roll singer, who achieved some success in the 1960s and continued to perform and record intermittently later. [Wikipedia] He was, also, a friend of Mike Patto.
John McCarthy [no relation to Mike] pointed me in the direction of an obscure Duffy Power album track ['Lawdy Miss Clawdy] from 1970 on which Ollie played.Having finally tracked it down, I am 99% certain it's him on two other tracks as well. It's the unmistakable sound he had on the Timebox album tracks. Unfortunately, he is uncredited on 'Hell Hound' and miscredited [as Russ Ballard] on 'Lovers' Prayer'. The sleeve notes are all a bit suspect anyway - on 'Lawdy' they credit Bob Henrit on drums - of which there aren't any! - and the recently and sadly departed little Jim Rodford on bass - but it's a double bass, which I've never seen or heard him play.
---
[John] Hetherington
b-side of Teenage Love Song
Thanks to Christer Bäckhage for the first new find in many years
Denny Laine
Solo album 1974
No evidence of this rumoured album
[See below]:
Bruce Epstein
Two Faced 1973

Colorado Lady
Not managed to find this yeti
---
David Kubinec
Some Things Never Change 1975
OH contribution unclear although it's almost certainly him on:

Tear Myself away

The Elf Sires
---
Maynard Williams
Ten Songs 1975
OH contribution unclear
---
Ginger Baker
Solo album 1974
No evidence of this rumoured album
---
Bill Lovelady
Singles 1975
Reggae For It Now
One More Reggae For The Road
Bill was the guitarist in one of Ollie's earlySouthport bands, The Music Students.
I am assuming only played on these, although there is no evidence [?]
Ollie toured Sweden with Bill in 1980, however, where he met Zanna Gregmar. They then settled in Spain where whole new career opened up for them.

Y Viva Espana
"A school friend of mine (drummer / pianist in our band , Chris Ainsworth Davis did that tour with Ollie and Bill Lovelady. I remember going to one of the rehearsals; Chris had been with Morrissey Mullen for some time and Dick Morrissey, Jim Mullen (who didnt get the Brecker Bros gig because he didnt read - music , that is!); really nice guy Jim and a lovely player.
When Chris was with them, the bassist was Clive Chaman (also from Trinidad, as was Chris). Clive played in Hummingbird with Bernie H and later with Jeff Beck. Lots of fine players followed them.
Chris used to tell me how Ollie enjoyed The Who and Michael Jackson, specifically 'Squeeze Box' and 'You Got me Workin' Day and Night'. At the Bill rehearsals there was no sign whatsoever of Ollie's virtuosity."
George De Albuquerque 2013
---
Film Soundtracks
Joseph . . .
Jesus Christ Superstar
Evita
OH contribution unclear
---
Anthony Moore
Flying Doesn't Help 1979
World Service 1981
OH contribution unclear
Moore played [keyboards] with Ollie on Kevin Ayers' 1992 album Still Life With Guitar.
---
Julie Felix
Lightning 1974
Ollie certainly played guitar for her at a Hyde Park free concert 31 August 1974 and there is always the possibility he may have been on some her recordings from that time. No evidence though.

Glinting and pristine in her white shirt and blue jeans, Julie Felix adequately performed her Hampstead liberalism despite valiant attempts by a slightly somnambulistic looking Ollie Halsall to elevate the set into something more concrete than a succession of pleasant songs. She smiled more that anyone who was on stage that day and quite a lot of people seemed to enjoy her."
-New Musical Express 7 September 1974
Denny Laine
Solo album 1974?
The long-standing rumour of an album, which also, supposedly, featured Ginger Baker, can finally be put to rest by this report:

I just briefly spoke with Denny Laine who happened to be in town (Cleveland). He was sitting, in by request, with Peter Asher (of Peter and Gordon) and his band. He performed the song he did with the Moody
Blues, 'Go Now'. I asked him if he had recorded with Ollie and, if so, what was the name of the record. His reply was that, although he had jammed with Ollie many times (Denny owned a club in the North and Ollie would come and sit in with the bands), they never recorded anything together. He said that he'd originally met Ollie through Mike McGear. I'd also mentioned that, for my money, Ollie was the best electric guitarist ever. He agreed."
- Rodger Marcus, 2013