John Halsey
---

"I remember meeting Ollie at John Otway's gig at the Whiskey here in L.A. Ollie was playing that ridiculous silver star-shaped guitar. He kept walking over to Otway in mid song to tune his guitar.
I guess for Ollie, Otway was an enjoyable lunatic to be around. Ollie was very pleasant. I told him I'd seen him in Hyde Park [June '74] with Kevin and he remembered it as an enjoyable gig. I was struck once more by the fact that Ollie seemed homeless and that he'd been wearing and sleeping in his stage clothes."
Marty Zucker 2011
---

I was in Ollie's company on numerous occasions during the late 70's early 80's when he would pop into the Verulam arms pub in North Watford he would get up on stage in the old music lounge and jam with the resident duo. Great times.
At the time he was guitarist for Gary Glitter's backing band and reahearsed in the music lounge for the gigs at Baileys nightclub he use to play the star guitar which he did not like and use to rehearse with harvey and tony leonard who where the only original members left and of course Glitter himself I use to go and watch rehearsals to get experience.
I was in a band managed by Joe Seabrook who had asked Ollie to give me and the band some guidance. I was only 17 at the time and Ollie would have been 28-29.
He was a zany but a modest shy character. I remember commenting on his ability as a musician and I say musician because it wasn't just his ability as a guitarist the guy was a multi uinstrumentalist, Drums, keyboard,bass, sax, vibes and of course right and left handed unaltered guitar his comment was I'm just a dude who likes to do what I do.
We used to have some great jam sessions with Ollie in one of the converted cellars that was our rehearsal studio, with Ollie on drums me on guitar and Nige on bass.
I would like to verify that whether the guitar was left or right handed Ollie could play either way with no mods or alterations to the guitar simply because it was my right handed 1967 Pro Gold Deluxe Gibson Les Paul that Ollie played and to say I was lost for words was an understatement. A totally unique guy.
I remember one time I was walking home guitar in hand when a Ford Granada pulls up along side of me. "Jump in, wandering minstrel" said a familar voice. It was Ollie, Tony Leonard & Harvey Ellison driving. They where going back to Ollie's house in Breakspeare Road, Abbotts langley. I was intending to go home, as it was on the way, but ended up back at Ollie's with the guys. We all got a bit out of it but it was great fun. I'll always remember this huge B&W poster of Ollie on the wall in a leopard skin outfit with guitar in hand. Wondered what happened to that. I know his wife and daughters moved in sometime after. Something I guess will never be known.
Gary Sears 2012
---

Ollie and family had a house full of cats and a collie dog. They had all grown up together and the dog, logically being Ollie's dog, thought he was a cat.
He slept perched on the back of the sofa, from where he more often than not fell, tried in vain to climb trees, drank milk and ate cat food.
The funniest thing though was that when he barked, he would immediately cock his head with a quizzical look on his face as if to say 'what the hell was THAT noise supposed to be!'
- John Altmnan 2017

"Hearing Ollie's playing was one of the most memorable moments of myformative years as a guitarist. Astonishingly imaginative and accurate playing, with a naked, (mostly) talent booster free sound through a tiny valve amp. No safety net
"I wore the 'Patto' LP out completely.
It didn't do me any good though, as I am now in my 15th year of playing
opposite Otway - although it's a position made almost respectable,
thanks to Ollie."
- Richard Holgarth
Lead guitarist with Eddie and the Hot Rods and The John Otway Big Band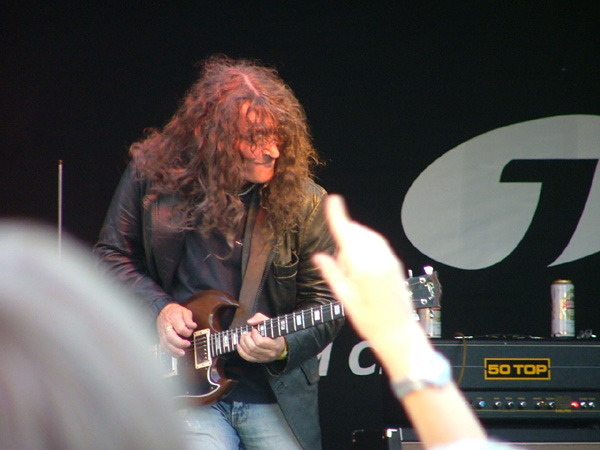 Photo © Barry Monks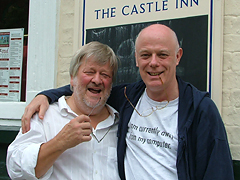 John Halsey and Morgan Fisher
Photo: Barry Monks7