September 2013
Newly discovered CinemasPop video
Top marks to Jorge Souto Bartolomé and drummer Manolo Jimenez for sourcing and uploading these remarkable performances from 1984.
[click images to play]
Follow The Blonde
One More Heartache
Something About You
Ollie singing an inspired vocal on "Following the Blonde" which was our big hit song in 1984 in Spain. He rips a bit of a solo too
Looking at this I can see why Ollie called me "Thunder thighs" ha ha.
This was the last version of Cinemaspop, we were trying to change the direction more towards Rock and did so quite unsuccessfully!! People really liked the "Techno stuff" and wouldn't "Follow the Blonde when she turned into a Brunette"
I remember going to this gig in a taxi. We only had a handful of cash which I had counted, so I asked the driver to take us on a specific route to the gig because we could only pay X amount.
The driver completely ignored me (being a female in a macho country, but Ollie's Spanish wasn't very good so I always had to talk) and he chose the scenic way. I asked him if he intended to take us for free since he had over-extended the specified amount. A lot of Spanish expletives and handwafting was exchanged between myself and the driver as I forced him to stop the taxi and threw him the money. 'Hassle' and I walked the last five minutes to the gig. Ah -Those were the days!
Zanna Gregmar 2013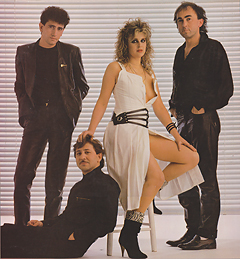 ---
NEWS ARCHIVE