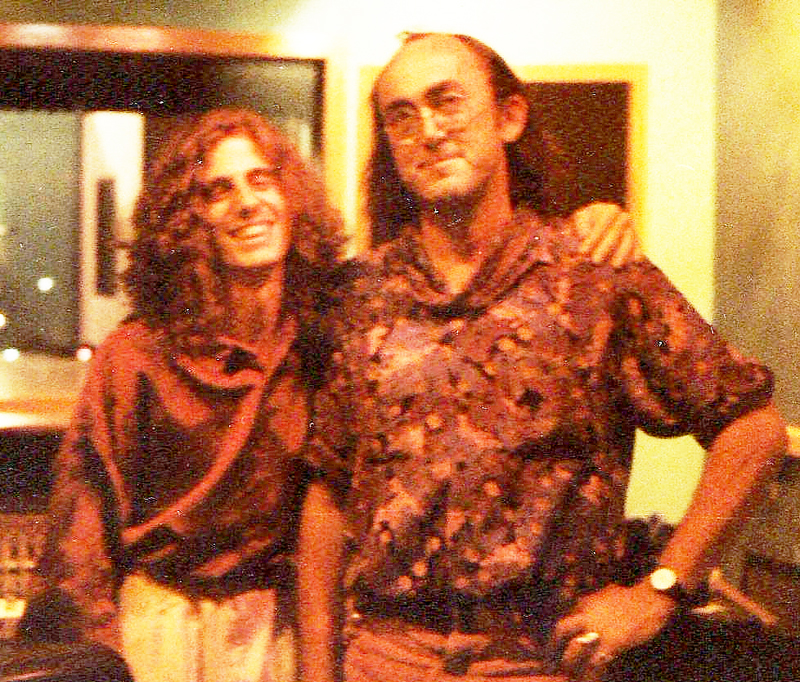 Juan and Ollie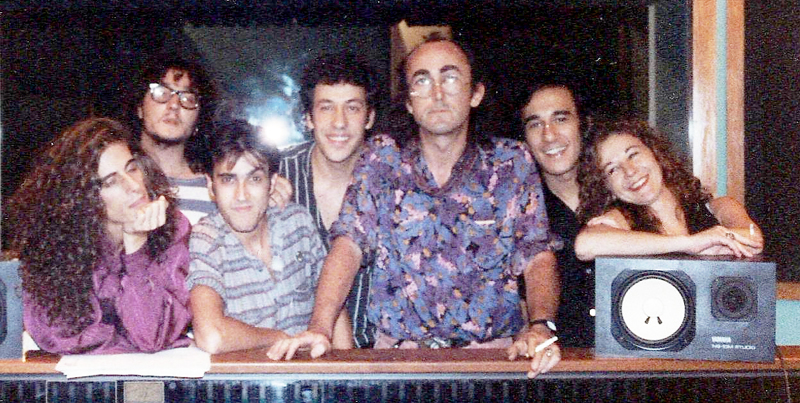 Callejones
[pronounced kay-yeh-hone-es]
[Eng. trans=+ Alley way ]
L-R: Juan (drums), Aure García (bass), Barry Mármol (lead guitar, backing vocals), Jesús Turú García, (lead vocals, rhythm and acoustic guitars), Ollie, Walter Chacón (sound engineer) and Claudia
Eng. Trans. Callejones='alleyway'
Al Pie Del Cañon = 'At the foot of the cannon'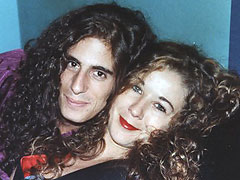 Juan and Claudia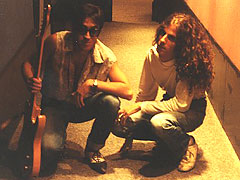 Barry Marmol and Juan
Claudia and Ollie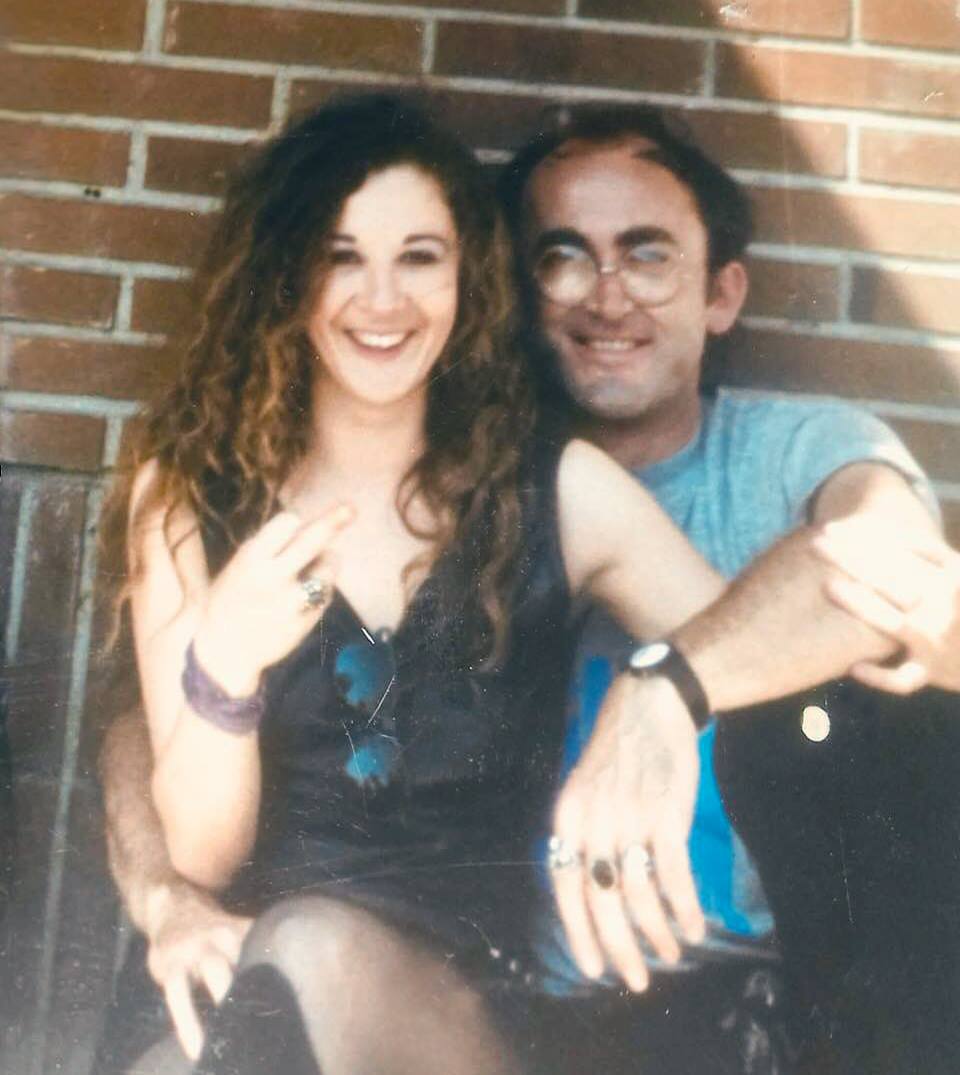 Claudia Puyo abd Ollie
Madrid 1990
Madrid, spring 1991
I first met Ollie Halsall at a musicians club, called LaNave, near the district of Vallecas, in Madrid, which hired rehearsal rooms. This place disappeared in 1997, when huge blocks of flats were built in its place.
Of course, I had already heard about him. It was intriguing that everything comprised wonderful comments of him as a musician and guitarist. "Who the hell is this guy?" I wondered.
I was totally intrigued by Ollie due to the fact that I knew that he had played in the June lst 1974 album with John Cale, Nico, Brian Eno and Kevin Ayers. In fact, before meeting him personally, that was the only thing I knew.
But what really attracted me regarding his playing on that album, is that he did a couple of numbers alongside Mike Oldfield, who was my teenager hero. So we began to chat, and I asked him to tell me things about that time - things about Mike Oldfield, and how Kevin Ayers was as well, who I knew was a musician quite close to Oldfield.
As my spoken English was fluid, we immediately connected both as people and musicians. So we became friends, and every time we met, we spent hours talking about music: the seventies, the progressive rock scene in England (I was|am a devote!) and the musicians I loved and who he actually knew and worked with! The likes of Robert Fripp, Mike Oldfield, drummer Simon Phillips, Kevin Ayers, Andy Summers, plus amazing stories he told me (and later the band in the studio, during the breaks of the recording sessions and the rehearsals) about Pete Townsend, Keith Moon and even Steve McQueen!
I was 21 when I first met Ollie so he had, in a good sense, a certain halo of a hero to me as well. Partly because what I have already told above, and partly due to his skills and proficiency with musical instruments, which I had not checked yet, but that were rumoured to be extra-terrestrial! So, in this climate, our friendship was born and began to grow.
During the summer and fall of 1990 I had just finished rehearsing, arranging and recording the first album (played entirely live!) for a R 'n B band called Ejecutores, from Madrid. I had recently left so, during Christmas 1990 and early 1991, I began to audition for several bands that were in
search of a drummer.
I saw an ad at the very same music club where one day I would meet Ollie Halsall for the very first time (what a coincidence!!) and rang the singer, Jesús Turú García . We arranged to meet for a chat, some beer, and get a demo tape of the band with the songs I should learn for the audition. I decided to learn that songs, but I took a step further: As they had already one record published (entitled simply Callejones), I though it would impress them if I played the songs in the tape I was given plus their whole of the first record from beginning to end.
So two or three weeks later we met again for the audition - and I got the job!
I did not know anything about the plans they had to make a record that very same year. It was obvious. They had hidden that information in their ads in order to avoid 'tinkers' who only wish to do the record, get credits and then leave the band. They wanted a full-time drummer, so they
found what they wanted.
Weeks later, I was told they had a deal with a record company and there were plans to make a record that spring. As usual in this business, the spring became the summer. But then the day arrived. The company asked them to book a producer and, as far as I remember, all of them wanted Dennis Herman to do the job.
However, I began to talk them about Ollie. At first they were reticent - they thought Herman was a far better option. They knew Ollie's work only with Radio Futura and they were not very sure that was what they wanted. So, there was a time when we were about to begin rehearsals for the recording, but still had no producer at all. It seemed that both Dennis Herman and Ollie Halsall were busy on the dates the company assigned us to record. So, in a sense, we were at a loose end and without a clear decision. But then, something happened . . .
One afternoon at the beginning of June, I was on the subway to rehearsals and found Ollie (what a coincidence, again!!) in the same carriage! He was carrying an immense steel hanger (taller than himself!) which I supposed would be for his home or something. So I approached him and told the whole story in the time the tube takes to cover four train stops!
He asked me what kind of music did we played. I answered that it was somewhere between R 'n B, Rock and Roll and medium-tempo acoustic guitar urban pop songs. He immediately felt that he wanted to be part of it and got excited and quite interested. He asked me to organise a tape recording for him, and I said "OK".
He also asked me for the address of the record company office, which I gave him. Days later, he went there and had an interview with an Artist Relations manager, Alfonso . . . (I don't remember his surname now) and called the guys in the band to organise the beginning of the rehearsal sessions, which would take place in our own rehearsal-room.
I remember him being very consistent and meticulous at work from the start. He arrived each and every clay at the rehearsal room with a small pocket paper notebook and a ballpen. He just asked us to play the full live set. He was patiently listening and writing small and fast notes in his paper notebook for each song we played. I remember spying in his notebook during the breaks, over his shoulder. In some of them, he simply wrote 'straigtforward' - which meant the song needed no further arrangement at all. The song - just as we played it - was valid for straight recording.
In other songs, however, he wrote longer notes. these were the songs which he helped us to arrange, sounding incredibly better, beautiful and professional. Changes in the structure of the songs, repeating choruses, adding one more verse, or taking out that repetitive thing over there that meant nothing, addition of or rewriting guitar solos, even drum fill suggestions, bass lines slightly modified that would complement the song much better - things like that.
This was July, in Madrid. Imagine. The heat and sweat of everyone in a closed, non-cooled rehearsal room was an experience in itself, and to get the whole record rehearsed and arranged was a real achievement in such conditions!
In the end we finished what we called stage one, and then, the studio was waiting for us. The company chose a big studio with two recording facilities (recording hall and control rooms): called Sonoland, in Coslada, Madrid.
We were assigned studio one. At the time we were recording Al_Pie_Del_Cañon, Los Ronaldos were recording their Sabor Salad album in studio two, so we use to spend some break time chatting with them.
Backing tracks
As soon as we entered the studio, I realised who was I working with. We began doing backing tracks early that afternoon under the direction of Ollie, who organised the recording of a click track for the perfect tempo in the songs. He told me I did not need it, but he preferred to do it in order to avoid later problems).
After the click tracks were done, he asked Jesús Turú García (the lead singer) to perform with an acoustic guitar and sing lead voice over the click. As far as I remember, a bass line was added as well. So from here onwards, when those reference tracks were done, the real job started for me. I had a studio session nine hours long and twelve tracks to add drums in front of me!
The record company released only ten on the final album (five per side, which seemed to be a very in vogue format for an urban Pop 'n' Roll Spanish record at that time), but twelve were actually recorded.
So I went straight into it, with a couple of breaks for breath, control room chat relax and some cool drink. It was dark and night when I finished recording, but the job was done. Truth is that although it was a very long session, the feeling was comfortable, as I was given some directions in many of the arrangements, plus, on the other side, I was allowed a lot of freedom when playing.
When my session finished, we spent some time just listening in the control room, and I guess everything worked fine as Ollie told me later that night (when we were all in the street outside the studio saying goodbye to each until the following day) "Has trabajado duro, man, which in English means "You worked so hard, man".
Rhythm tracks
The following day the bass line recording started. Aure García performed an immaculate job, and, in fact, his sessions were quite like mine – one song straight after another (most of them single takes!), which polished even more the big concept I had of him as a bass player.
The real Ollie intervention began with the rhythm guitars recording. He had shifted some basic riffs at rehearsal time and, when recording, he was there with Barry Mármol (lead guitar) reinforcing and encouraging him to play the arrangement with his best feeling - The same role he played with Jesús Turú García's acoustic rhythm guitar tracks.During the two following days the bass, electric and acoustic guitars part were fully completed. On the third day, Ollie literally shocked every one of us when he did the rhythm and lead piano as well as shaker tracks. His effort in keeping a solid tempo and heavy and powerful shaker part was incredible.
You could see him sweat profusely, but the shaker never seem to fade, slow down or feel tired. He seemed like a machine. On the other side, we had never heard our songs with rock and roll piano playing along, with that diabolic and frenetic Jerry Lee Lewis glissandos and rhythmic phrases here and there. We used to be a just a four-piece live basnd, so we were really amazed.
For the saxophone parts, Justo Bagueste (the sax player from Rei Lui) did incredible work, especially on Ten Cuidado, Frank. Many of the sax arrangements throughout the album were co-written by Justo and Ollie.
Guitar solos
The time for soloing came. Ollie had to suppress many of his own emotions and feelings - the material was not intended to feature Ollie, but our own guitarist. However, some entente cordiale was found, and we all agreed to allow him some solos. After all, we knew he was a superb guitar player and wanted that to be reflected on the record.
The most spectacular anecdote I remember during the recording of the whole record, was the second part of the lead guitar solo in track 9 Quiso Aparentar. He suddenly had an idea in mind, and this was what happened:
He quickly borrowed the Gibson Les Paul our guitar player (a right- handed player) was working with. Without changing the guitar strings, Ollie recorded the solo - turning the guitar upside down (Ollie was left-handed) and played those wonderful phrases with the strings the other way round: the thickest down, the thinnest up!
We would never forget that and would keep telling our friends and relatives. I had never seen anyone do that before in my life!
[NOTE: This adds to numerous accounts of the ease with which Ollie could play a conventionally strung guitar. There seems no doubt about his ability to do this when necessary, although I would be sceptical about claims that 'it made no difference' - after all, what would have been the point of going to all the trouble to convert his guitars for left-handed playing? - Ed]
We had a great time then and, many years later, remembering, analyzing and playing that guitar solo ending bars will be certainly something we will never forget.
Backing vocals
The backing vocals were rehearsed mainly in the recording hall of the studio. I did no backing vocals, but the rest of the band performed them wonderfully. We devoted some stage one (rehearsal room) time to work on some backing vocals, but the majority of them were accomplished in the studio. Here is where Claudia Puyo enters...
Claudia
I met her in LaNave too, though I did not relate her with Ollie. Later on I guessed she was his girlfriend. Claudia used to play with here own full-Argentinian band called Romanticos de Artane. They were great. The drummer, Quique Villafania, played later on tour with Kevin Ayers.
I had also to persuade the guys how beautiful, strong and crystal clear Claudia's voice and singing style were. They did not know her either. The band met her in the studio when I introduced her to them.
Her distinctive voice, sound, articulation, punch and feeling can be clearly heard during the chorus section of numbers like Al Pie Del Cañon, Quiso Aparentar and softer numbers like Corazón de Medlianoche.
As for the rest of the backing vocals, the band minus me, worked perfectly. It is amazing how an expanded backing vocals track helps to 'dress' a song which sounded somehow naked in rehearsals, although pretty convincing, nonetheless!
Later
As I did not attend the mixing stage, due to some other jobs that emerged at the same time, surely there were be more anecdotes, but I was there to witness them and tell you now. After the recording, Ollie and I kept chatting and had some beers here and there.
He later told me that he was organising a band for a forthcoming 1992 European tour for Kevin Ayers. He then proposed me to do the job, and I accepted. I arranged a meeting with Marcelo Fuentes (a well known Spanish bass-player who had played for long with serious Flamenco band Ketama, and later with folk singers Rosana Arbelo and Pedro Guerra), who gave me some material from the very early 1969-70 Kevin Ayers Joy of a Toy and Whatevershebringswesing albums) and some other tape recordings of 1988 Ayer's live concerts containing songs like Why Are We Sleeping, Just Another Saturday Night and Steppin' Out).
Unfortunately, I could not take the job due to the lack of time to fully and properly rehearse Kevin's repertoire - Callejones were literally eating my time (promos, TV, shows, road, planes, hotels, radio, trains, more road, more TV). So drummer Quique Villafania replaced me. Pictures of that gig can be seen here.
The shock
A couple of months passed by, in which I did not see Ollie as often as before. That was the end of March 1992 and most of April. It was in the beginning of May (Ollie, Marcelo and Claudia had just come back from the Kevin Ayers' European tour) the last time I saw him alive.
One morning, my brother Alfonso, who was reading the papers while having breakfast, shouted to me: "!!Juanja. Ollie Halsall has died!!" I could not believe what he was saying. "Ollie Halsall . . . what??"
I looked in a famous Spanish newspaper El Pais and there was a half-page article with a picture of him playing the guitar live, together with some bio notes. It said something like he was found dead in his home in Madrid by Claudia.
It talked about his early Merseybeat influences, about Patto, Tempest, Kevin Ayers etc. The funeral ceremony would take place the following day. That same morning, an hour later, I called Claudia and I managed to talk with her.
How different was what I was hearing through the phone compared to that blond-haired shiny-eyed always smiling and talking happy singer I worked with in the studio. I could not believe it. It was mad.
I ran to the place where the ceremony would take place: the Tanatorio of M-30, in Madrid. Many testimonials were sent from some well-known Spanish musicians like Luis Cobos and Teddy Bautista, among many others I don't remember now. I do remember hugging Claudia in silence for many minutes. No words were spoken.
Then a funeral car picked us up. Claudia, Guti and Justo Bagueste (the drummer and sax player from Rei Lui and me and took us to the Cementerio de La Almudena, in Moratalaz (Madrid), where Ollie's remains were cremated.
Finale
I can certainly assert that, fifteen years, later Ollie is still present in my musical life. My concepts when working, arranging, how to proceed or behave in a studio session, or even how to arrange or suggest things when rehearsing still come from him, in their majority.
I think as well that Ollie was kind of a misunderstood character on the music scene. I heard people speaking wonderfully about him, but I heard other things as well. I suppose it is inherent in such a strong personality and state-of-the-art instrumentalist he was, in a completely competitive business.
Anyway I always do and will remember him, and I suppose people that read this short story and got to know him will do as well.
Juan Javier Martinez
July 2007