Other documented live recordings:
Aarhus Stakladen, 5.12.85
Amsterdam Paradiso, 18.10.85
Berlin Metropol, 27.10.85
Bochum Zeche, 25.10.85
Eindhoven (Radio)
Einhoven 1985-10-21 [OH bass]
Frankfurt Batschkapp, 28.10.85
Gent Vooruit, 6.11.85
Gothenburg Errols, 9.12.85
Groningen 22.10.85
Hamburg Markthalle, 24.10.85
Linz Posthoff, 31.10.85
London 11. 12. 1985
Malmo Kultar Bolaget, 6.12.85
Mannheim Capitol, 4.11.85
Munich, 29.10.85
Paris Rex Club, 5.11.85
Rotterdam Arena, 19.10.85
Rotterdam Tivoli, Utrecht, 20.10.85
Vienna Arena, 1.11.85
Additional concerts with Ollie on bass only:
Madrid Prado del Rey (TVE Studio 1)
Recorded for the La Edad de Oro program. Broadcast live by TVE2) 26.02.85
London Town & Country Club, 11.12.85
[Recordings in italics ae not held by the Archive]
Itinerary kindly supplied by Joerg Reinicke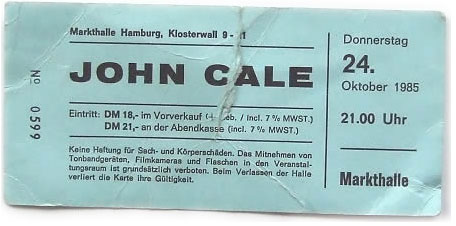 That tour was the most erratic and unpredictable I have ever done. The personnel were widely dissimilar and the music veered from the sublime to the raucous. John was in "over the top" mode. Overweight and overindulgent in behaviour, drink and drugs. Ollie, on the other hand, was quiet and composed. He got a bit drunk and he did a bit of coke but he was never really a problem.