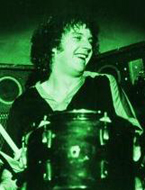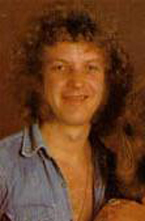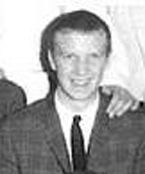 with Sounds Incorporated
Tony Newman interview
by Dmtry Epstein

Boxer drummer, Tony Newman, first worked with Ollie in the Kevin Ayers' backing band The Soporifics. His career before and since has encompassed such diverse associations as: Sound Incorporated , Jeff Beck [Beck-Ola album], David Bowie [Diamond Dogs], May Blitz, The Baker-Gurvitz Army, Marc Bolan, Joe Brown, Whitesnake, Chris Spedding and The Everly Brothers.
Tony kindly contributed the following piece following his latest outing with the Evs.
Since being asked to write a little piece for the website, it's been like I've been re-living our times together. I was reminded of Ollie again on three occasions recently.
I was touring with the Everly Brothers in England when who should show up at the Hammersmith Apollo show but Kevin Ayers. He asked me if I could play some tracks on his album. Unfortunately scheduling would not permit. And then we began to reminisce about Ollie and the Soporifics.
I joined the band about 1975 at Ollie's request and recommendation along with George 'Zoot' Money on keyboards and Rick Wills on base. We were managed by Elton John's office, and in fact my first memory of any contact with the management was catching John Reid on his knees with a bouquet of flowers singing to Elton the song 'All the Way'.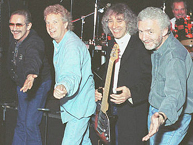 The Everly Brothers band:
Buddy Emmons, Tony Newman
Albert Lee, Pete Wingfield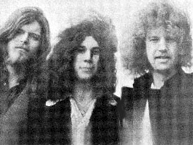 .
May Blitz
A great start to a tour that became oblivion express and the band members changed the name to 'SMEG' - Shit, Muck, Err, and Grolly. The music was fantastic.
Ollie's exceptional playing and superb showmanship, ending every show by sliding his Fender across the stage - Rick Wills repaired it every day - and sawing the guitar in half as he played left handed were some of the memories.
[Note: Presumably the same Stratocaster - with the upper horn crudely removed "because it got in the way" - that Ollie used at the 1975 Patto reunion gigs. Ed]
Back to the Everly Brothers tour: I ran into John 'Admiral' Halsey in Ipswich. It was wonderful to see him again after all these years, and I was so disappointed to hear about his disability. That brought back memories of seeing the Pattos and the touring we did together when I was with May Blitz.
They were a great band, and never any bullshit ego wise with them. OK - and last, but not least, I recently received a copy of an album I played on in 1976 - "David Live" and I had never heard it before.
Anyway, I listened to Mike Garson's genius solo on "Aladdin Sane" and I thought of geniuses I had worked with, or knew, and the only other one that came to mind was Ollie Halsall.
Ollie was always open minded about music - that's what I really loved about him. I first met him in Blackpool in the early '60's. He was with a band from Liverpool and I was with Sounds Incorporated, and I'll never forget him playing the vibes, and later, after the show, how beautifully he packed them up with a shovel!
I could write several books just about our experiences together, but enough for now.
Tony Newman, January 2006