Rutles Uncut

June 1977: Innes, Fatso drummer Halsey, South African bassist/drummer Ricky Fataar and ace guitarist Ollie Halsall are rehearsing Innes' 20 Rutles songs and trying not to collapse in laughter. Halsall, left-handed and similar to Macca in vocal range hopes to land the Dirk role in the film.
"We had Ollie", says John Altman, "who could reproduce anything, play it upside down and make it funny all at the same time."
To Halsall's disappointment, the part of Dirk has gone to Idle. Everyone who works with him later raves about Halsall's contributions as guitarist and singer, and he gets a 3-second cameo in the film as Leppo, the fifth rutle.

Uncut magazine
December 2008
---
The Rutles album actually made #12 in the UK charts on 23 April 1978 and earned a silver (150,000 copies) disc - which you can see arranger John Alman proudly posing with below - making it Ollie's most commercially successful recording, the only others to have infliceted any serious injury on the charts being 'Beggin' [Timebox] in 1968 and the Rutles' single 'I Must Be In LoVe' in 1978.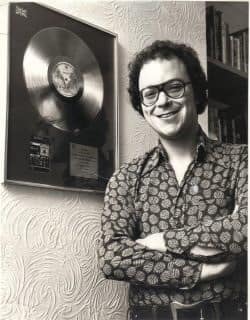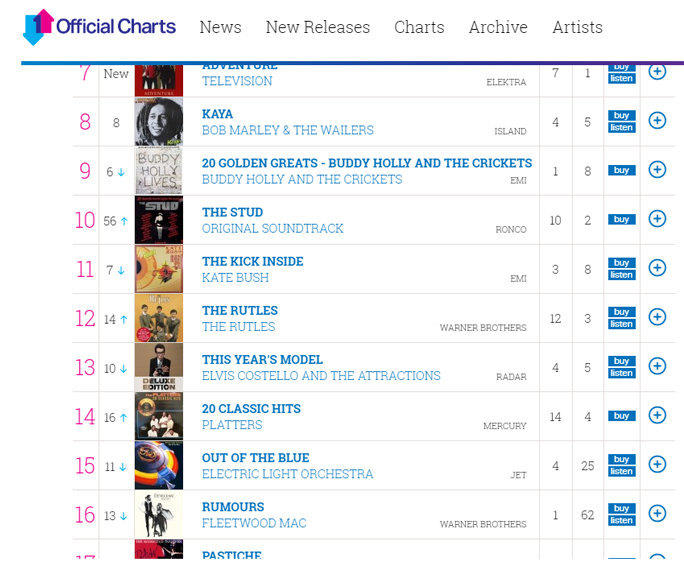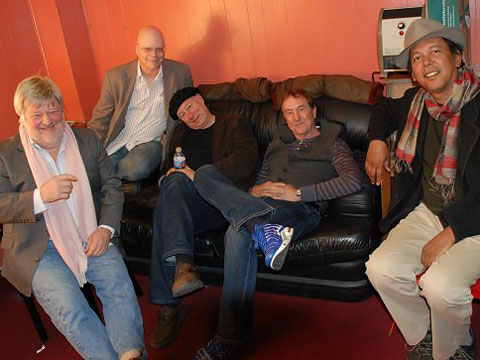 Rutles reunited in Los Angeles, 2008. L-R: Barry Wom (John Halsey), John Altman (Musical arranger), Ron Nasty (Neil Innes), Dirk McQuickly (Eric Idle), Stig O'Hara (Ricky Fataar)
A Brief History of The Rutles for Beginners
The Rutles first appeared in 1975 as a sketch on Eric Idle's BBC television series Rutland Weekend Television. The sketch presented a mini-documentary about the 1960s band the Rutles, and featured Neil Innes (formerly of the Bonzo Dog Doo Dah Band, and a frequent Monty Python collaborator) fronting the band singing "I Must Be In Love", a pastiche of Lennon and McCartney's 1964 style.
One year after their initial BBC appearance, on 2 October 1976 Idle appeared on the American NBC show Saturday Night (later Saturday Night Live), and showed videotape extracts from Rutland Weekend Television – including the Rutles clip. That led to a suggestion by SNL executive producer Lorne Michaels to extend the skit into a one-hour mock documentary. This proposal led to the 1978 mockumentary All You Need Is Cash, directed by SNL film director Gary Weis, with Idle credited as co-director.
On 23 April 1977, Idle made another appearance on Saturday Night Live, bringing along Neil Innes as a musical
guest. A running theme for this episode is the "Save Great Britain Telethon", and at one point there is an appearance by "the Rutle who lives in New York, Nasty". Innes appeared as Nasty with a lone white piano, singing a short version of "Cheese & Onions". Later in the episode, as Neil Innes, he performed "Shangri-La", a song subsequently recorded by the Rutles.
Innes wrote, composed, and produced the music. He relied on his memory of Beatles music, and not careful later analysis, to create sound-alike songs. Innes assembled a band (himself, John Halsey, Ollie Halsall, Andy Brown, and Ricky Fataar) and the group played in a London pub to gel.
During Rutles performances and studio recordings, Innes took lead on the songs that resembled Lennon's; Halsall sang on most McCartney-esque tunes; Fataar sang the Harrison songs; and Halsey sang a Ringo Starr-type song. Idle mimed to Halsall's singing and Brown's bass playing in the completed film. Halsall appeared in the film as "Leppo", the fifth Rutle who in the earliest years "mainly stood at the back". Brown did not appear in the film.

Wikipedia
Meet the Rutles 1978


Goose-Step Mama

Number One

Baby Let Me Be

Hold My Hand

Blue Suede Schubert

I Must Be In Love

With A Girl Like You

Between Us

Living In Hope

Ouch!

It's Looking Good

Doubleback Alley

Good Times Roll

Nevertheless

Love Life

Piggy In The Middle

Another Day

Cheese And Onions

Get Up and Go*

Let's be Natural
Emboldened tracks feature Ollie on lead vocals. The others were sung by Neil except for John Halsey on Living in Hope.
THroughout Ollie and John orovid the most remarkable pastiches of their respective alter-egos. Apparently, George Harrison once asked Ollie how he learned to play like that, to which Ollie replied, "by listening to you, you ****!"
*Get up and Go was not included on the original release because John Lennon allegedly warned Neil that it was too close to Get Back and ATV Muusic would probably sue. Oddly, though With A Girl Like You and Ouch - which are just as near the mark - were included. ATV Music did, in fact take action later over the whole canon and still insisit that the songs be credited 'Lennon-McCartney.'
Archeology 1998



Major Happy

Rendezvous

Questionnaire

We've Arrived

Lonely Phobia

Unfinished Words

Easy Listening

Now She's Left You

Knicker Elastic King

I Love You

Eine Kleine Middle Klass Musik

Joe Public

Shangri La

Don't Know Why Back in 64
2007 reissue also includes:

Baby S'il Vous Plait

Lullaby

My Little Ukelele

Under My Skin
1978 out-takes and updated newer material.
Emboldened tracks feature Ollie on lead vocals. The others were sung by Neil except for John Halsey on Rendezvous and Easy Listening.
Superb Beatles pastiches. For the first album, Ollie not only contributed guitar, bass and keyboards but also sung the vocal parts of Eric's Idle's character Dirk McQuickly (slightly speeded up). As far as I can tell he features only on We've Arrived Hey Mister and Now She's Left You from the Archeology set.
---
Rehearsal tapes 1978

I Must Be In Love

Let Me Be

Blue Suede Shubert

Number One

Double Back Alley

Get Up And Go

Betweem Us

Now She's Left You

Baby Let Me Be

It's Looking Good

Let's Be Natural

Living In Hope

Goose Step Mama

Good Times Roll

Love Life

Digital versions sourced by Joerg Reinick

<
All You Need is Cash [video] 1976

The best Beatles parody ever and, bizarrely, more accurate than the real Beatles Anthology
---
Rutles 2 - Can't Buy Me Lunch [video] 2003


Somewhat less than successful 'sequel'. Described as 'embarrasing' by Barry Wom [John Halsey]
The RUTLES
John Altman's comprehensive run-down of the largely uncredited Rutles recording personnel:
Ollie Halsall: guitar keyboards vocals. Rikki Fataar: guitar bass sitar tabla vocals.
John Halsey: percussion/vocals.
Andy Brown: bass.
John Altman: orchestral arrangements.
Cliff Haines: piccolo trumpet.
Dave Spence, Martin Drover, Pat Kyle, Steve Gregory, Malcolm Griffiths: horns. Strings led by Christopher Warren-Green
Produced by Neil Innes. Engineered by Steve James. Neil Innes and Ollie Halsall.
Ollie played guitar and probably some keyboards] on all the original Rutles' recordings and movie soundtracks, played the part of Leppo [the 5th Rutle] and sang Dirk McQuickley's parts, slightly speeded up - which Eric Idle mimed to in the films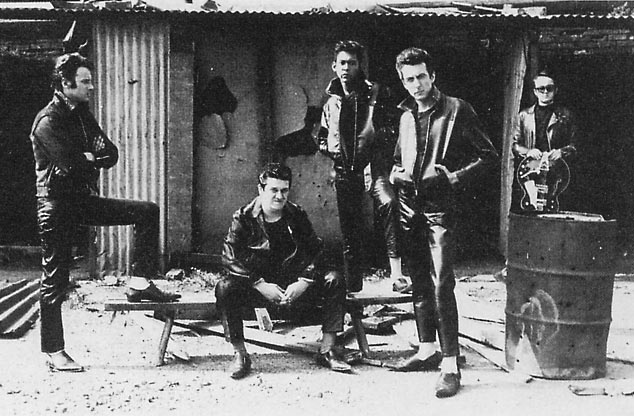 Ollie [far right] as 'Leppo' [Stuart Sutcliffe] in the Rutles movie, 'All You Need is Cash'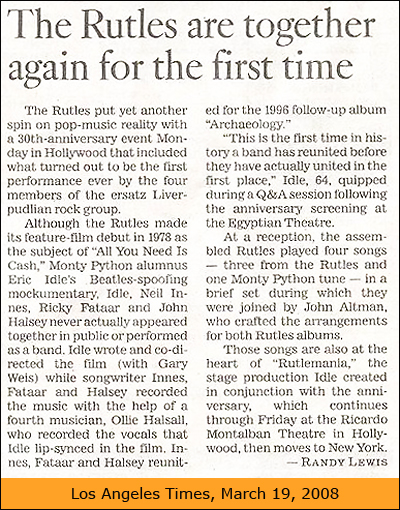 Los Angeles Times, March 19, 2008
Thanks to David Baxendell
[c;ick image to enlarge]
---
In a 1992 interview, Ollie states that Ricky Fataar was not allowed to play on the recordings due to Musicians' Union rules. The bass was played by Andy Brown.
However, John Halsey says, "Before we went into the studio to record the Rutles music for film and LP, we were in a demo studio in a house in Hendon, it was called Hendene i think. Some of the tracks from those sessions were used. Also some tracks on Archaeology were from those sessions as well, and the bass player was Riki Fataar."
"John Altman is the George Martin of The Rutles" - Neil Innes

John Altman interview

Ollie & Ali - John Altman

The Rutles website
How Sweet to be an Idiot 1973

Momma Bee

Immortal Invisible

Topless a Go Go

Feel no Shame

How Sweet to be an Idiot

Dream On

L'Amour Perdu

Song for Yvonne

This Love of Ours

Singing a Song is Easy
Ollie's guitar solos on Momma Bee are actually slightly speeded up. Not because ne couldn't actually play that fast, which he could easily, but to give an interesting timbre to them. A bit like the 'Les Paul' tecnnique he employed on a couple of Patto tracks earlier.
---
Recycled Vinyl Blues 1994

Complilation including all of How Sweet to be an Idiot plus:

Angelina

Come Out into the Open

Lie Down and be Counted

Age of Desperation

Fluff on the Needle

Bandwagon
---

The Neil Innes official website

neilinnestube
Recollections 2014
3x CD 1 x DVD Box Set.
OH contributions unclear, Although he is on Let's Go Crazy

---
Off the Record 1978
• Libido
• City of the Angels
• Them
• Time to Kill
• Rock of Ages
• One Thing on Your Mind
• The Worm and the Angel
• Not Getting any Younger
• Takeaway
• Happy Ending
• Stoned on Rock
• Spaghetti Western
• Mr Eurovision
• Ungawa
• Godfrey Daniel
• Fortune Teller
• Mother
• Burlesque
• Down That Road
[not yet documented]
---