Regarding the 'tin foil trousers [video above] They were mine. Ollie always borrowed my clothes for stage. On the occasion above I was in Sweden so the receptionist at the recording studio had studied me and practised pretend keyboards on her ironingboard so she could then stand in for me. How very flattering Those were the days.
- Zanna Gregmar
Zanna Gregmar: Lead Vocal
Ollie Halsall: Guitar|Vocal
Jorge 'Flaco' Barral: Bass
Manolo Jiménez: Drums
Thanks to Jorge Souto Bartolomé and drummer Manolo Jiménez for these remarkable videos
---

Ollie singing an inspired vocal on "Following the Blonde" which was our big hit song in 1984 in Spain. He rips a bit of a solo too Looking at this I can see why Ollie called me "Thunder thighs" ha ha.
This was the last version of Cinemaspop, we were trying to change the direction more towards Rock and did so quite unsuccessfully!! People really liked the "Techno stuff" and wouldn't "Follow the Blonde when she turned into a Brunette"
I remember going to this gig in a taxi. We only had a handful of cash which I had counted, so I asked the driver to take us on a specific route to the gig because we could only pay X amount.
The driver completely ignored me (being a female in a macho country, but Ollie's Spanish wasn't very good so I always had to talk) and he chose the scenic way. I asked him if he intended to take us for free since he had over-extended the specified amount. A lot of Spanish expletives and handwafting was exchanged between myself and the driver as I forced him to stop the taxi and threw him the money. 'Hassle' and I walked the last five minutes to the gig. Ah -Those were the days!
Zanna Gregmar 2013

Ollie wasn't an easy person to work with, but though many geniuses aren't. He was a multitalented person, he also had an artistic side and painted and drew pictures. He was a multi-instrumentalist who could pick up any instrument and start playing it. At the same time he had a completely weird sense of humour and constantly made up practical jokes. He always found a way to make people laugh during travels.
"But he also had quite a temper and was a perfectionist who had incredible demands on his fellow musicians. The reason one could stand working with him was that the result always turned out to be so good, Zanna, who today works as a singing teacher in England, says.
– Ollie could write songs quickly if it was requested. We had a group in Spain called Cinemaspop and in preparation of our second album, the producer, a character we called 'Dracula', constantly demanded new songs. So we ended up writing 35 songs in one week! Ollie could always rely on his creative force in all situations!
"He loved all kinds of music, even opera. I remember flying with him to the U.S. where Ollie sat with a walkman on, and all of a sudden exploded loud and clear in 'La donna e mobile' so that all passengers gloated at him! He often lived in a world of his own, kind of in another dimension.
"The coolest thing with Ollie's way of playing was that he in the middle of a solo could completely leave the key of the song just to return right at the end of the solo. It left chills in your body! My best memory of Ollie was when we had a sound check in Majorca when backing the first punk rocker in Spain, Ramoncin. Ollie checked his sound and suddenly went into a guitar solo which made people's hair stand at ends. Right at that moment his amp caught fire and started to burn. Everyone said that was "the hottest guitar solo ever played"!"
Zanna Gregmar 2008

Ollie had many strange what he called "strategys" in music...things like leaving out the fourth snare beat in a bar to bring more life into it? And then when it came to songwriting and lyrics... The first song we wrote together was when we quickly need ed a b side for my single and we threw "Don't run away" together very quickly... Verse two starts : 'I've been trying to get through to you for such a long time, but now it seems the night time is not the right time' -because it was" too obvious" to say the night time is the wrong time and rhyme with 'long time'... he was full of ideas like that.. trying so hard to stay away from clichees....Hahaha the arguments we had...
Zanna Gregmar 2013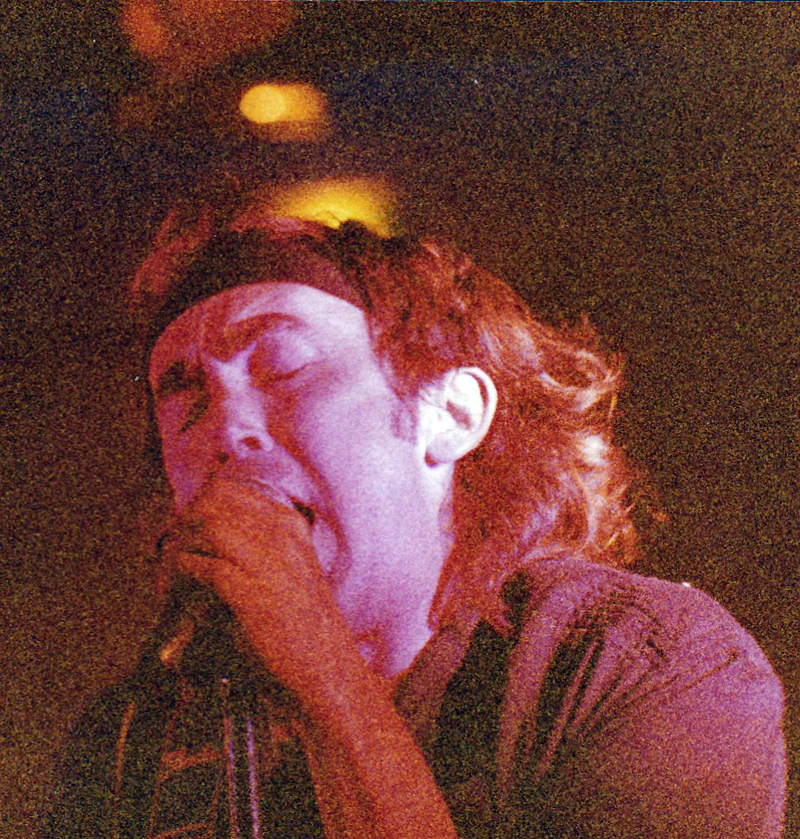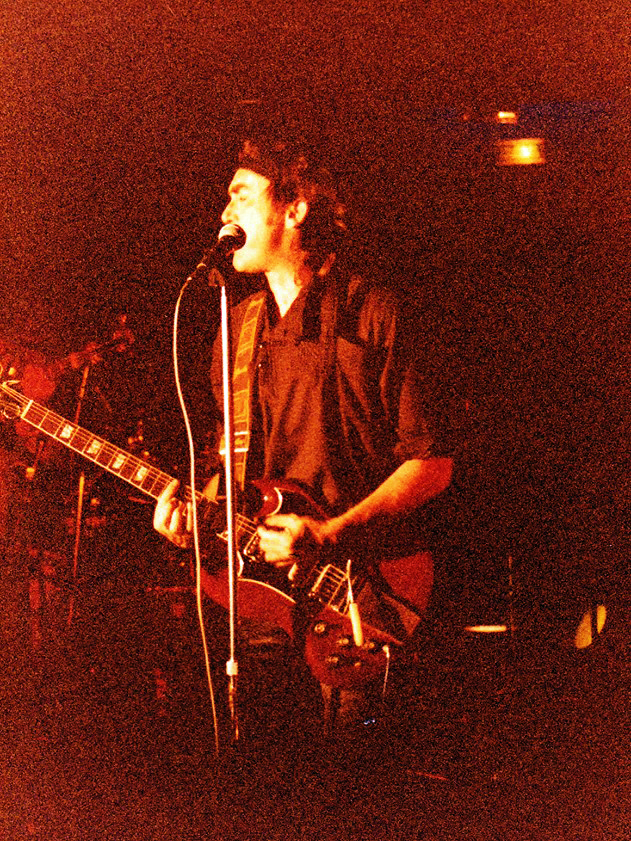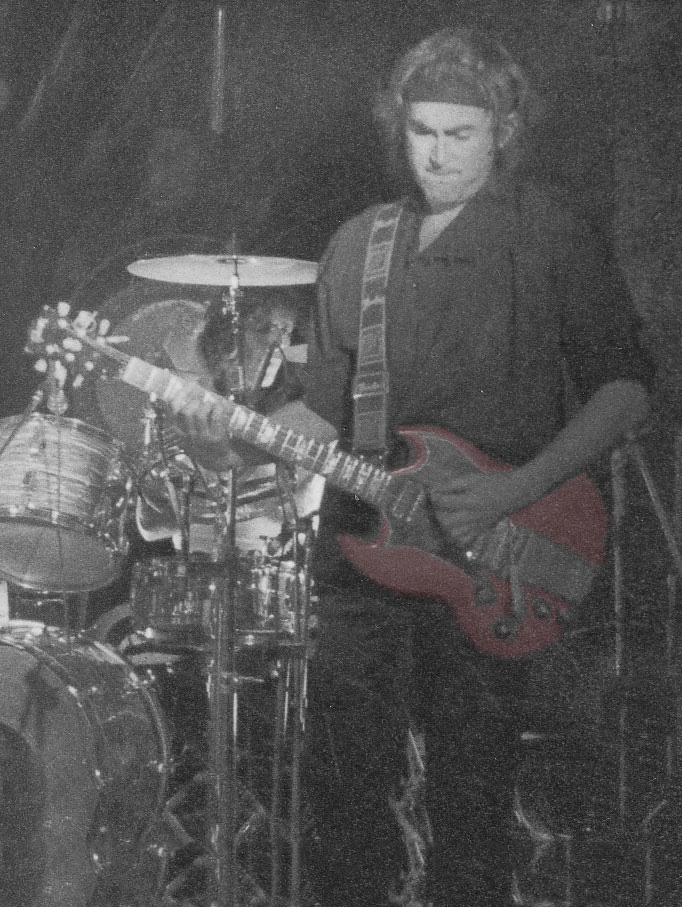 Photos: Kenny Barral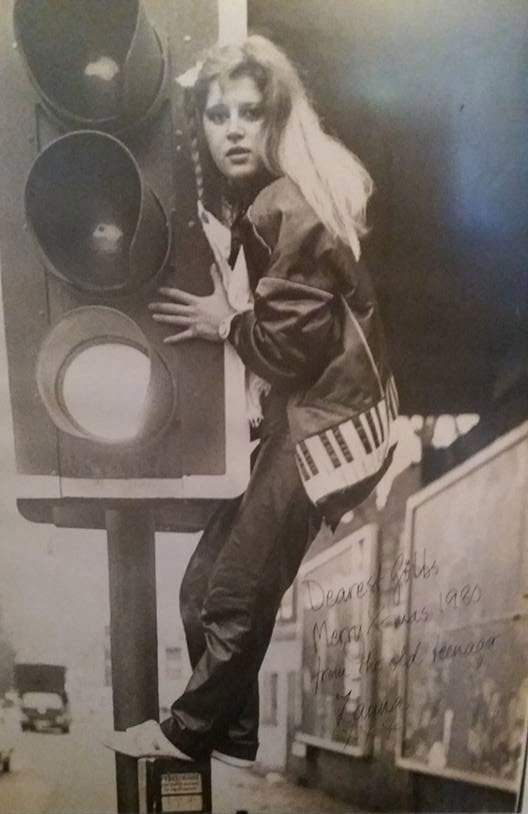 Zanna's pianojacket
I designed and made this in black silk with full sized keyboard real sized Keys and the Zanna band logo on the back. 1980. The reason I am climbing a London traffic light (while Ollie Halsall was looking out for the police) was to make a sleeve for the single "Stop, Stop Stop. It was only released in a small quantity with a brown paper sleeve hahaha. So much for the acrobatics - Zanna Gregmar 2016
Sigan a Esa Rubia (Follow the Blonde) (45) 1983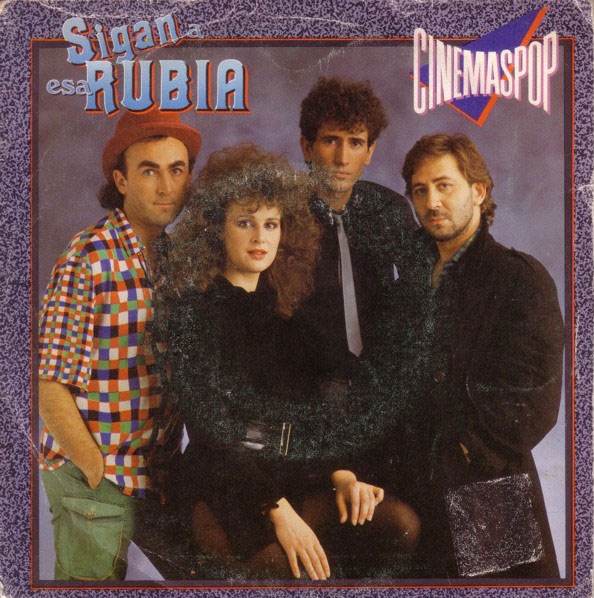 ---
Sal Gorda [film soundtrack] 1983
Someone is Waiting
Hace Mucho Calor Para un Ingles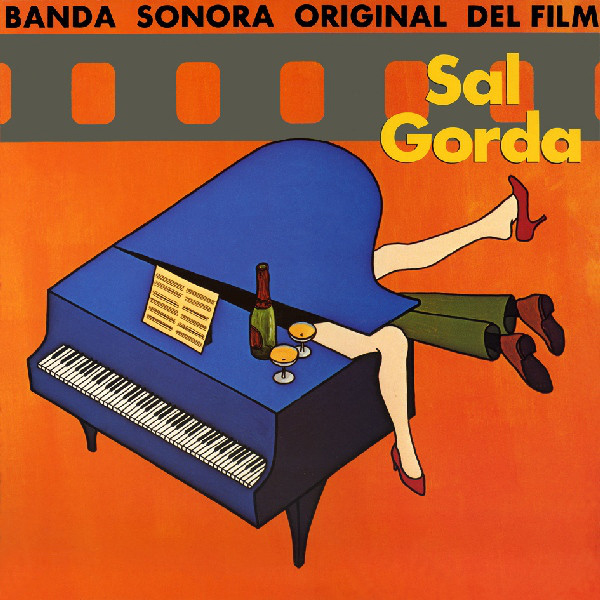 "Mucho Calor" (Too hot for an Englishman) was a silly song written in the studio by all of us with little grammatical errors of the kind that an Englishman would perhaps make... we also recorded and english translation - with Ollie pretending to be a Spanish boy in england called "Too many rain for this here Spanish boy". I guess our producer Julian Ruiz (Dracula) or the engineer Luis might know what happened to the recordings..The planned video was sadly never recorded Ollie would have been great as the crazy confused englishman trying to keep a stiff upper lip in suit and boilerhat with an umrella on a sunny beach. And a direct translation:
Hey you, please… get me out of here It's too too too too hot for an Englishman
I come from Liverpool and live in Madrid
It's much better in the sun Who can stand the vicious rain
It's too too too hot for an Englishman
Tomorrow I don't know what I'll be doing Whether to stay here or go there
It's always the same
But it's very nice to know that my guitar Can be heard here or can be heard there.
But it's too too hot….
Hey mate, how are you? Do you know where to find the toilets I am a bit thirsty and I need a little water Oooooh it's too too hot …..etc
This was, allgedly, the first rap in Spain recorded in Spanish!
-Zanna Gregmar 2103
---
Cinemaspop 1983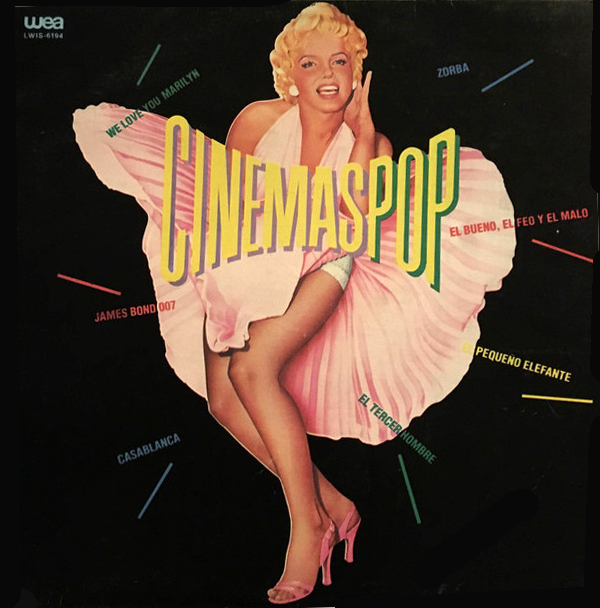 We Love You Marilyn
We Love You Marilyn [reprise]
Ollie Halsall guitar keys vocal
Zanna Gregmar keys vocal

interview

Ugly Things magazine

The Cool School of Singing
La Naranja Mecanica
[A Clockwork Orange] 1984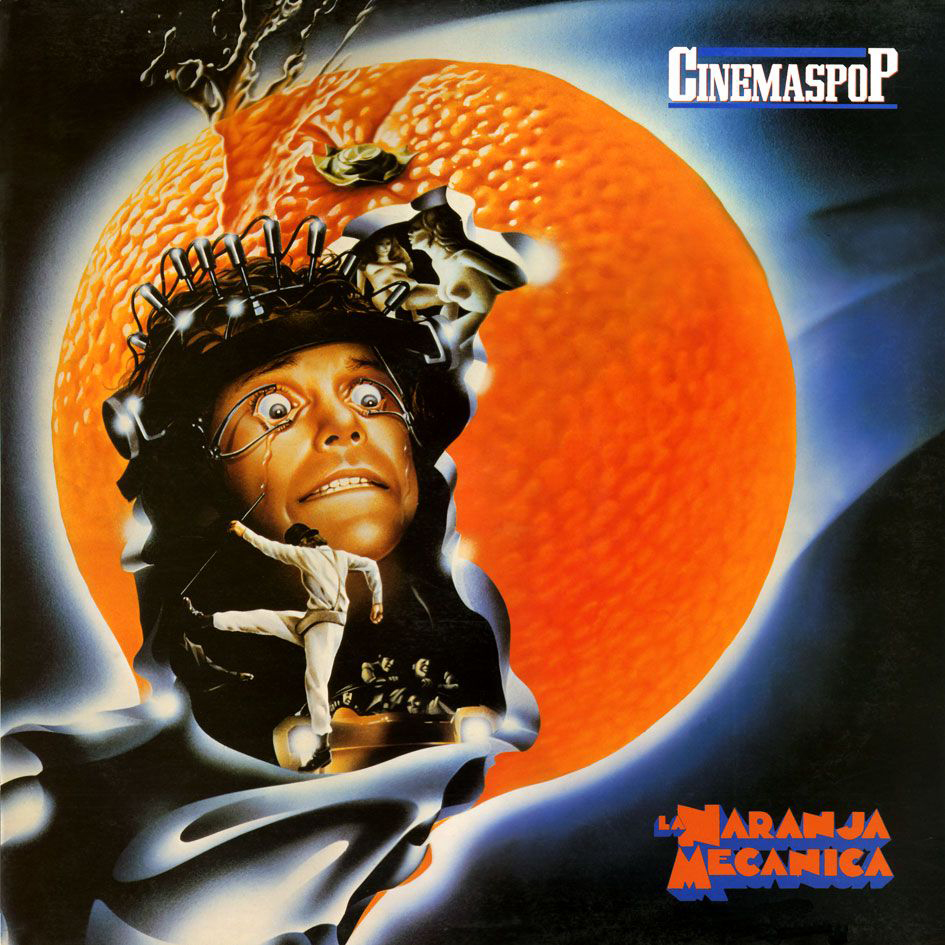 Clockwork Orange

Following The Blonde.

Let's Go To The Movies

Walking In Your Sleep
CinemasPop were a 'Techno' group formed by Javier de Juan (electronic drums, etc.), Manuel Aguilar (bass, etc), Carlos Garcia Glass (polyphonic guitar, Vocoder, MS-20, etc.), Joaquin Montoya (multiple keyboards, etc.), Eddy Guerin ( PPg-Wave, piano), Zanna (voice), Guinea (vocals) and Ollie Halsall (guitar).
La Naranga Mechanica was recorded at Audiofilm and Tape One, London with producer Julian Ruiz. Algora Montxo drew the logo and folder design was made ​​by Margarita Caraballo.
Apart from a bizarre Wild Thing, it features Halsall written and performed material throughout.
The music is almost entirely sequenced & synthesised, with very little guitar. Halsall appeared very enthusiastic about this particular project describing them as "a great band".
OK it's techno-pop, but I've not heard it done better.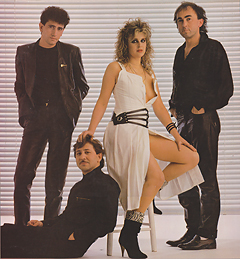 Changing Ground ['Radio Edit']

Ten years ago I think that Eddie Van Halen used to listen to Ollie Halsall and Allan Holdsworth a lot"
- Ollie Halsall
A rare insight into Ollie's total involvement in the Spanish music scene of the mid 80's.
It is likely that Ollie gave this interview in Spanish so the translation [by Emily Kapsosideris] is nearer than that of the Japanese one, which probably suffers more from the vagaries of composite language.
The content comprises mainly Ollie's answers since I haven't got round to translating all ofthe questions and supporting text.
---
OH: We want to come to live in Barcelona. We're fed up with Madrid. You have to live there for the contacts and promotion, but I like to be near the coast.
Ramoncin told me that, when he saw us in Madrid – acting wild on stage – he decided to get into the world of rock music. At least, that's what he told me. I don't know if it's true or not. We had Rick Willis, who's now in Foreigner, Zoot Money, who's with the Animals and Tony Newman, who plays in Nashville with The Everly Brothers. And I'm with Cinemaspop. That's life!
We're going to go to Deia to see Kevin and to write some songs again together because he needs help composing. We'll work there with a recording set. They have very commercial ideas and I think they left the group because of the contract because the company said to them if you do that with CBS you can't do the rest with us. They wanted to carry on recording so that chose that path. Cinemaspop is a great group and they didn't want to be committed. But our bass guitarist, Esteban, is better than Manual and before he used to play heavy rock with Ramoncin. Although he prefers to play funk these days like the majority of bass players. Boz and Sting came from jazz and I knew Sting when he played double bass. The drummer, Arturo, played on records by Los Elegantes and nearly all the hits by Nacho Cano from Mecano.
In the beginning, Cinemaspop was Julian Ruiz's idea but the next album will our songs. We only do three or four film themes live. To be exact; Bond, Exodus and Zorba. Personally I'm very happy because we've got a small, compact group. We also worked with MajaBand doing Police hits
Q: Why are you now working in this country?
OH: Because every time we think of leaving, we find something interesting to do which makes us stay. Originally, we arrived in Mallorca to help Kevin. We went to New York to record for CBS but after none months nothing happened. He wasn't very happy and we decided to go to Madrid where we worked on the Corta album by Ramoncin. We composed ten songs including the single. We composed half of the new Ramoncinco.
Q: Was your experience with The Sex Beatles on a par with your work with Ayers in Deia?
OH: Yes. It was really enjoyable. Hamish, the singer, is now a sort of DJ. It was a great time when we played with Tomas Graves on piano, Joan Biblioni on guitar and me on lead guitarist.
We began to compose for Ramoncin. It's good to write for others. It's like a challenge because you don't know if it's really what they want. It's hard in Spain because producers try to take ideas from England and turn them into their own.
Q: Before coming to Spain I believe that you were in a project that ended in some unfortunate situation.
OH: The main project that I was involved in before coming over here was one of the biggest disasters that could have happened and it was the group Boxer. Our singer, Mike Patto, died and we had a good conract with CBS. Then I was in Sweden plying with Zanna's band. But over there you can't petorm much in the summer and in the winter you can only play in discos. Over there, hard rock is the most popular, including groups like Blue Oyster Cult who no-one takes any notice of in the US. Over there, nothing moves on. In Spain there's more movement and possibilities to move on to new things. Danish groups are the most famous in Sweden. Zanna and I were also with the singer Bill Lovelady doing reggae. I was on the drums and we had a number one in Sweden for four moths!
In 1973 I played with Joe Cocker around the world. It was a great experience. I also did an album at that time with Robert Fripp. [Ollie and the Blue Traffs - Ed.] It's a mystery why is wasn't ever released. Keith Tippet the pianist also played on that.
We formed a group with John Cale for a festival in Holland with Alexis Korner, Billy Cobham and Jan Akerman. Jimmy Bain was also ther on bass. I knew Jimmy from an album by a blonde English singer doing hard rock but I don't remember his name. I did a few sessions with Chris Spedding. Once Jimmy made a name for himself he made incredible tunes. He's very good doing heavy stuff but I prefer to diversify and do different things, that's why Cinemaspop is so important to me.
Ten years ago I think that Eddie Van Halen used to listen to Ollie Halsall and Allan Holdsworth a lot. I played really fast in those days, it's different now. I don't play like that anymore but I think Eddie Van Halen is without a doubt the nest in that field. He's brilliant. The two brothers were bornn in Holland. His path in life is really interesting. The best thing here is that we're going to try and work in Holland, Belgium and Germany whilst living on Spain and I think we can launch our careers in the whole of Europe. At least it seems like the company and their promotions are really strong.

Ollie's Spanish session work