Peter 'Ollie' Halsall was born in Southport, England in 1949. He came to London in 1967 to play vibraphone with pop-rock outfit Timebox (which included bassist Clive Griffiths and keyboard wizard 'Professor' Chris Holmes. Ollie took up guitar and they acquired the legendary Mike Patto on vocals and finally drummer 'Admiral' John Halsey.
In 1970, following the departure of Holmes, Timebox evolved into Patto. They played a unique blend of 'progressive' jazz-rock (for want of a better term) featuring Ollie's guitar work which began to develop legendary status.
In 1973 he left to join Jon Hiseman's Tempest. After less than a year Ollie quit and did numerous sessions, including one track for Kevin Ayers. This led to a permanent position in Kevin's band The Soporifics.
In 1975 the Pattos staged a brief reunion comprising just 3 benefit gigs. The reuniting of Ollie and Mike sparked the formation of the ill-fated Boxer
Somewhat ironically- since he was never fully credited - Ollie's most widely-known work is with The Rutles in 1978
After a brief but highly productive stint [including a US tour] with John Otway, he rejoined Kevin Ayers with whom he stayed, on and off, until his untimely death in 1992.
For much of that time he frequented the town of Deia in the north of the Spanish island of Mallorca, commuting to and from the mainland to produce and play for numerous Spanish artisites. The most significant project during this time was his work with Swedish singer Zanna Gregma in CinemasPop
BM
---
Whilst working with Radio Futura, Ollie volunteered to chaperone one of the band who had become hooked on heroin. Although a drinker, Ollie had emerged relatively unscathed from his rock career. so it came as a complete shock when he died of an overdose in 1992, having spent all his considerable earnings on heroin.
He had been hooked on it by the very musician he was trying to protect, who had insisted that, whilst a more expensive pastime, there was no danger if you smoked instead of injecting.
On the night of 29 May 1992, in the flat he shared at 13 Calle de la Amargura ('Bitterness Street'), Madrid, desperation drove Ollie to try the cheaper way. He misjudged the quantity and was found dead the next morning .
The Musicians' Union paid the expenses and his girlfriend, singer Claudia Pujol, brought his ashes back to be scattered on the beach at Cala Deià.
The artist Michael Kane engraved a stone plaque that featured a jack socket, volume and tone controls. When it was finished, he propped it up against the door to get a good look. A gust of wind slammed the door shut and the stone fell, splitting in half. Deciding that here was no point in trying to hide the crack, he made a feature of it by sticking the two halves together with bright blue resin.' The memorial can be seen next to Mati's in the Deià cemetery.
As related by Ollie's friend Tomás Graves
from The Pa Amb Oli Band 2004
StoneWatch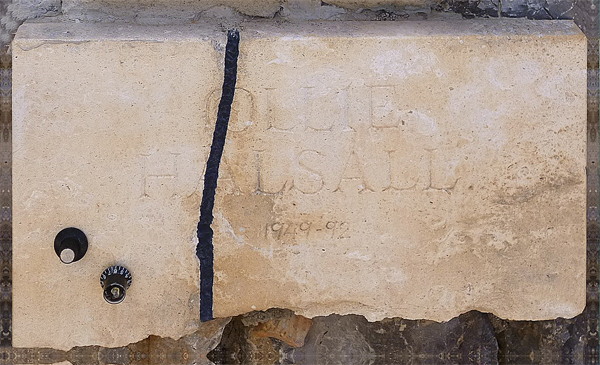 Photo: Barry Monks 1998
Photo: Harri Honkaheimo 2008
"The first time I visited Ollie's resting place I noticed that the tone control was missing, so I took a photo and went to my local music shop when I got back to the UK.
"I asked them for a set of tone controls for a Fender Twin Reverb, so they asked me which year the amp was made. I said 'it doesn't matter' to which they responded 'oh yes it does' and proceeded to give me an account of the evolution of Fender control knobs up to the present date.
"I then produced the photo (bit like the one above) to which they said 'Ah'.
"The guy's next comment was 'this is the sort of thing that makes this job worthwhile' so he got me a set of knobs which I posted to Tomás, who fiitted them.
"As I think of it, I may try to get another set to take with me, as they do erode in the weather."
Jerry Hart